Disclaimer*: The articles shared under 'Your Voice' section are sent to us by contributors and we neither confirm nor deny the authenticity of any facts stated below. Parhlo will not be liable for any false, inaccurate, inappropriate or incomplete information presented on the website. Read our disclaimer.
Yet another act of disgust. When will our people understand that any form of harassment is a crime and we will not tolerate it anymore. Be it a restaurant, a family event or even grocery shopping. NO ONE is allowed to make you feel uncomfortable and disrespect you by treating you like a piece of eye candy. HARASSMENT IN NO FORM IS ACCEPTABLE!! Recently a girl was harassed at a restaurant, but unlike others, she is raising her voice!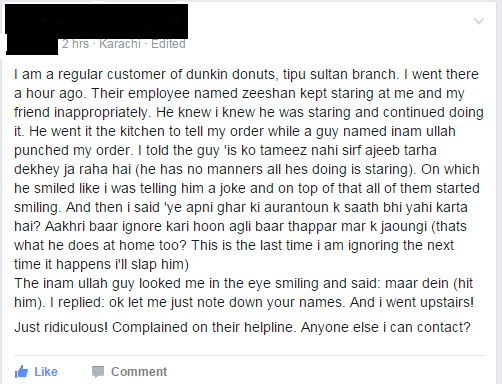 I mean he had the bloody audacity to smile and say 'maar dein?' Such is the condition that food places are eating their customers instead. The management needs to realize that just buying an international franchise doesn't signify anything if the main aspects of quality are not met. And no we don't just mean food wise. There's a million things that give a place it's status including customer service, ambiance and such. If those basic elements are flawed, theres not much left to boast about.
I seriously suggest this girl should voice out to the international website for Dunkin' Donuts and log a formal complaint. Shared under are the details: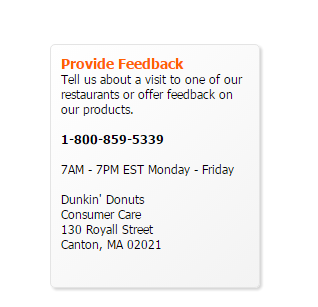 For everyone else, if it is an international chain, call up their headquarters and register your complain. Don't keep quiet on this matter! I'm sure all of us have experienced similar incidents at some point in time. The worst part is it no longer makes a difference where you are and who you are with, or even how you're dressed. This is exactly why enough is enough. Action should be taken against it and voice should be raised so that this stops. Just on Chaand Raat a similar incident was highlighted as having taken place on main Zamzama, while the girl was modestly dressed, and with family.
Itni ghairat ki kami jub ho jaey tou auqaat yaad dilaney key liye kuch naa kuch tou kerna parey gaa!
#RaiseYourVoice #SayNoToHarassment