Be it celebs, brands, politicians, or quite literally everyone on the Internet is in a party mood or to be precise in a 'pawri mood'. Thanks to Dananeer Mobeen, a Pakistani influencer who introduced the world to 'Pawri ho rahi hai'. But lately, we learned that this idea was not originally hers! So, who is actually behind this trend?
Mobeen is a 19-year-old girl who became a social media sensation overnight after she posted a small video with her friends where she can be heard saying with a deliberate put-on accent, "Yeh humari car, yeh hum hain aur hai aur yeh humari pawri ho rahi hai".
She posted the video on her Instagram and it became viral. People worldwide have started a meme fest by coming up with their own versions of the 'pawri ho rahi hai' track.
As the pawri continues, we recently got to know that Mobeen was rather inspired by another influencer to make the video. Well, at least that is what the netizens believe.
As it appears, the 'pawri' was originally initiated by another influencer Tasbeel Gillani. The real pawri girl is definitely her. It must be noted that Gillani shared her version of 'pawri ho rahi hai' on her Instagram way before Mobeen did. While she shared the video on January 30, Mobeen shared her version on February 6.
Check out the video here!
"Humari 2 Rs partyyyyy (stop calling this video content) thank youuuuu," the caption read. Moreover, as we further dug in, we found Mobeen's in the comment section. Take a look at it!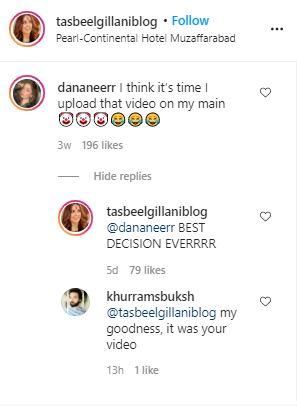 We are just as shocked as you! As soon as this baffling piece of news appeared on social media, people tried to create a controversy out of it. However, it seems as though Gillani is perfectly fine with not getting the credit.
Gillani shared a screenshot on her Instagram story and said that people should refrain from creating a drama out of it. In addition to this, she believes that Mobeen made a random video and people loved it. More so, even if she posted before, if it had to go viral, it would have.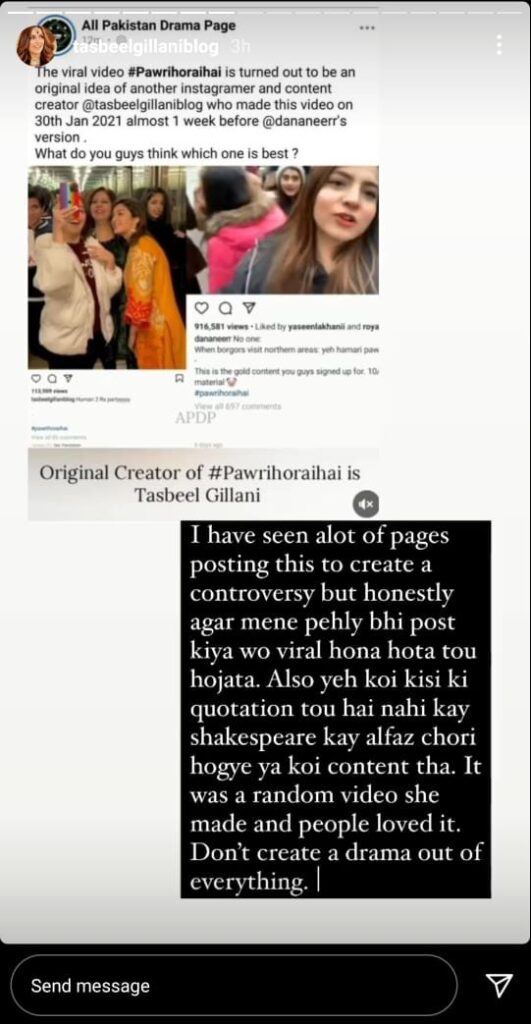 Quite a mature response, right?
Nonetheless, no matter who is behind the viral video, people are having a whale of a time! Meanwhile, The 'pawri' meme became such a hit that it has even crossed the border. Earlier, the famous Indian music producer Yashraj Mukhate made a remix of 'pawri horahi hai,' and it is totally jam-worthy!
What do you think of this story? Let us know in the comments section below.