We've all been there. It's the end of the month, you've spent all your money on food again, and you're so broke you're pretty sure your wallet is judging you.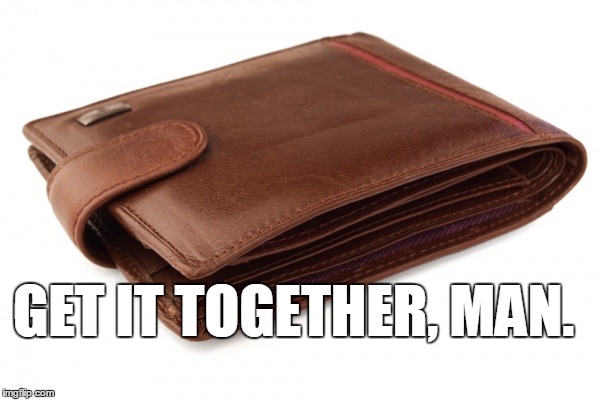 I'M SORRY WALLET. I WILL BUDGET BETTER!!!
But until there comes a time where you can responsibly manage your finances, Twitter has come up with the best solution for your money problems.
By complaining about it!
In a new Twitter trend, people are ranting about their lack of money, but trying to look at the upside of being poor. The humour in everyone's mutual sadness will leave you in stitches!
Like this guy who knows being rich in thoughts is important.
#IDontHaveMoneyBut my imagination is obscenely wealthy.

— Marcus C. Beaubier (@MarcusBeaubier) May 14, 2016
Or this particularly ambitious person who is planning what to do with his money!
#IDontHaveMoneyBut boy if I did, I'd buy a big jail where corrupt politicians could live. #toryelectionfraud @afneil @MarrShow @bbcpolitics

— STEVE MOSS (@frankobserver) May 14, 2016
This duck is basically all of us!
#idonthavemoneybut I'm willing to use the kids as a distraction to take some of yours. pic.twitter.com/96YVrvPu1b

— Fadedessence (@Fadedessence) May 14, 2016
This guy takes the ~money lacking~ situation into perspective!
#IDontHaveMoneyBut neither does the government

— Socially Inadequate (@CnckDwnUndr) May 14, 2016
These people who have their priorities set straight, so they're okay!
#IDontHaveMoneyBut booze and weed don't cost much so I'm all good

— Tim Kelly GMC (@TimKcomic) May 14, 2016
#IDontHaveMoneyBut I'm still asking @rihanna out on a date

— Mr IToldYouSo (@FrankTweetSA) May 14, 2016
#IDontHaveMoneyBut
I got a booty!!!

— Renmarie Vestuto (@R3nmari3) May 14, 2016
#IDontHaveMoneyBut I have 5460 followers on Twitter. That's just as good right?

RIGHT? pic.twitter.com/fXcO5RX5Jf

— DJ Monopoli (@DJMonopoli) May 14, 2016
This guy whose wishful thinking is what makes the world go round!
#IDontHaveMoneyBut I WILL HAVE MONEY ONE DAY. #NeedsVsWants

— RAKESH NAYAK (@RAKESHNAYAK_1) May 14, 2016
And last but not least, this person who truly knows what's important in life.
#IDontHaveMoneyBut I have a roof over my head & food in the fridge so that means I am richer than 75% of the world. Perspective is key.

— Moe (@moethemyth) May 14, 2016
More money, more problems! Let's try to keep our issues into perspective – and invest in an accountant!