Disclaimer*: The articles shared under 'Your Voice' section are sent to us by contributors and we neither confirm nor deny the authenticity of any facts stated below. Parhlo will not be liable for any false, inaccurate, inappropriate or incomplete information presented on the website. Read our disclaimer.
Traveling is an enjoyable part of life and a vital one. Everyone travels on daily basis may be for few miles or for thousand ones. We do not get sick from traveling unless the journey is so uncomfortable or pathetic. The medium we often use for traveling around the country is bus and renowned name in it is Daewoo Express Bus Service.
Initially, it is owned by a foreign company which looks after it very carefully and upheld the services but a few years back it was bought by a "Pakistani". From that day, the service is getting poor day by day. I am a frequent traveler using Daewoo from last 5 years and approximately 5-6 times in a month which means I owe big to Daewoo. Nowadays, we've been hearing rumors about the services offered by Daewoo.
I had my own experience which is "The Worst One". I get on board from Sadiqabad for Lahore. In the start, everything was going well as I get used to there poor conditioned buses but suddenly someone started playing music "Punjabi One" on his cell phone in a loud noise. Like what? Is it a tractor or Manthaar? The bus hostess doesn't stop him, the sound goes on and on for half an hour than a sober man (May he lives long) stopped him. Thank GOD!
The condition of the bus was very poor, noises were pinching the ears, curtains were soo dirty and the cushions were stinking. The seat inclining was broken when I moved it backward or forward like it was saying "My life my rules". I requested hostess to please swap my seat as I am not comfortable here she said sorry there was no seat available. I somehow managed that.
In early morning rains started which changed the whole scenery, it was lovely indeed. Then all of a sudden, water started dripping onto my seat from the roof OMG what the heck?! I called the hostess and she said "Main Kya Keron Iska? Aap Cushion Le Ker Is Par Rakh Do Taa Kay Pani Aap Par Na Gire". It was just not me who suffered, almost half of the passengers were standing in the bus which gives a crappy scene of some local service like Cheema, Manthaar in which passengers are loaded like broiler chicken in their cage.
The rain lasted for 2 hours in that time I complained about it on their app and Facebook page but no one responded. After that, we reached Sahiwal terminal, I tried to contact the terminal manager but he was not there. The rain stopped and somehow my pathetic journey completed. After reaching home, I felt tired and sick as my shirt got wet by rainwater during the journey and chilled environment played its magic to make me ill.
Later on, I complained about Daewoo on their website and email too but no response. After further digging, I got to know that it was not just me who suffered. There were many others out there who are so angry and disappointed by their service. Their fares are almost 300-400 higher than other services in which we are getting nothing compatible to the paid price.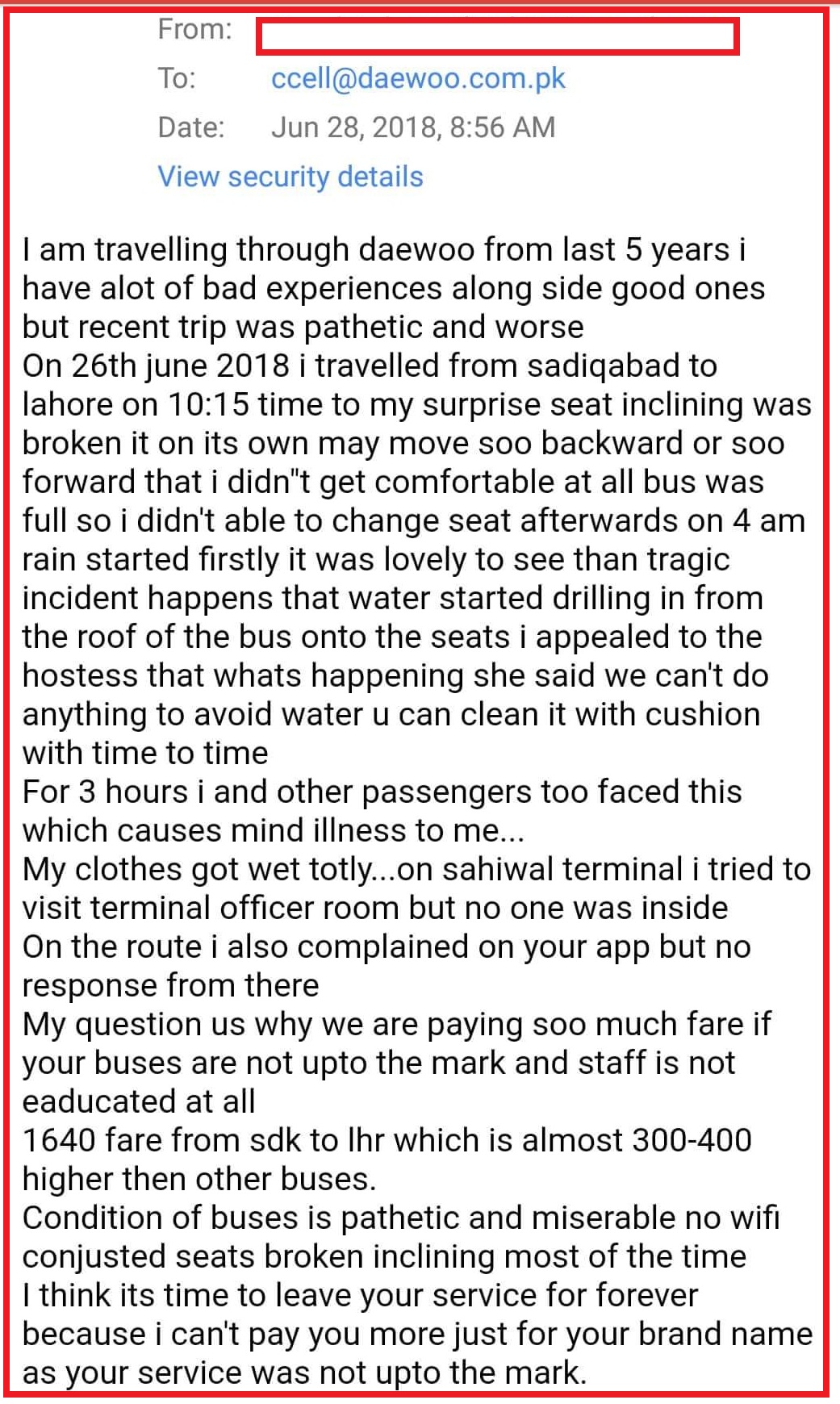 Now the time has come that they have to advertise that their customers are satisfied by their services which people say it's fake because on the same route, other people have also traveled and they found nothing like that. I boycotted Daewoo for the rest of my life and suggests the same to my acquaintance.
Read Also: Get Ready For Pakistan's Most Luxurious Bus Service Yet!