Disclaimer*: The articles shared under 'Your Voice' section are sent to us by contributors and we neither confirm nor deny the authenticity of any facts stated below. Parhlo will not be liable for any false, inaccurate, inappropriate or incomplete information presented on the website. Read our disclaimer.
My name is Hassan Aziz. I previously lived in Quetta, and currently, I m living in Rawalpindi, Pakistan.
I am an Alumni of the Kennedy-Lugar YES ( YOUTH EXCHANGE AND STUDY) program. I traveled to the United States in 2014-15 for an academic year. Later I got myself enrolled in a graduation program at Roots School systems in 2016. Currently, I am applying to different colleges both in Pakistan and abroad.
A few months ago, I applied to the GENESIS SUMMER ACADEMY which only selects 20 people from 12 different countries.The reason I applied was the fact that then program I have applied to, covers my interests.
-Heroes and Human rights
– Music and Peacebuilding
-Peace Journalism
-Environmental Sustainability
My main focus was on Heroes and Human Rights, mainly, child abuse issue and lack of rights for the women in Pakistan. I have been inclined towards working for the social issues in Pakistan since ever. The reason is the fact that I was too a victim of the child sexual abuse, and it leads me to work for others.
Attached down below are the final acceptance letter from the Genesis Academy and here is the link to my fundraiser.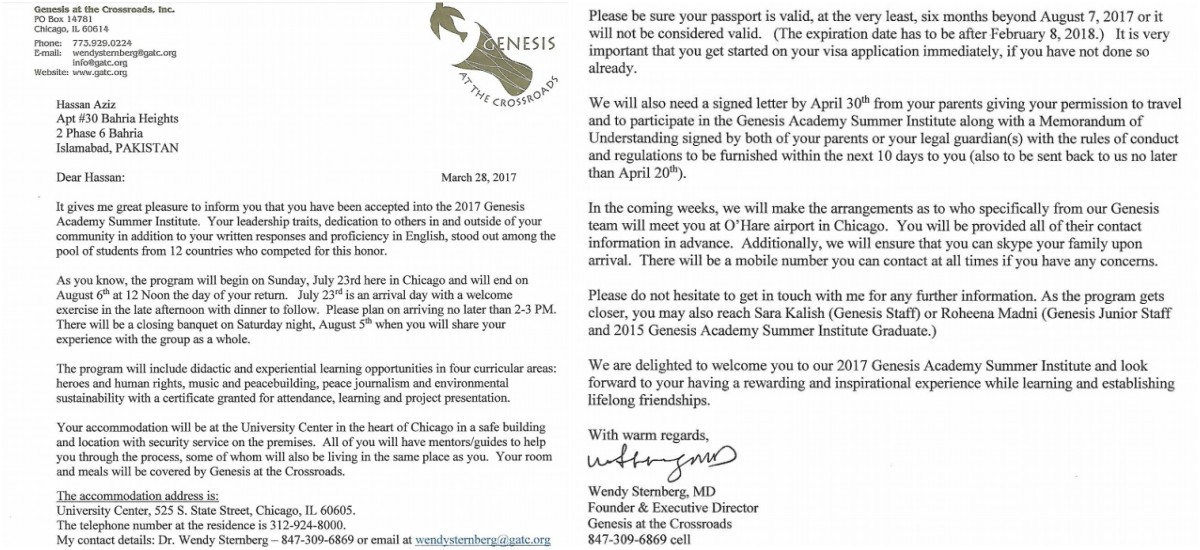 I know what I have gone through and how traumatic it can be for the victim to deal with it. Moreover, I have had certain opportunities to work with the Aurat Foundation. While working over there, I visited different jails and women in the peripheral areas of Balochistan and educated them in different ways, including hygiene and basic education. That's pretty much all about myself.
Read Also: Ministry Of Human Rights Focusing On Protection Of Children From Child Abuse