Being born and raised in a brown family, the word woman is enough to fascinate every guy on the planet. This powerful spell is till date under scientific research in order to identify some cure for it. But I bet, even the most credible scientist would fail at this.
Well, what do they know about our men gazing at women and searching for a biwi in them just by looking or if that doesn't work, then they have another weapon of sending "Frandship request". Recently, another example of this case was reported when someone approached a stunning pilot.
THE PRETTY LADY
In brown countries, this phenomenon of potential imagination that their crush is waiting for them is called "tharak" that leads to many confusing it with a crush or true love but it's not. To promote this next level concept, he did the same mistake and asked her to say "qubool hai". Maybe he was trying out the "Kabul" technique on her but it didn't work out well because she was already married.
SOMEONE ELSE IS ALREADY KEEPING HER HAPPY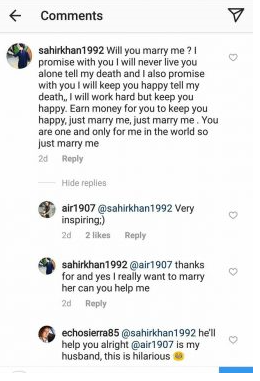 Being a brainy sweetheart, she tagged her husband to provide the guy with more information about him. If you're thinking that this is how his story ended, then you're wrong. After all he was a brown guy who has grown up watching "dilwalay dulhani lay jaieny". He then moved on to show how much of a gentleman he is and apologized for his mistake, but some seconds later, he asked her if she has a sister. Considering the fact that she is young, beautiful and a successful lady, he must have thought that her sister would be a clone of her.
HIS GOAL IS TO NEVER GIVE UP EVEN IF HIS SELF RESPECT IS AT STAKE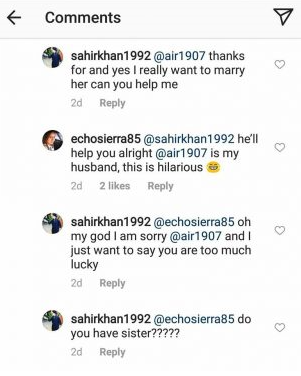 It's funny how he assumed that her sister would also be unmarried and be willing to marry him out of the blue. Although, his blind love didn't make him notice the little hints like the wedding ring in her picture. Plus, her bio already included happily married. He was meant to be ashamed or else it was just not his day.
THAT'S CALLED A WEDDING RING
WASTED EFFORT

This hilarious conversation turned everyone's attention towards the guy who got ditched moments before. A majority tagged a ton of their friends to let them witness this historic moment. Some people even supported him while others kept searching for him but were unable to find him as he deleted his comments. After him, a series of guys started to ask her a similar question that wasn't answered by her.
SMART PEOPLE

HE MUST BE BUSY ASKING SOME OTHER GIRLS THE SAME QUESTION?

DIDN'T SHE JUST ANSWER IT?

SAHIR FAN CLUB, HIS MERCHANDISE WILL BE COMING SOON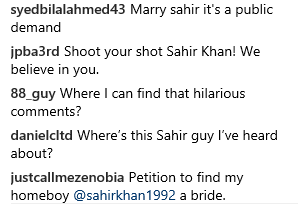 If you liked this article then like, share and comment down below to give us your feedback.