Disclaimer*: The articles shared under 'Your Voice' section are sent to us by contributors and we neither confirm nor deny the authenticity of any facts stated below. Parhlo will not be liable for any false, inaccurate, inappropriate or incomplete information presented on the website. Read our disclaimer.
This article was originally submitted by Ayesha Ilyas
We all know that we should always speak the truth, we must not deceive anyone, we must not do injustice to anyone, we must speak out against wrong, we should think before we speak, we should help others, we should follow the laws, we should fulfil the rights of Allah and humans, we should equally treat everyone and almost we all are aware of all the rest of the points as well which are important to be a good human. In this sense, there should be satisfaction in our lives and our country should also develop because for example, even if a child knows the answers of the exam's questions, then obviously the test will go good.
Similarly, our life is also a test and we know how to go through it well. Then why is our country getting worse day by day, why is every other person worried today? This is because we do not implement despite knowing everything. To be honest there is no benefit of having such information and learning where we do not follow them, because even though we know how to drive but we can't reach to our destination until we put it into practice.
Today people think that we are living in a modern era, but the fact is today we are living in an Era where after deceiving someone people feel like as if they are very smart, by doing class difference, they feel they are much superior, lying makes them think that they can easily make fool to anyone. However, I am sorry to say but such people themselves are very big fools; because they know that all this is wrong and Allah knows everything but still they do like this.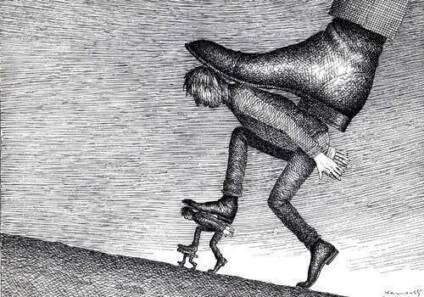 There is a Hadith that the Quran is either in your favour or it is against you
Like if you learn and follow the teachings of the Quran, it is in your favour, however, if you learn and do not follow the teachings of the Quran, then it is against you. This shows that with learning implementation is also very important because without implementation our knowledge is literally of no use. One of the biggest problems of today's people is that they themselves do not implement and they keep on correcting and changing others. Sometimes this can be a devil's attack that indulges man towards others and prevents from thinking about himself.
The fact is, if you keep on giving advice to others and do not follow them by yourself, the result is that your heart becomes hard like a stone and whether your words affect others or not, but it has no effect on oneself. There is another Hadith of Prophet Muhammad (PBUH) in which in the night of Shab-E-Mairaj he saw that some people's tongues were being cut. He asked, "Who are these people?" Gabriel replied, "these are those who have the knowledge and they used to tell others but they did not implement on their own." It's good to share good things with others, but before telling, we should examine ourselves that are we implementing on our own.
No doubt if we start following the advice we give to others, we will be very successful, many of our problems will be solved, our country will develop and the most important thing Allah will be happy with us. At first, we may find it a little difficult but we have all heard that if the aim is positive then Allah himself makes the path easy. So we must do a start with a good purpose because it is never too late.