Disclaimer*: The articles shared under 'Your Voice' section are sent to us by contributors and we neither confirm nor deny the authenticity of any facts stated below. Parhlo will not be liable for any false, inaccurate, inappropriate or incomplete information presented on the website. Read our disclaimer.
Finally, finally, finally. After years of crying, compromising, being violated, receiving ample of 'thappars' and displaying unlimited 'becharapan', the women of Pakistan finally had their strong-willed and career-oriented heroine 'Ajiya Nazakat Ali' in Momina Duraid's super hit Ramzaan special "Suno Chanda".
Bubbling with energy, the willpower to achieve something and the ambition of going to the London School of Economics to pursue her dreams, in Jia we finally had a female role model whose sole aim in life wasn't marrying or giving birth to children at 25. However, fast forward to ten episodes later, and Jia completely gives up on everything she's been pining after: her scholarship, her admission and her career orientedness and is madly and absolutely in love with Arsal, who continues to berate and dictate her.
Deeply disappointed, I wanted to write about this a lot sooner but I kept waiting until the end, hoping to see Jia ask for Arsal's support in chasing her dreams but what did we see? The heroine finally giving in to calling him "aap" and even this was nowhere close to the wrath I felt when Iqra Aziz delivered the following dialogues, "Do qadam peche chalna acha lagta hai… Arsal se harna acha lagta hai". Now ladies and of course gentlemen, some of you may be wondering why I am so against the way the drama shaped up?
https://www.instagram.com/p/BkR0_ZFnkbJ/?tagged=sunochanda
To begin with, the biggest irony is that this drama is produced by Momina Duraid, undoubtedly one of the most successful working women in Pakistan, a name no stranger to any Pakistani household, who with her superb productions have managed to give the world of Pakistani dramas some of their biggest hits. To top it up, the role was played by Iqra Aziz, a leading actress, another example of an outgoing, extremely successful working woman, who has proven her mettle time and time again with her acting prowess.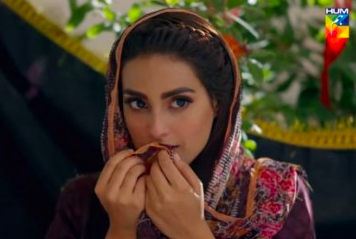 The second huge turn off, why is Jia forced to make a choice between marrying her love and pursuing her career? Is that ever a question for the male populace of our country? Why does a woman have to choose between the two if she is full well capable of doing both at the same time?
Also, last but not the least, why does our female protagonist have to emphasize that she likes losing to and being dominated by Arsal? Why does he get to scrub lipstick off her mouth and have her do all his chores? Simultaneously, why can Jia not freaking learn to drive and leave the guys in the house alone instead of continuously picking and dropping her?
With hopes that someone from the drama industry catches a glimpse of this article, and rethinks the traditional, crying and bechari heroine, a stereotype that Pakistani women continue to break and defy every day!