Disclaimer*: The articles shared under 'Your Voice' section are sent to us by contributors and we neither confirm nor deny the authenticity of any facts stated below. Parhlo will not be liable for any false, inaccurate, inappropriate or incomplete information presented on the website. Read our disclaimer.
Previously, I "ranted" on popular TV host/actress Nida Yasir about her awkward interview questions with famous 'chaiwala' Arshad Khan on her show "Good Morning Pakistan" and it got a lot of attention. From a number of people commenting on how unethical the questions were, we couldn't ignore the fact that these people on national TV ask whatever they think can get them traffic.
This time, it's about Sanam Baloch and I want to clear that I've no personal grudges with her or any other person hosting morning shows, but it's just that I have issues with how these mornings show work and thrash self-esteem.
These hosts don't realize the fact that they have a global audience. Their content shouldn't be morally repugnant and they should behave in a civilized manner. Asking awkward questions might spike their ratings but not only will it dent their reputation but embarrass the guests too.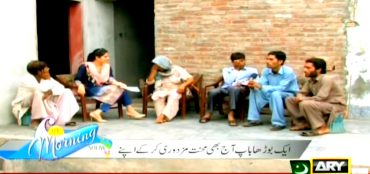 A few days ago, I was scrolling channels and stopped to the repeat telecast of her show called The Morning Show With Sanam Baloch where she went to the house of this father who had 4 sons and all of them were blind due to some genetic issues. I thought maybe she's going to help him and stuff but the question she asked him was something that I was totally not expecting from her. She asked him:
"Aap ko kaisa mehsoos hota hai ke aapko Allah ne chaar bete diay hain par wo chaaron nabeena hain?"
Not only that, she went on questioning his son about how and what views they have for getting married and other sensitive aspects.
My simple point is, seriously Sanam? You're working in the media industry for more than a decade now and people look up to you as an inspiration or someone who they admire/follow. You have invited numerous people but what kind of a question was that?
Like how would he feel, wasn't it obvious? Yet you felt the need of calling him on a national TV channel at a prime hour and asking him this when millions of people are watching? You seriously have to raise your level. Like, bohat acha mehsoos karraha hoga ke he has four sons who have this disability of seeing things or not for that matter? At least watch your words and think twice before asking anything. We don't feel the repercussions, but they do.
Here's the link to that episode:
https://www.youtube.com/watch?v=CJrKECx8WbM