Disclaimer*: The articles shared under 'Your Voice' section are sent to us by contributors and we neither confirm nor deny the authenticity of any facts stated below. Parhlo will not be liable for any false, inaccurate, inappropriate or incomplete information presented on the website. Read our disclaimer.
Magical and splendid is the richness of Pakistani culture. It brings out joyous melodies perfectly laid out in the music and architecture. This inspired us to come up with an illustration that represents an experience focusing on the music culture of Pakistan and how it has been traveling through eras, providing everyone, the same love, and joy.
It is music that fills the cultural, racial gaps amongst communities and brings everyone "together". Illustrating the different kinds of music and musical instruments and architecture from Sindh, Punjab, KPK, Baluchistan and Kashmir into a single piece of art to show how music can tie different regions together is what this illustration aims for.
Madiha Sarwar is a BS Communication Design graduate from Indus Valley School of Arts & Architecture and is a pop art enthusiast that loves to play with colors, symbols, and shape. This is evident in her work here and overall portfolio. "Colors are beyond the skin of an object they appear to be, colors are symbols, emotions, and energy", says Madiha.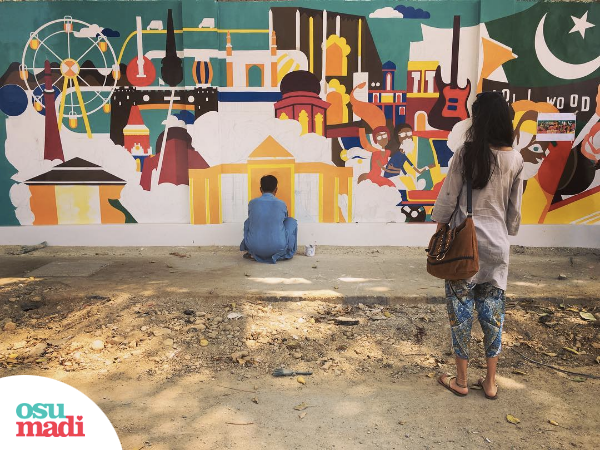 While talking to her husband Osama, who's a digital marketing professional and a thesis advisor at SZABIST, he said, "I mentor a bunch of students every year for their final year thesis project and some of the ideas I come across are worthy of an investment that could turn those into a real-life project. We undoubtedly have a lot of talent in Pakistan, which unfortunately is bought by foreign companies that lure through the lucrative salary packages. A little attention and guidance could give so much boost to our economy, turning the tables around. I'm glad to see incubators and accelerators making an effort to do so."
Osama is also a Co-Founder of a digital agency that has built numerous case studies in a short span of time. His vision since his graduation was to build a team of young passionate creative people that challenge the norms of traditional advertising. Today, the digital agency is the first one in Pakistan to introduce a comic genre in local social media marketing. Brands now want to cash in on trends and that too in humorous, witty way.
I think it's wonderful to see common Pakistanis making tiny efforts to initiate a gradual change in various contexts. Some are doing it culturally, while some are doing it economically.