#HelpSaveShehmureedBaloch – that's the name of the campaign! Shehmureed Baloch, a 19-year-old boy who hails from Nushki, Baluchistan has been diagnosed with Myeloid Leukemia (Blood Cancer). The boy belongs to an extremely poor family background, which cannot afford the operation or even take part in it.
Shehmureed is diagnosed with Acute Myeloid Leukemia and the treatment process is best known as the Allogenic Stem Cell Transplantation with an HLA matched sibling donor. The fruitful teenager needs two courses of Chemotherapy FLAG-IDA, that will InshaAllah, bring him back to recovery as soon as possible.
The cost and expense of each cycle of Chemotherapy FLAG-IDA costs around 900,000 PKR – according to the National Institute Of Blood Disease And Bone Marrow Transplant. Once the Chemo is successfully done, Shehmureed will need the Allogenic Stem Cell Transplant, which costs an additional 2.5 million PKR – with additional procedure needs of 40,000  PKR per month. All the payments have to be paid in advance for procedure to begin.
The total estimated cost of the operation will be around 4.5 million PKR! Up until now, the Baluch community, along with generous people from other areas of Pakistan, have gathered almost 1 million PKR – with Balochistan National Party – Mengal President Sardar Akhtar Jaan Mengal.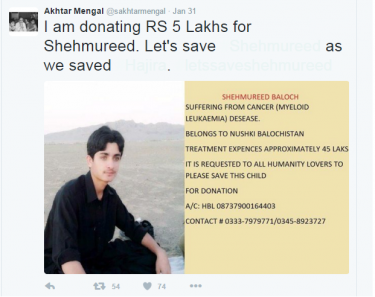 This Baluch brother needs your help, support. If you know people who can help him, or yourself, help him financially. Please don't hold back. Be generous, show Baluchistan this kid's life matters as much as from anyone else in the country. Let's stand together in this tough time, let's #HelpSaveShehmureedBaloch.