Dubai is a place where you can explore some amazing adventurous things that would be unforgettable. People mainly visit Dubai for such amazing places, and for that, they take their families as well.
Yes, there are places where you can visit with your family and experience unforgettable moments in Dubai.
But it's hard to pick the best spot to enjoy with your family. So, we have listed down 5 things to do with your family in Dubai.
The list would be full of unimaginable things to do in Dubai with family and let you explore Dubai in the most exciting way possible.
5 Things To Do With Your Family In Dubai
Dubai, the glittering jewel of the United Arab Emirates, is not only known for its stunning architecture and luxurious lifestyle but also for its incredible array of family-friendly activities.
This vibrant city offers a multitude of experiences that will create lasting memories for you and your loved ones.
Whether you're seeking thrilling adventures, cultural exploration, or simply some quality bonding time while visiting to see the tallest building in Dubai, Dubai has something to offer everyone. In this blog, we will explore five amazing activities that you should do with your family in Dubai.
Visit the Aquarium & Underwater Zoo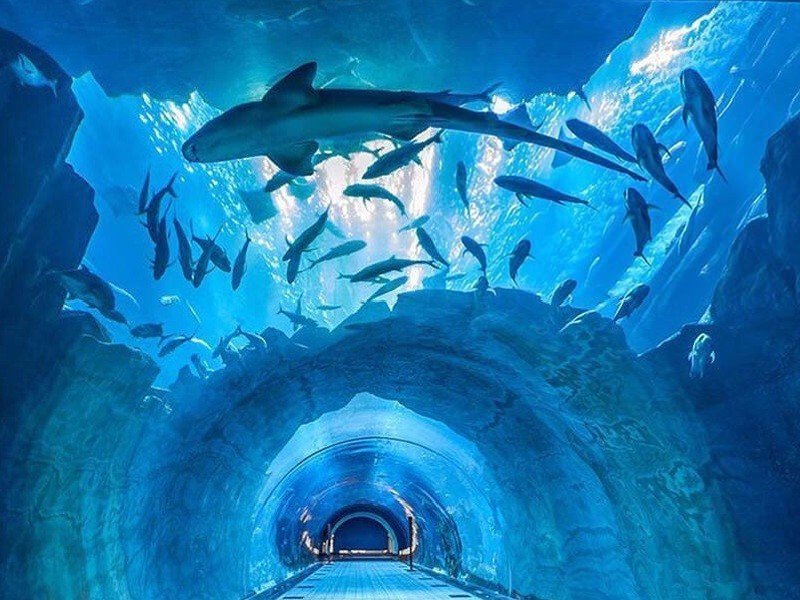 Located in the mesmerizing Dubai Mall, the Aquarium & Underwater Zoo is an absolute must-visit for families. Step into a world of aquatic wonders as you explore the enormous 10-million-liter tank, which houses over 33,000 marine creatures.
The highlight of this experience is the 48-meter-long walk-through tunnel that offers an awe-inspiring 270-degree view of an underwater paradise.
It's the perfect place to do things with your parents because here you can share some great moments by clicking mesmerizing pics.
Witness magnificent sharks, graceful rays, and a wide variety of colorful fish as they glide above you. The Underwater Zoo allows you to get up close and personal with penguins, crocodiles, otters, and many other fascinating creatures.
Embark on a Desert Safari
Escape the city's hustle and bustle and immerse yourself in the serene beauty of the Arabian Desert with a desert safari.
This thrilling adventure promises an action-packed day filled with dune bashing, camel riding, sand boarding, and even falconry demonstrations. Experience the magic of a desert sunset and indulge in a scrumptious BBQ dinner while being entertained by traditional dance performances.
If you are looking for places in Dubai for family then Embark. There's no way you miss the chance to experience the Desert Safari with your family.
This excursion provides an opportunity for the whole family to appreciate the breathtaking landscape and engage in unforgettable experiences together.
Explore the Miracle Garden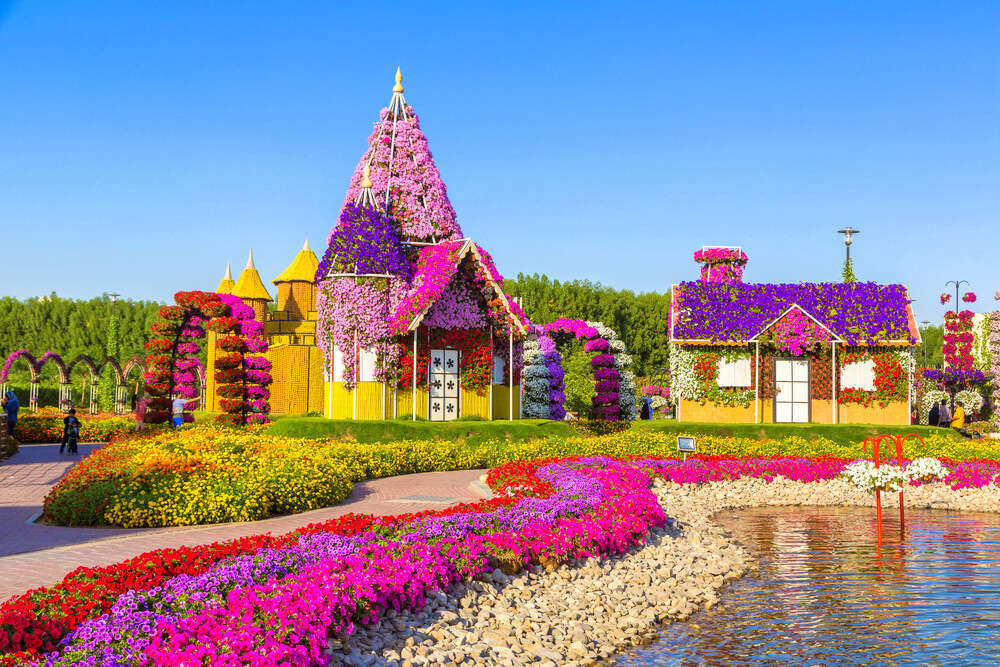 Prepare to be enchanted as you step into the world's largest natural flower garden, the Dubai Miracle Garden.
With over 50 million blooming flowers arranged in mesmerizing patterns and designs, this oasis will leave you in awe.
Stroll through themed gardens, admire the stunning floral sculptures, and let your senses come alive with the vibrant colors and delightful fragrances. Miracle Garden is the must-place to go and here you can get things to do in Dubai with family.
The little ones will be thrilled to encounter their favorite characters crafted entirely out of flowers. The Dubai Miracle Garden is a perfect destination for a leisurely family outing, providing a picturesque backdrop for capturing beautiful memories.
Have a Fun-filled Day at Dubai Parks and Resorts
In the 5 Things to do with your family in Dubai list, Dubai Parks and Resorts is one of the places to visit at any cost.
For an exhilarating day of non-stop fun and entertainment, head to Dubai Parks and Resorts. This massive integrated theme park offers four world-class parks: Motion Gate, Bollywood Parks, LEGOLAND Dubai, and LEGOLAND Water Park.
Explore movie-inspired rides and attractions, dive into the vibrant world of Bollywood, or embark on an adventure in the Lego-themed parks. With a plethora of thrilling roller coasters, live shows, interactive experiences, and water-based activities, this destination ensures an unforgettable day of laughter, excitement, and shared family joy.
Visit the Frame Zabeel Park
Experience the perfect blend of history, architecture, and stunning panoramic views at the Frame. Located in Zabeel Park, this architectural marvel stands tall at 150 meters, offering a breathtaking perspective of the old and new Dubai.
Ascend to the top and witness the contrasting views of the city's modern skyline on one side and the traditional charms of Dubai's historic district on the other.
The interactive exhibitions and immersive galleries inside the Dubai Frame provide insights into the city's past, present, and future. A visit to this iconic landmark, followed by a stroll through Zabeel Park, provides an excellent opportunity for family bonding and relaxation amidst nature.
All of these places hold their charm and essence. People visit with their loved ones to explore these specific places because of various reasons. If you are looking for the 5 things to do with your family in Dubai then get on board to explore these adventurous places.
See More: 10 Most Luxury Restaurants In Dubai 2023
What do you think of the story? Tell us in the comments section below.