Pakistan, despite its ills and negatives, is still diverse in its population. There are about 30,000 Sikhs in the country and growing. They've proven to be not only peaceful but have also contributed to the society as hardworking citizens.
The Sikhs of the world celebrated the birth of the first Sikh Guru; Guru Nanank, on the 13th of November and here is what you should know about the festival.
It is celebrated on the birth date of the first Sikh Guru
Guru Nanak was the first teacher of Sikhism. It is said that his father gave him 20 rupees to start a business but he used the money to feed the poor around his city. This act of kindness got him popular in the eyes of everyone around him.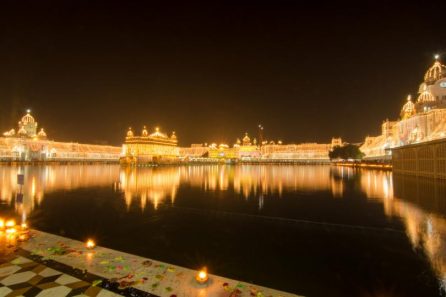 The "soup kitchen" was made on a very complex design which was later institutionalized as "langar" by the third guru of Sikhism.
Guru Nanak had 3 prominent teachings
Although in his lifetime, he has given many messages of peace and coexistence, his three major teachings were Naam Japo, Kirt Karo and Vand Shako. 
Naam Japo – to recite God's name constantly and have His thought in your heart.
Kirt Karo – Work hard and avail the honest and hard-earned fruits of your labor.
Vand Shako – share your hard-earned fruits of labor with the poor and needy around you.
He also claimed that he saw the entire humanity as ONE within itself and the supreme being, and shunned the divisions that kept humanity apart.
This is how Sikhs all over the world celebrate his birthday
The Sikhs from all over the world congregate at his birthplace and listen to all his the stories of his life and his teachings. There are many other ways they celebrate other Guru's birthdays, but for a Sikh, the most important way of celebrating their teacher's day is to reinforce their teachings in their minds and try to help humanity in any way possible.
For them, there can never be a better way to celebrate this festival than to do good for the society and the humanity altogether which is what the entire message of community is.