Every woman wants to hear the three magical words once in her lifetime. The feeling of butterflies flying around you, violins playing while your lover comes to you and he says the three magical words in your ears.

Amazing, isn't it?
Well, there are other three words that can give a woman ALMOST the same feelings, addition to the desire of killing yourself – "rishta aya hai".
Trust me girls, the feeling is likewise. It is like we are all in the same boat that is being pushed by rishte karwane wali aunties, our mummies and our relatives.
While we are not the captain of our boats, there are a number of things the eligible girls who are not yet ready to become the 'perfect bahu' will understand:
1. Nobody Understands Our Desire to Study or To Earn by Ourselves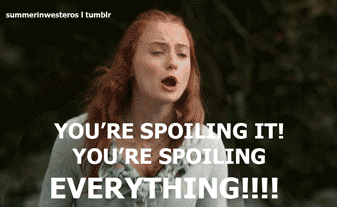 Your mother may tell you to 'start getting your shit together'. Basically, that means you should start learning all sorts of household activities.
I know I used the excuse of higher education to get out of the 'you are ready for marriage' situation. *wink wink*
2. People around You Are Having Wedding Anniversaries and Kids and That Doesn't Bother You
We are Satan who enjoy watching the world burn.
3. You Don't Like Going to Family Events Anymore
Because you don't want to see the highly qualified mamu ka beta earning 80k and driving an Audi.
4. Thanking God after Seeing Your Married Friends and Their Issues
Just a little happiness, please?
5. Even the Strict Parents Allow You to Find Someone Yourself
"Beta, you are getting old. Is there someone you like? We can always look into na."
Ah. The liberty.
6. Ignoring Your Parents When They Get Into a Fight Because It Will Eventually Be Due to Your Marriage
Because they'll start pinning the matter on your marriage.
7. Listening to your Parents Tell You How Old They Are Getting and How Your Marriage is their ONLY Responsibility
Hayeeee.
8. Even Your Parlor Wali Will Ask You
"Aur jee baji, aap k haath kab peelay hogay?"