The biggest event in the world of sports, the FIFA World Cup is just around the corner. Before the kick-off in Russia, we are geared up for the iconic FIFA World Cup Trophy Tour presented by Coca-Cola. The great news is that this year, the trophy will visit Pakistan among the 51 countries throughout its journey! What a way to begin…
It's a groundbreaking milestone and we have to thank the Coca-Cola Company for their engaging efforts and providing such a treat to millions of football fans in the country. This will go down healthy in the prospect of football in Pakistan, open an array of potential opportunities and attract stakeholders. So, how can you be a part of the trophy tour in Pakistan?
MARK YOUR CALENDERS because our favorite #CokeFest is about to commence on 2nd and 3rd of February and the trophy will be there for public display. The venue is Lake City Golf and Country Club in Lahore.
Meanwhile, here are some really interesting facts about the FIFA World Cup Trophy which you probably did not know:
1. This is the 4th global FIFA World Cup Trophy Tour hosted by Coca-Cola
2. The trophy will visit 91 cities in 51 different countries across 6 continents
3. The trophy will travel 152,000 kilometers over an unprecedented course of 9 months
4. There's a specially designed chartered plane for the FIFA World Cup Trophy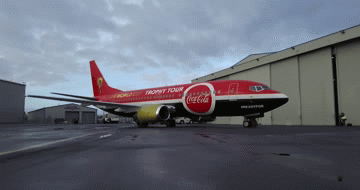 5. At each stop, the fans will have an unforgettable experience of the trophy tour
6. Along with its route, over 24 new markets will be visited including Pakistan, Iceland, Mongolia, Austria, etc.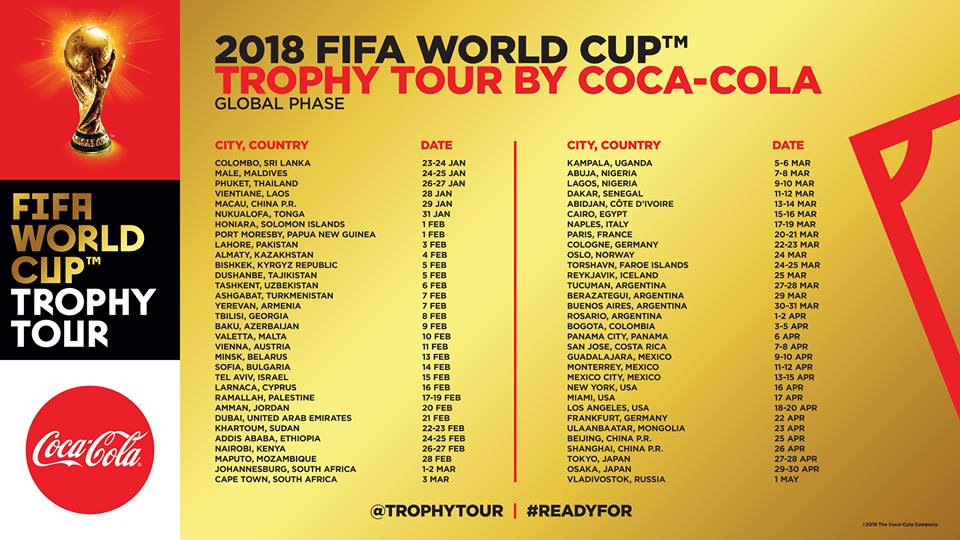 7. Over 1 million samples of Coca-Cola will be distributed
8. The trophy is so one-of-a-kind that it is made up of 18-carat gold and weighs about 6.142 kilograms
9. The original design dates back to 1974, while name and year of every winner is engraved since then
10. The original trophy can only and only be held by former winners and Head of State
IT'S A DREAM COME TRUE! Who would have thought Pakistan would also be a part of such an iconic global event? While we are counting days until 3rd of February, let's treat ourselves with the following highlights:
*GOOSEBUMPSSSSSSSSSSSS*
Yesterday we launched the 2018 Global #TrophyTour with the help of FIFA #WorldCup winners Sir Geoff Hurst and Andrea Pirlo.#TrophyTour stops in Pakistan on 3rd February, are you #ReadyFor us?

Posted by Coca-Cola on Wednesday, January 24, 2018
SO GUYS, ARE YOU #READYFOR IT?