Amidst numbness and lack of care about others taking over the world, there are some words that have lost their meaning. These are the same words that are used just for the sake of showing the world what they are missing. The word 'peace' is the most misused word we see these days. It is a word people use in rallies as 'freedom of expression' without even understanding how to implement it in the core values of the society filled with hatred and prejudice beliefs.
While students are usually seen cramming their curriculum books or enjoying their social life to the fullest, there are some young, vibrant contributors in our community who feel obliged to play their role in saving this society from the wrath of extremism.
Meet Team PEACE – Promote Education and Combat Extremism
The power of a pen is unbeatable. Educating mindset in this age of extremism is extremely crucial, especially when the upcoming generation looks blasphemy and minority rights being violated as frequently as possible. In order to combat and save the upcoming generation, students of LUMS are participating in Peer to Peer (P2P) challenging extremism program as team PEACE, standing for Promote Education and Combat Extremism.
What Does PEACE Do?
"Kalam Uthao, Intehai Pasand Mitao"
The ideology behind the foundation of this initiative is to counter one of the pertinent issues in Pakistan – extremism. While talking to Parhlo, team PEACE gave us meaningful insights behind the entire initiative.
"We realize that real and lasting change can only occur if the mindsets of the masses are changed and once empathy and tolerance are so ingrained that they become social norms. We must take down the extremist ideology otherwise the same problems will keep reemerging. Education helps understand the perspectives of others making it easier for us to live in harmony and cohesion rather than conflict and tension. " 
PEACE Targets School Going Students With An Aim To Contribute To Their Thinking
The recent uproar of Americans bashing the minorities in their country was seen everywhere on social media. Keeping aside international borders, Pakistan is largely known for ignoring minority rights as well. The negativity prevails in our society, filling the minds of the country's tomorrow with this 'normality',
Having this said, PEACE targets school going students with the aim of internalizing the values and narratives they are exposed to and teaching them about social responsibility, peace, and tolerance.
When asked why not educate the mindsets of adults, team PEACE gave us an answer that highlights why we fail as a society, "Adults are too entrenched in their ways and beliefs and so much harder to teach. Therefore, we are focusing on the youth which is the most important age group for a developing country like Pakistan. Once their opinions change the rest of society will follow. " 
PEACE Is Trying To Make A Change In This Society
"We hope to eliminate the prevalent fear and hostility in the country. By using education, we aim to raise awareness and understanding of others and make them more empathetic. They'll be more willing to work together and there'd be less internal divisions. Different opinions will be tolerated and gradually appreciated and not seen as a threat that needs to be neutralized by the suppression of the divergent group." said members of PEACE.
Students volunteering in PEACE visit different schools on weekly basis and set activities that promote how accepting we need to be towards people who have different beliefs.
"Ignoring extremist perspectives will only exasperate the problem they must be adequately dealt with so that only the message of harmony and tolerance survives. We listen to and address all the perspectives we hear, for we can't change opinions and views without engaging with them. We create an environment that enables kids to speak up without having to worry about being judged or mocked."
"Secondly, we address the issue patiently through logic and debate where the underlying agenda is to promote diversity and tolerance of opinions. Through open dialogue and reason, it is possible for us to reach answers and solutions that protect the interests of the community at large and are hence acceptable to all."
 How Is PEACE Educating Mindsets Of Students?
PEACE has carried out a number of activities that include drama, music, public speaking, story writing, poster making, and pin team building exercise, letter writing and class discussions.
"We feel that instead of long lectures; these activities will captivate the students. All these activities are conducted in light of a theme for instance women empowerment, inter-faith harmony, honor killing, transgender rights, empathy, challenging stereotypes and importance of education."
PEACE also conducted a placard activity where people are asked to write a small message for us. The themes were  centered around women empowerment, communal harmony, education, peace, transcend differences, where different hashtags were used: #NoMoreBorders, #IStandWithQuetta, #PensNotGuns, #GirlPower, #TranscendingDifferences.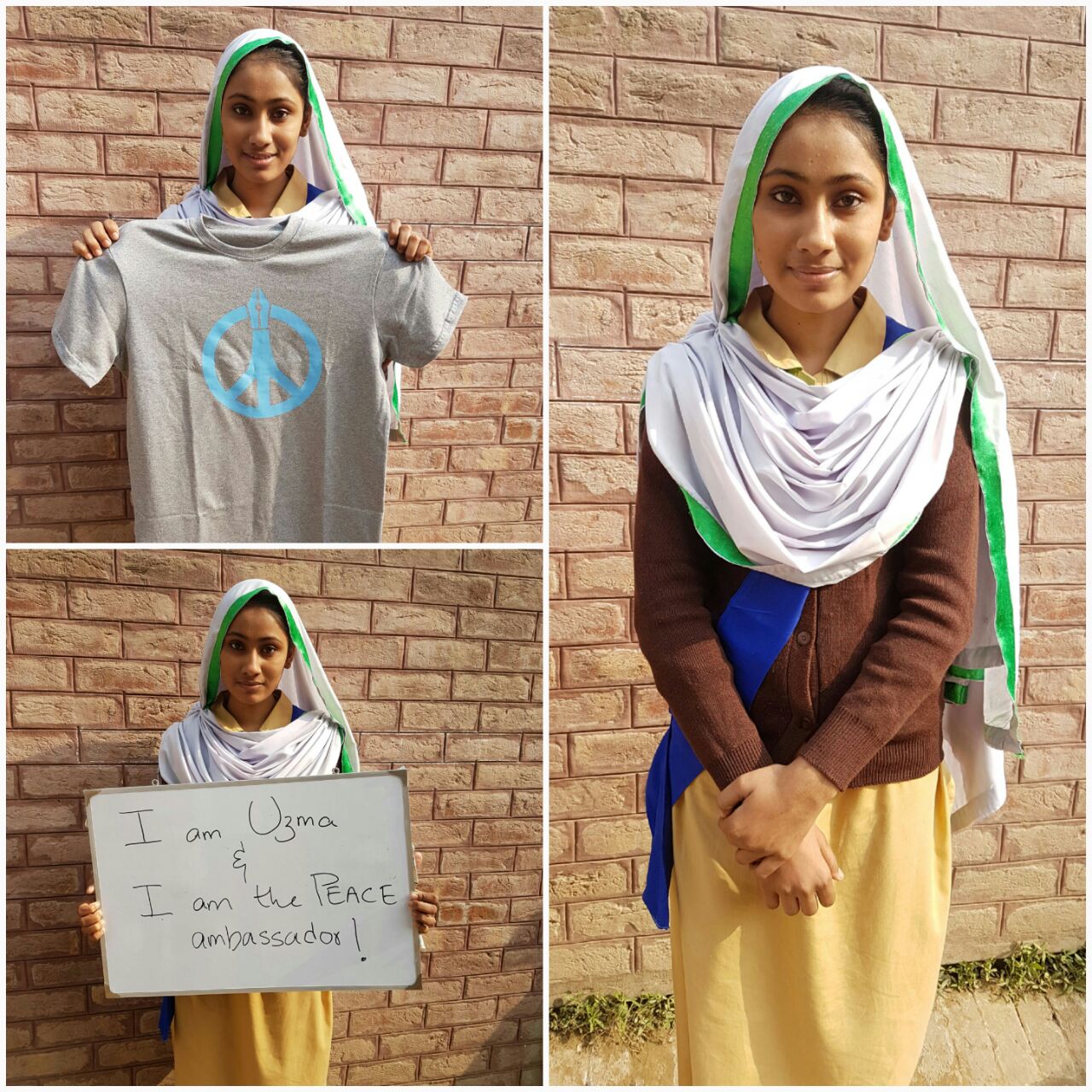 With the aim of bringing change to our society, these students are doing everything that it takes to contribute and that can be seen from the list of schools they have visited so far.
"We have tried to cover schools all over Lahore; from the outskirts of Defence, to Bhatta Chowk,  Burki, Multan Road, Gulberg, Model Town and Androon lahore (Beyond the Badshaahi Masjid)"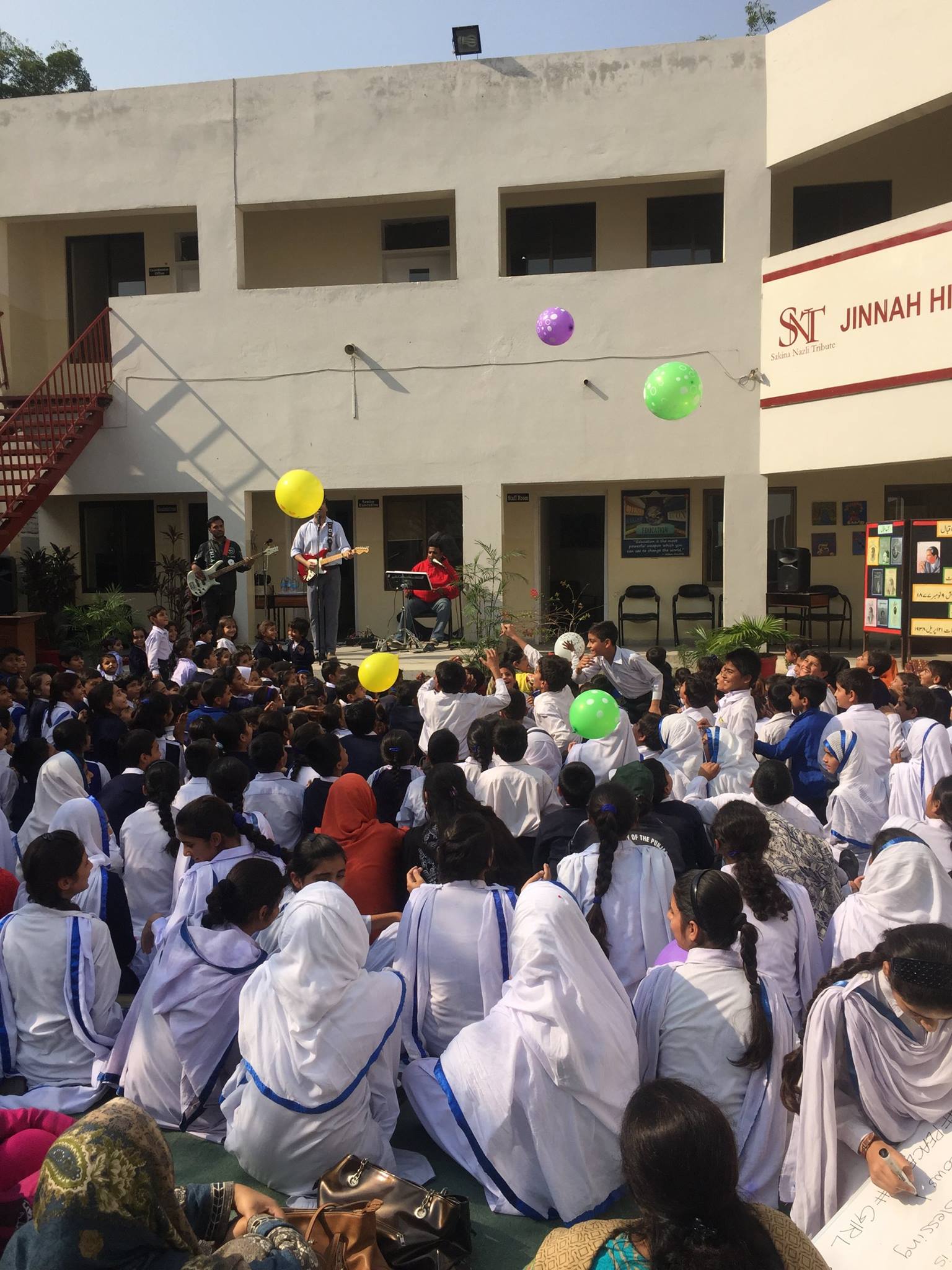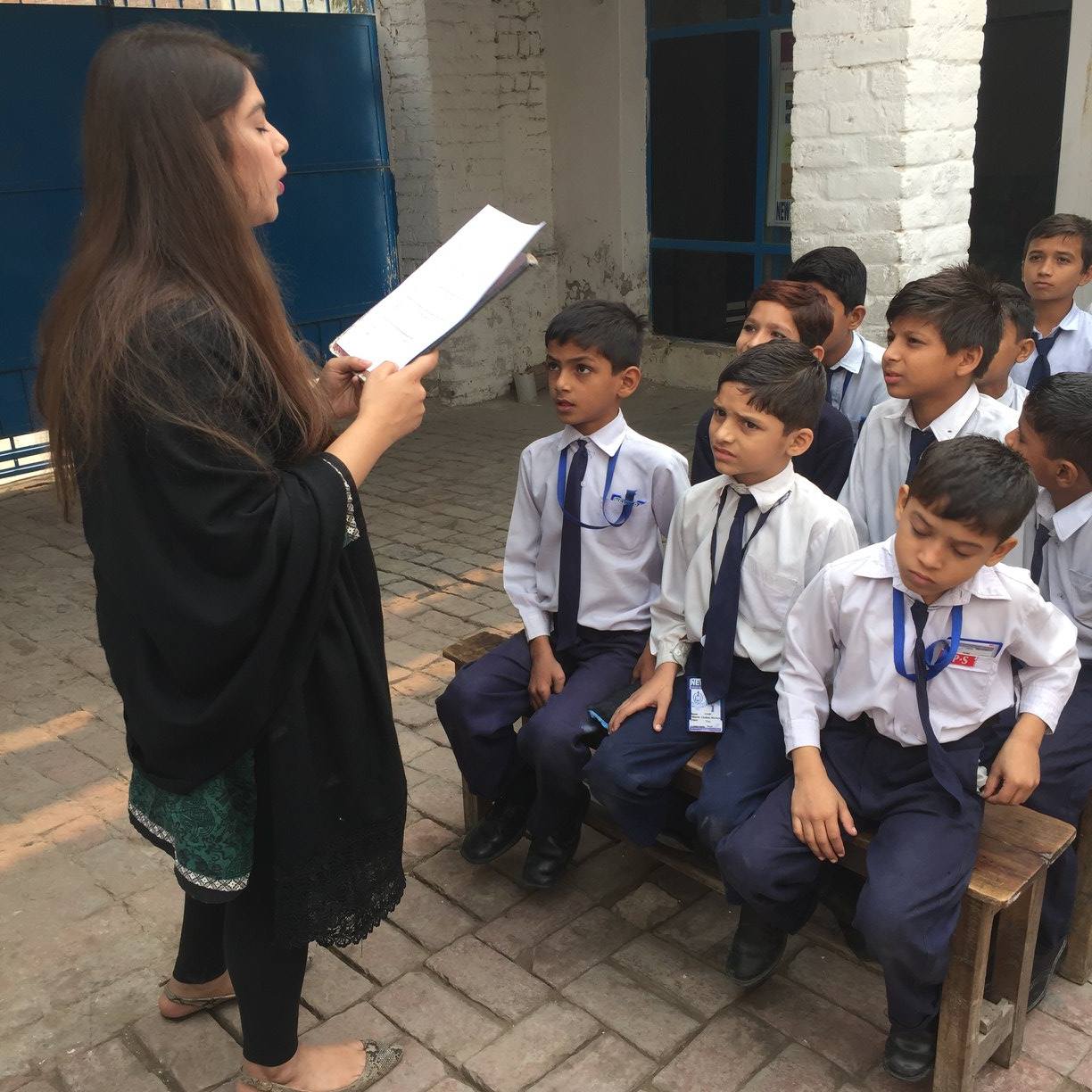 Their target audiences are children aged between 10 and 18 years. They have also visited schools for special children.
Gung Mahal School
Government Central Model Highschool
TCF, Jhulki campus
Tauqeer School
New Era
Garrison School
Ahmad Public School
Al-Faisal
New Muslim High school
Hajvery
Falcon School Boys Branch
Falcon School Girls Branch
Mobeen School,
Jinnah School, (LACAS)
Falcon 3rd branch,
Cantt horizon school ,
Government High school Harjanwal, Multan Raod
TCF (Hair Campus)
LES Lahore Education Society School
TCF ( Noor Pur Campus)
PSRD (Pakistan Society for the Rehabilitation of the Disabled)
TCF (Warraich Campus)
CARE (Government Kashmir Girls Middle School)
CARE Sheranwala Campus
TCF (Pangali Campus)
Al- Mahar School
Tamiray Milat School
Kaachi Abadi in Defence
Collaboration with LCSS (LUMS Community Service Society) at YLCSS 2016 – Youth leadership and community service symposium (held on 26/11/2016, which had invited around 500 students. Event was attended by Omair Rana and Laal the band.)
Bahria Campus
Makkah Colony School
LGS Defence
We wish these students all the best and we hope to play our role in contributing to a tolerant tomorrow.
Visit PEACE's Facebook page for more details: https://www.facebook.com/PEACE-Promote-Education-And-Combat-Extremism-1771545409736161/