Amidst all the Indo-Pak tensions arising these days, one trend that pro-Indian political party, Shiv Sena, is raising is to ban Pakistani actors. The movement seems to gather a lot of support as most of the Indian public is boycotting Pakistani movies, banning them altogether.
India specially highlights how Pakistanis tend to "pour" into cinemas just to watch Salman Khan, Shahrukh Khan, and other top Indian celebrities. They also deem it necessary to highlight how Pakistani actors are leaving country just to work in Bollywood due to a much better fame, fortune, and fan reception than in their homeland.
We feel it is equally important to let them know of our own top celebrities who turned down Bollywood, and continued to work in Pakistan. It is essential for everyone to realize that Bollywood may be great but, it is definitely not a dream to all!
Sanam Jung
This beautiful actress denied her role in Bollywood because of the usual types of scene that an actress has to perform there. Here is what she said: "When I said I would not do bold scenes, they replied they could 'cheat', but even if they cheat a scene, the audience will think I have done it. So Bollywood is out of the question."
Shaan Shahid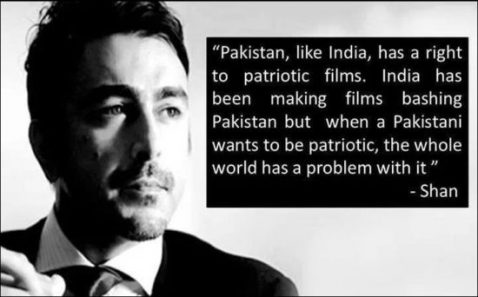 Shaan was approached by Bollywood to play a role of a villain in the movie Ghajini. He denied the offer, saying that he has mostly done roles of heroes in his movies, and that is what his fans adore him for.
"I refused India once. When I read the role, I knew that they needed a new terrorist face and I said no. In Pakistan, I live in people's hearts. That's a huge responsibility. I cannot let them down" he said.
Faisal Qureshi
Faisal Qureshi is also among the previously mentioned who has yet to feature in a Bollywood movie. He said in an interview that mistreatment done to Pakistani actors in Bollywood after sidelining them is unacceptable. Therefore, making it difficult for him to work there.
Hamza Ali Abbasi
We recently saw Mikaal Zulfiqar outperforming his role in Bollywood movie Baby, alongside Akshay Kumar. However, Hamza claims that Mikaal's role was first offered to him but, he turned it down because it was slightly anti-Pakistan, and he would never support such activities.
"I would rather work on fostering my own industry. I respect actors like Fawad Khan and Mahira Khan who are working in India while staying true to their roots but personally, I want to develop professionalism and better pay here rather than go in search of it across the border" he said.
To these actors, what the mattered the most was there personal satisfaction; not the amount of fame or fortune. The love of fans that they get from Pakistan seems to be of higher importance to them. We believe they are enough of an example to pro-Indian communities who look down upon Pakistani celebrities because they run a bigger showbiz industry.