Do you wish the car you owned was equipped with some of the technologically advanced specifications and at the same time be a monster on the road? Some car makers today let you compromise. You either settle for power under the hood or advanced features that give you that feeling of luxury. Thus, presenting, the new Toyota Hilux Revo.
The car you own and drive is no different either. You wish you did not have to compromise and enjoy all of it, after all, what good is a car if it is not integrated with top-notch features or not be a pleasure to drive?
Presenting the new Toyota Hilux Revo that is a perfect blend between both configurations. It has every technologically advanced feature that dwindles in your wildest fantasy and is a treat on the road.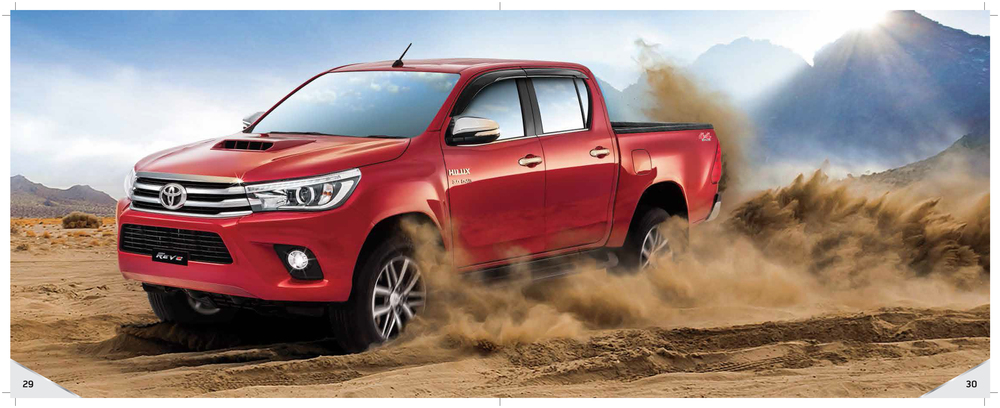 What makes the Revo better than your car?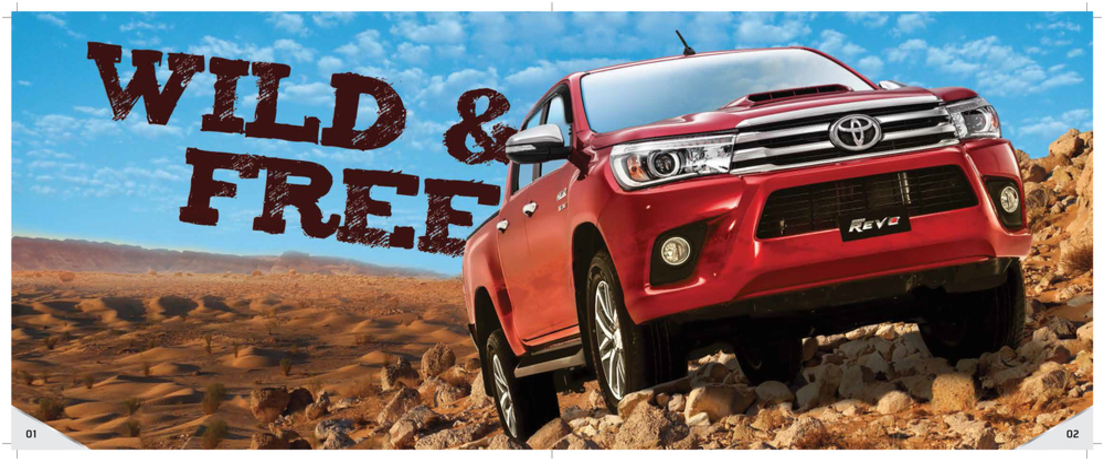 The vehicle is doubtlessly magnificent in looks and Toyota guarantees that the new eighth-era Hilux is significantly endurable. The auto is completely prepared for rough terrains and fresh roads. The new Toyota Hilux Revo is remarkably different; it depends on the "sharp outline" look, which the new Toyota Corolla utilizes as well.
The headlights are outfitted with LEDs, which give the auto an advanced look. Toyota has figured out how to give the new Revo a stronger look, with the new bent wheel curves. The interior of the Toyota Hilux Revo is just what everyone needs. The auto accompanies a touchscreen LCD and atmosphere control.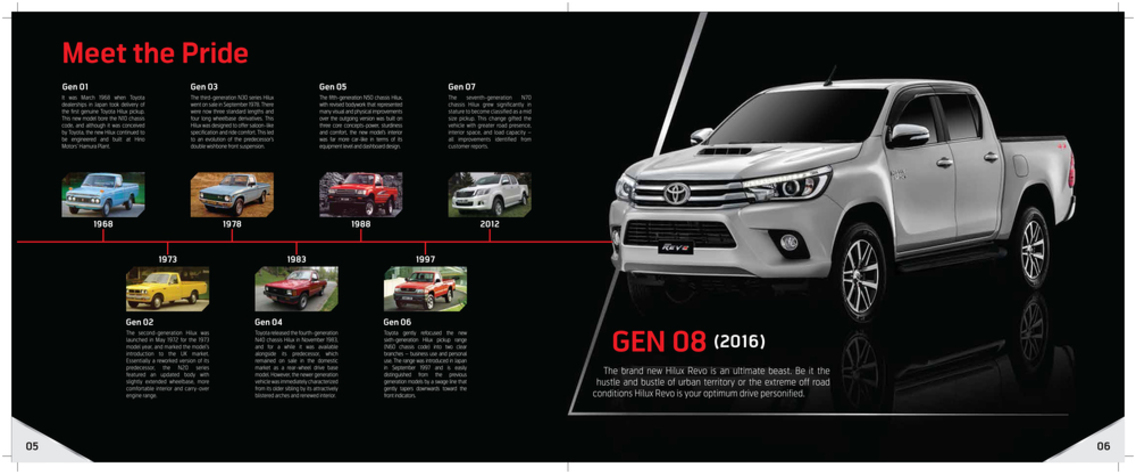 The new Revo accompanies movable Steering Wheel – Tilt and Telescopic, Cruise Control, Mobile Phone Connectivity, Power Steering and Voice Recognition System. The extra space to move around at the rearward sitting arrangements is great. The auto accompanies the new 1 KD arrangement motor. 6-Speed manual (Hilux E and REVO G-MT ) 5-speed sequential (REVO G–AT and REVO V-AT). The orders and booking started from the 14th November.
Toyota Hilux Revo Launch Event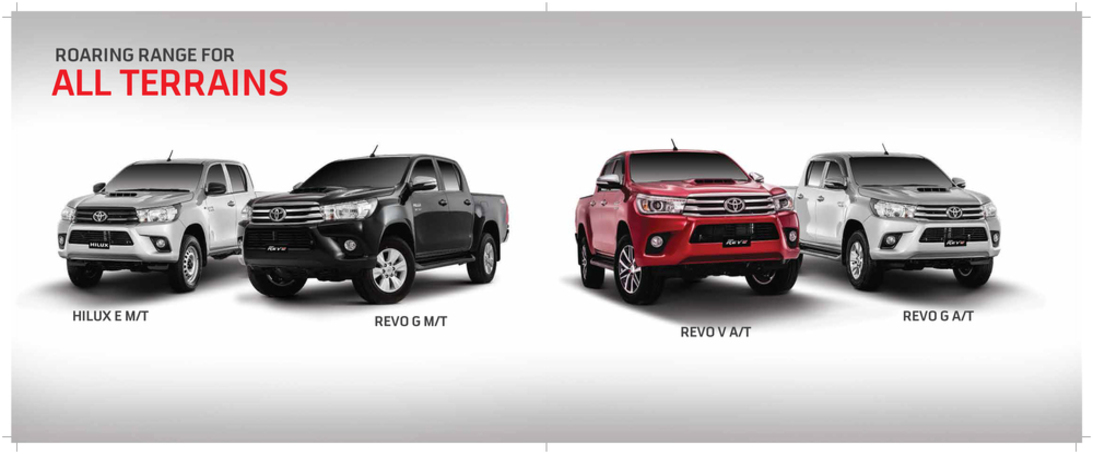 Speculations, rumors and teasers surrounded the new Toyota Hilux Revo before it had launched officially, which filled people with immense excitement about the new vehicle. It was launched on 6th Dec in Royal Palm, Lahore.
It began with the recitation of Holy Quran first, followed by the national anthem of Pakistan. The event featured 3 prominent speakers:
Mr. T. Azuma – Vice Chairman | Indus Motors Company
Mr. Ali Asghar Jamali – Chief Operating Officer | Indus Motors Company
Mr. Hiroki Nakajima – Chief Engineer | Hilux
Mr. Ali Asghar Jamali explored the journey of Toyota in Pakistan and how that journey has facilitated the industrial development of Pakistan over the years. Mr. Jamali concluded his speech by sharing the company's performance and market prediction for the future, which will, according to several company officials, contribute positively for both, the consumers and the economic conditions of Pakistan.
Here is what they had to say:
"Toyota purchases Rs. 140 million worth of spare parts from local vendors on daily basis, which makes around Rs. 40 billion of purchases a year.
"We always follow Toyota international safety standards. Pakistan has been the highest Corolla selling nation in the Asia-Pacific region for the past six years. With continuous localization, we not only save valuable foreign exchange for the country but are also able to offer our vehicles at many competitive prices,
It is interesting to note that our cars, adjusted for dollar appreciation, cost less today than they did back in 1993.If the present optimism persists we foresee the market to touch 350,000 units of demand by 2025, and if new entrants step in the demand may go up to 500,000 units."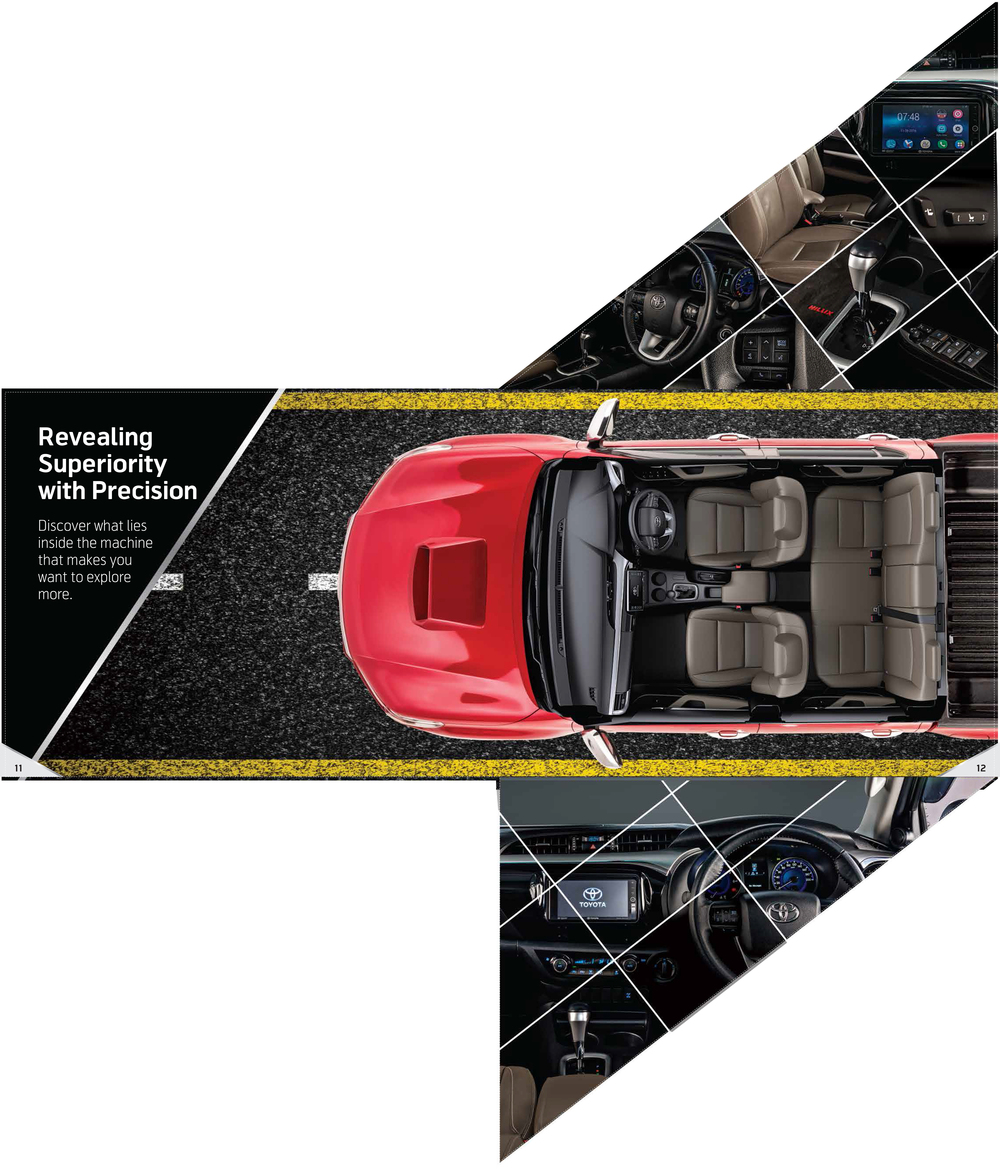 "The estimates are based on consistent economic policy, improved auto financing, and lower interest rates. Pakistan is one of the fastest growing economies in the region and that is a good sign for the auto industry, We believe the auto industry policies should be consolidated under the slogan of 'Made in Pakistan'"
Followed by, Chief Engineer, Mr. Hiroki Nakajima provided a further outlook on it: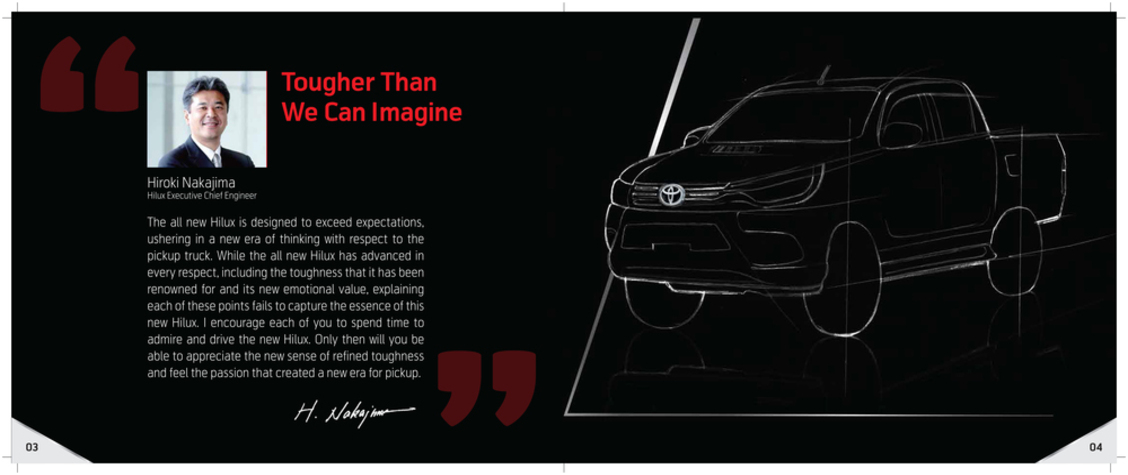 The Chief Engineer, Mr. Hikori Nakajima focused on describing both products (Revo and Fortuner) and highlighted their features, which are designed to appeal to a vast range of customers.
Hiroki Nakajima stated that the organization had adopted a radical strategy in outlining utility in the vehicle.
"We traveled across the world, including Pakistan, to observe and feel road conditions, drive patterns and traffic situations and listen to customers and dealers first hand," Nakajima said.
"With exhaustive research and testing, we have developed new Hilux and Fortuner with robust and all-terrain capability with comfort and stress-free driving experience like that of a car."
"Throughout the years, the nearby substance of the Indus Motors Company vehicles has extensively developed to more than 65% (in a matter of seconds Toyota Corolla) from simple 20% for the lady auto line off from its plant," he added.
New features the Toyota Hilux Revo is equipped with which Mr. Nakajima highlighted: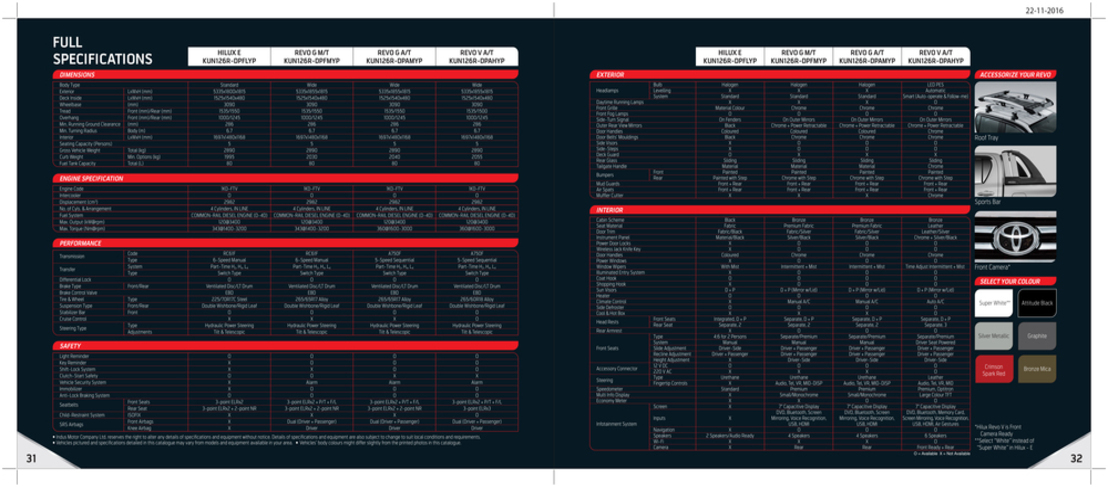 The engineer said the bigger and tougher Hilux started from a new frame, an improved engine, six-speed transmission and a longer leaf suspension that offers more efficiency, stress-free and comfortable drive.
Revo has several other features, including Chrome Front Grill, alloy rims, high-intensity fog lamps, chrome door handles, retractable side view mirrors, steering with audio controls, LED Optitron meters, electrically adjustable driver seat, inside chrome handles, keyless entry, immobilizer, anti-lock brake system, impact absorbing design, and supplemental restraint system front airbags.
Performance features: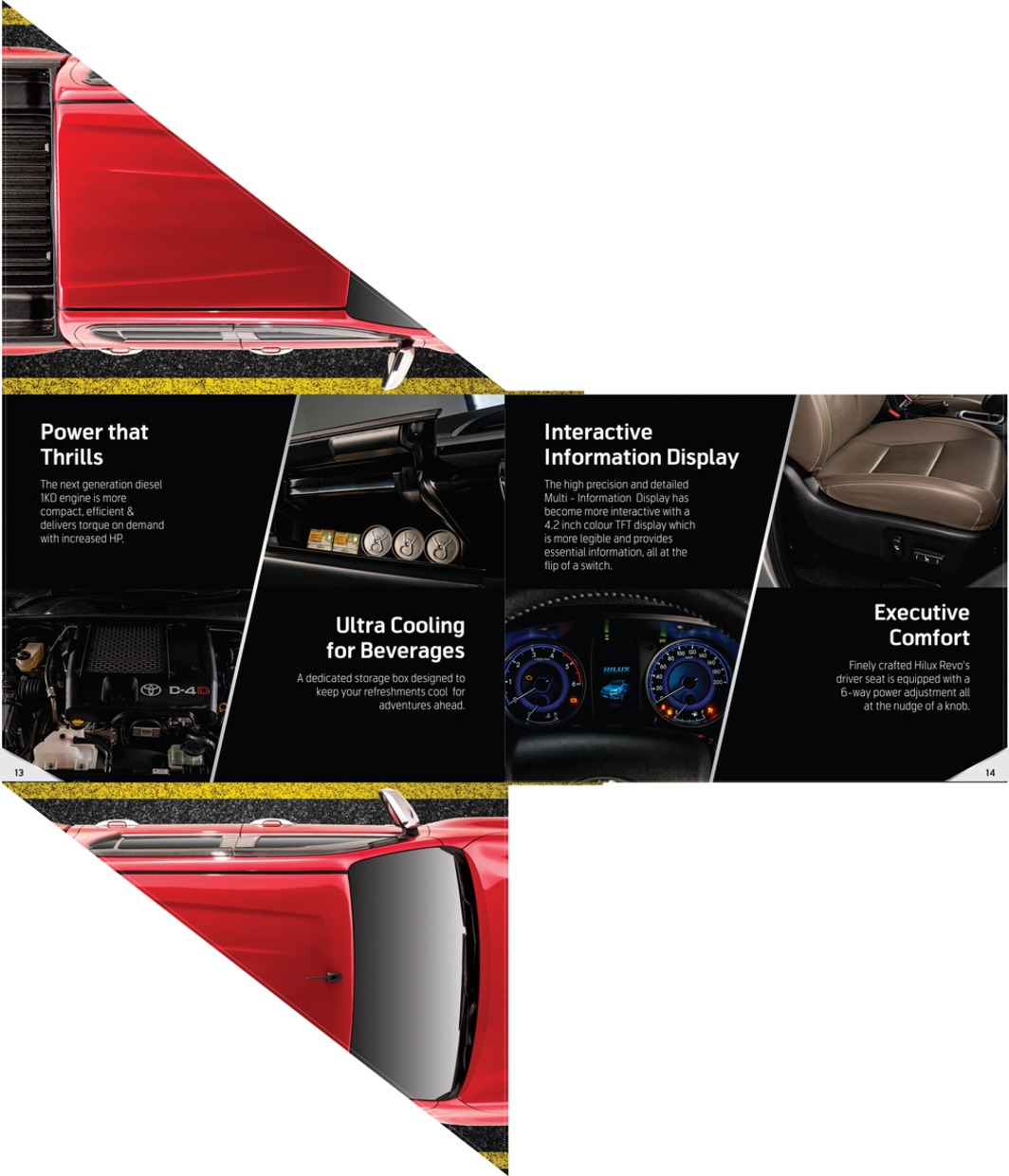 Cruise control
6-speed manual transmission
5-speed sequential transmission
Superior all-terrain performance switch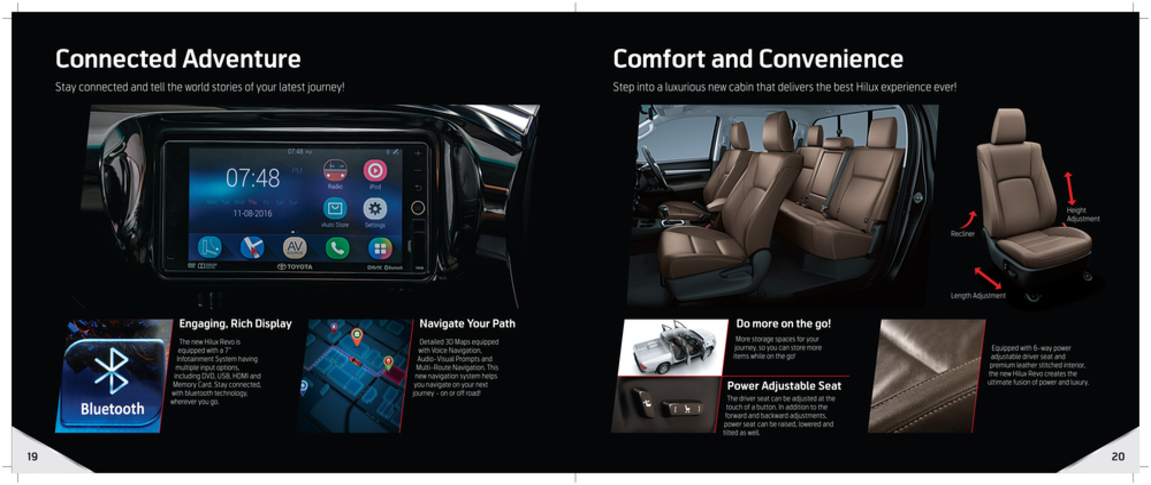 Differential lock
Exterior add-ons:
LED headlights with Smart Operation
Daytime running lamps
18-inch alloy rims
Chrome door handles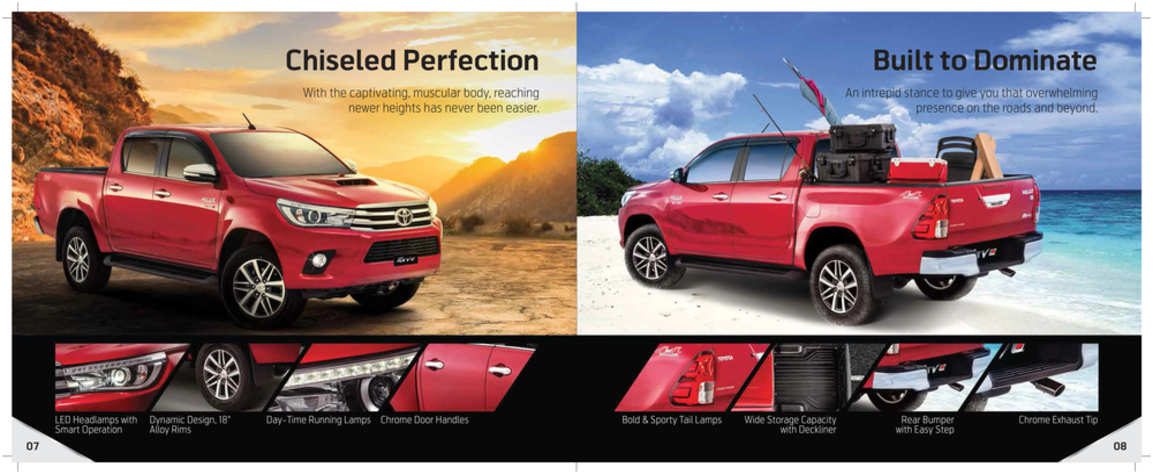 Rear bumper with Step
Tailgate stop-lamp
Jackknife key
Sliding rear window
Features in the interior:
Auto AC
Automatic climate control
Steering switches (telephone + voice recognition)
Optitron+Color LCD Display
Power driver's seat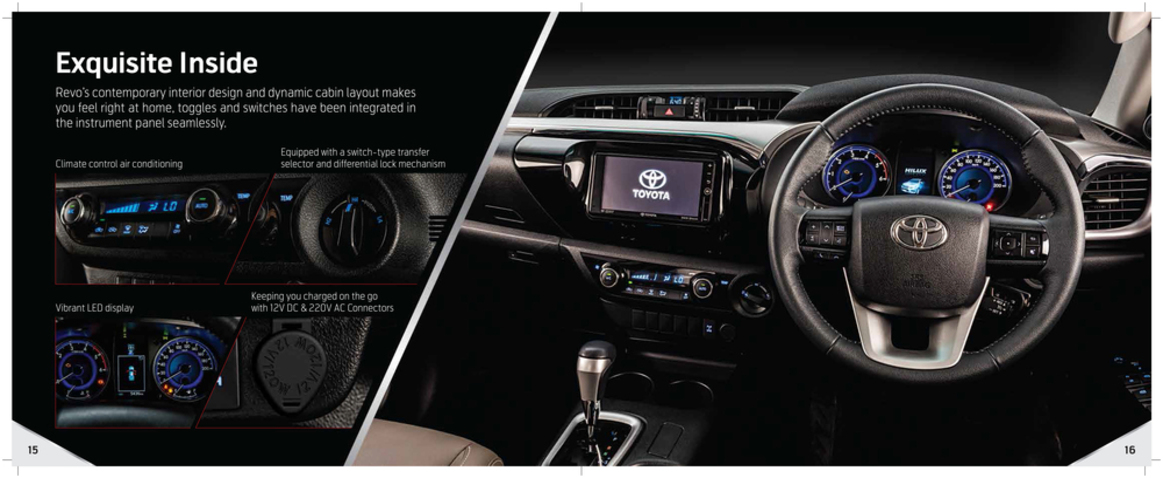 Hot & cool box
Rear armrest with cup holder
Sunglasses holder + lamp light
Latest 7″ infotainment system
Shopping bag hook
Coat hook
Illuminated central controls
ECO lamp with display
Digital clock
Driver adjustable, 6-way power seat
Under the hood: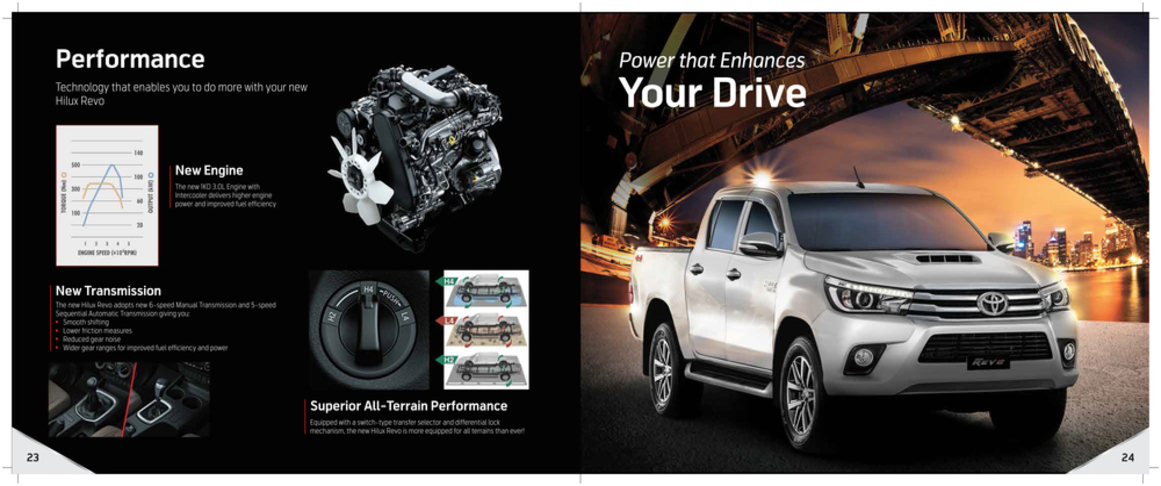 VN turbo engine with DOHC 16 valve (1KD-FTV)
2982cc engine displacement
Safety & security features: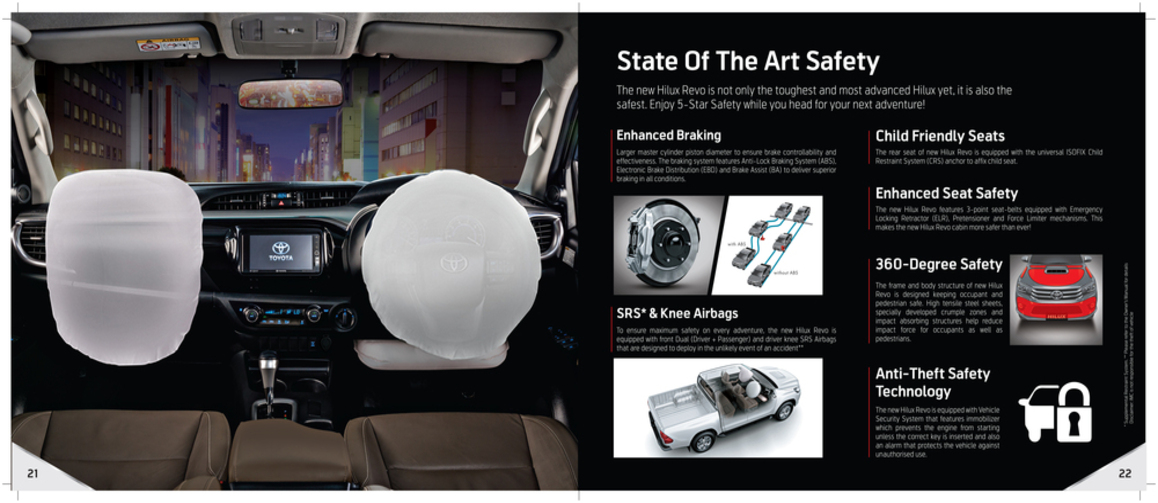 Enhanced braking system
SRS & *knee airbag
Child-friendly seats
Enhanced seat safety
360-degree safety
Anti-theft safety technology
*Knee airbag only available for driver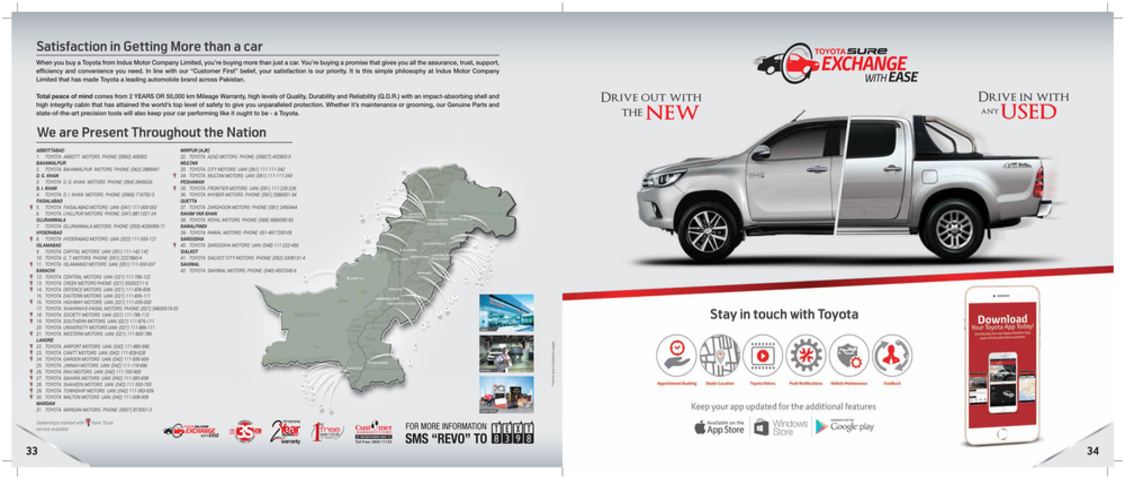 Toyota is a credible name which has been providing us with the best vehicles for a while now. With performance integration and the state-of-the-art features the new Hilux Revo delivers, you cannot help but marvel at the glory of driving this beast!