Saad Haroon, The Pride of Pakistan!
Pakistani stand-up comedian Saad Haroon achieved second position in the final of the first World Famous Laugh Factory's Funniest Person in the World competition. The competition was decided through online voting system in which Saad Haroon secured 59,213 votes following Ismo Leikola of Finland who won the competition by securing 158,945 votes. There were five artists who made into the final of the competition and Saad was among them. It's a big achievement for Saad to have defeated three artists and achieving the second place. Saad Haroon is not only a standup comedian but is also a director, scriptwriter, and producer who created 'Blackfish', Pakistan's first improvisational comedy group. Haroon is also credit with creating Pakistan's first English language comedy show on television by the name of The Real News. The show was a mix of Political and Social satire and was one of the first comedy shows in Pakistan to be shot in front of a live studio audience.
Saad was representing Pakistan in the Funniest Person in the World competition and became the first ever Pakistani to have performed in front of legendary comedians at Los Angeles' 'Laugh Factor' – a place where the greatest performers of all times such as Richard Pryor and Robbin Williams.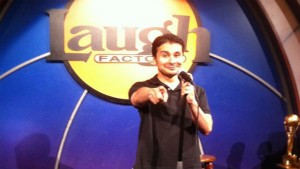 Wearing the Sherwani for the semi-finals and finals, Saad Haroon cracked the jokes on Biryani and the hospitality of parents in the subcontinent making American audience laugh heir hearts out.
The journey to Laugh Factory has been a long one for Saad Haroon. I remember having attended Saad Haroon's first ever performance with his group Blackfish in a Zamzama Café. The ticket for the first show was just Rs 100. Since, he has never looked back and turned many of his followers to big fans who won't miss any show of him in Karachi. His performances with comedy groups such as The Agency and Shark are unforgettable. He would often perform at the birthday parties of his friends and family members. Saad Haroon's first ever crackers on road directions in DHA brought laughter on audience's face and that was one his earliest best performances. Saad Haroon has covered other aspects of comedy as well before he turned his focus on stand cup comedy. Standing up on the stage and improvising and making jokes with the audience seemed his expertise since long. Standup comedy boosts up the performer as he is directly conversing with the audience and their feedback gives you an opportunity to improvise with quickie jokes.
Since then Saad Haroon's horizon of performances increased to Dubai and London where he molded his comedian tricks in to taste of local nationals. That's the quality of great comedian and Saad Haroon has followed it thoroughly and with great authority over the years.
His 7 minute performance in the finals began with him giving reference about his father who still thinks he is a pathetic comedian and wants him to be a business man, and for 10 years Saad Haroon ignored him and both never gave up on their dreams. It instantly cracked up the audience into laughter.
Saad Haroon has been around the famous places of Hollywood and Las Vegas. But he couldn't spare any time of his schedule of competition to visit these places. The thought itself of a Pakistani comedian meeting renowned comedians Dane Cook and hanging out with legendary performers give you a sense of pride.
Saad Haroon's brilliant performance at Laugh factory's Funniest Person in the World Competition was the much needed good news in Pakistan which didn't have any controversy or violence as most of news today depict. It was a happy and bright piece of news for Pakistan.
Standup comedy is about convincing people to laugh at silly things they do in daily life which they, otherwise, wouldn't notice. And, Saad Haroon has been instrumental in it. He has not only made people laugh but also portrayed and promoted the lighter and softer image of Pakistan. Saad Haroon jokes links Pakistani lives with those of US citizens by cracking jokes that someone in west could easily relate to.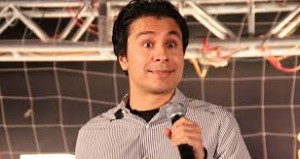 When the country was engulfed in controversies such as criticizing the Nobel Peace Winner Malala Yousafzai and other political fiascos, it was great to have someone like Saad Haroon raising the hopes of people , making them optimist, and giving them and people all over the world a chance to laugh, thus promoting the positive image of Pakistan.
The prejudice and discrimination of western media for Pakistan have been conscious for long, we had always hoped that these misunderstanding be removed to promote harmony but always lacked the chance to do so. Saad Haroon's performance in U.S. won't bring the drastic changes but clam the things down and give people all over the world to see Pakistan through different prism.
The final performance of Saad Haroon made up for all the worries one had. Saad Haroons' fluency, facial expressions, and ability to improvise with great power entertained the people so much that he earned the second position in the competition.  Saad Haroon could have won the competition if Pakistani audience would have voted him on huge extend. People who knew Saad Haroon voted him extensively but as the large chunk of youth still doesn't have access to internet and those who had , were not aware about this competition so Saad Haroon couldn't make to top position. Nevertheless, I thank Saad Haroon for producing the brilliant comedy, influencing us to laugh at ourselves, bringing smiles to depressed, and most importantly promoting the brighter and lighter image of Pakistani in the world. That was much needed. Good Luck Saad Haroon for future prospects.