Sunday, (Lahore): Patari, Pakistan's premier music streaming platform released the sixth and final episode of their massively popular "Tabeer" series. The project showcases raw, unsung talents from across Pakistan by pairing them up with established producers to make exciting music.
Meet Malala Gul – The Final Performer for Tabeer
The project's sixth song, titled Tora Baram Khana, is a traditional Pashto folk song performed by the young, talented singer from Khyber-Pakhtunkhwa, Malala Gul. Breathing a new life through her astonishing performance, here's how she performed the song:

Here's the full song:
http://patari.pk/home/song/Patari-Tabeer-Tora-Baram-Khana-Nawaba-Malala-Gul-and-Danish-Khwaja
Malala enjoyed singing from a young age and her passion for the craft was fully supported by her father and aunt. They provided her with an environment in which she grew. Alongside this, her family provided her with tutors who trained her in classical ghazals. She became something of a celebrity in the local scene, always carrying herself with grace and pragmatism.
Malala felt overjoyed when she was contacted by Patari and wanted to use the opportunity to make her mark. Being a live singer, the recording experience was different than what she was used as a witness, but she enjoyed exploring this new aspect immensely.
Malala always had the courage to follow her dreams, even though KPK's culture in recent years was not in full support. She hopes that will change because she thinks music is a beautiful thing and should be nurtured and developed. She is hopeful that Patari will support more artists in KPK the way they supported her.
The song is produced by Danish Khawaja, a highly acclaimed young musician from Lahore who was previously part of the cult indie band Poor Rich Boy.
Danish also enjoyed national success with his work as founder of Mai Dhai Band that had the breakout hit "Sarak Sarak". He has also worked in Pakistani films and composed, played on and co-produced the soundtrack for the film "Manto" as well the background score for the film "Ho Mann Jahan".
Danish was brought into the project after the initial vocals had been recorded and were asked to imagine the song anew. Using his own expertise at playing multiple instruments along with aided by the production efforts of Adeel Tahir and Bilal Nasir Khan, he crafted a delectable composition that brought a wonderful joyous energy to the song.
Explaining the project to journalists, Khalid Bajwa, the CEO of Patari said that #PatariTabeer came together due to a chance meeting with Fawzia Naqvi, a Pakistani based in New York said, "Fawzia was a big fan of an earlier volume we released, called Patari Aslis where we produced songs for indie musicians. She offered to fund another volume, and encouraged us to pursue our dream to try and do justice to the talent in Pakistan."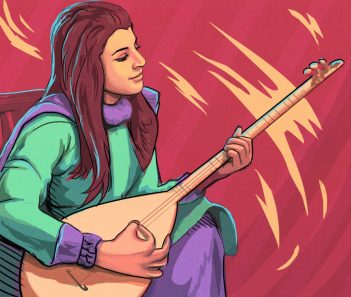 Fawzia's generous donation encouraged the Patari team to come up with something worthwhile, and the team thought of creating a project where they reached out to the fringes of Pakistan to bring out all sorts of dreamers looking to make their mark in the Pakistani music industry. It was this process that created #PatariTabeer.
Tora Baram Khana is the final of six releases in the #PatariTabeer volume, and all of the songs are in regional languages (Sindhi, Seraiki, Balochi, Pashto and Punjabi). Most of the artists had never even been inside a recording studio before.
Ahmer Naqvi, the Director of Content, said that Patari made a conscious decision to reach out to not just Pakistanis from underrepresented backgrounds, but also those who were mostly amateur musicians. Naqvi said, "It was a big risk for us, as a music startup staffed by privileged Pakistanis to reach out and look to enter the lives and dreams of much less privileged compatriots. We wanted to make sure that we do what was best for them, and let them truly express their creative selves." He added that Patari would help each artist in #PatariTabeer to connect with other musicians and platforms in order to help them build a career out of their opportunity.
#PatariTabeer will continue to release a song on its social media pages every few days over January.
Patari is an audio platform for the web and mobile that hosts Pakistani content. It has the largest library of Pakistani music, audiobooks, and podcasts. It is available online at http://patari.pk and as an app on the App Store and the Play Store for iOS and Android devices.
Fawzia Naqvi (no relation to Ahmer Naqvi) is a New Yorker of Pakistani heritage. Although her career has been in investments and banking, she has been deeply engaged with Pakistan's civil society, particularly helping young people realize their objectives. For her, Patari Tabeer is a highlight in her life, because it is truly giving Pakistanis a gift of 6 new unique musical talents from all across the country.