In the world of entertainment, maintaining the legacy once the children also decide to enter the world of big screens and cameras, is also an important step. There are a number of entertainers who's prodigy couldn't leave up to the mark (read Amitabh Bachan and Abishek Bachan, hehe) and end up being labeled as a disappointment.
When it comes to the Pakistan entertainment industry, there are many who have their names linked with those who are now said to be the legends of the local industry's Golden-era. Profoundly enough, these entertainers are continuing to prevail the existing legacy of their parents!
Filmstar Neelo And her Son Shaan Shahid
From appearing in Hollywood film Bhowani Junction (1956) to having a super hit Pakistani film made after her life (Zarqa), the Aye Musaam Rangeelay Suhanay performer is the mother of Shaan Shahid, who is equally talented as his mother.
Actor Salahuddin Tunio and His Son Fahad Mustafa
Getting fame from Main Abdul Qadir Hu, Fahad Mustafa is maintaining the works of his father. Salahuddin Tunio, who was awarded Sitar-e-Imtiaz in 2015, began his acting career by appearing in Balochi television. In the current era, both, the father and son are working and continuously bringing pride to the name!
Legendary Actor Abid Ali and His Daughters Iman Ali and Rimah Ali
Fanatics of Pakistan's entertainment industry are well-aware of the iconic Abid Ali and his work. His daughter Iman Ali rose to fame when she appeared in the music video of Bus Ishq Mohabbat Apna-Pan and since then, she has worked day and night to embed her name in this industry. From modeling to winning awards based on her dressing and to her amazing performance in Bol, Iman Ali is a complete pack of entertainment!
On the other hand, singer and performer Rimah Ali is the youngest in the clan. She made her acting debut in drama serial Nail Polish and also appeared with Jimmy Khan in Coke Studio Season 7 for performing Nadiya.
Film Actress Nisho Beghum and Daughter Sahiba
With her stunning looks and breathtaking performances, Nisho Beghum is one of the most prominent Pakistani actresses who worked in the golden era of the industry. Maintaining the works of her mother, daughter Sahiba appeared in films as well, till she got married to Afzal Khan (Pakistani Jan Rambo) in 1990s.
The Evergreen Javed Sheikh and His Children Moomal Sheikh and Shehzad Sheikh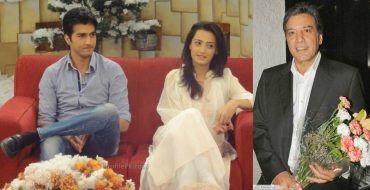 Javed Sheikh is that one actor who has played all sorts of roles in the world of entertainment. Interestingly, he even worked for Bollywood movies and made an impact in the neighboring country as well. His children Momaal Sheikh and Shehzad Sheikh are also working in the entertainment industry now.
Fareed Nawaz Baloch and Sons Yasir Nawaz and Danish Nawaz
Performing more than 400 plays, the Fareed Nawaz Baloch was one of the most prominent names in the Balochi entertainment world. His sons Yasir Nawaz and Danish Nawaz continue the works of their father but in a different genre.
Television Actress Afshan Qureshi and Son Faisal Qureshi
After embedding her name in Pakistani film industry, Afshan Qureshi is now sparkling her talent in the television industry. On the other hand, there is no denying how incredibly talented her son Faisal Qureshi is.
Actress Seemi Raheel and Her Children Daniyal Raheel and Mehreen Raheel
Currently having her career on hold, Mehreen Raheel is the daughter of famous Pakistani actress Seemi Raheel who is currently seen working in a number of Pakistani dramas. On the other hand, Daniyal Raheel has also done some quality work and has to be one of the most underrated performers of the industry.
Iconic Irfan Khoosat and his Son Sarmad Sultan Khoosat
If you are a true fan of the entertainment industry of Pakistan, you would applaud Irfan Khoosat for his breakthrough performances in almost every genre in this line of work. Maintaining his work, Sarmad Sultan is not less of a gem himself.
Saba Hameed and Her Children Meesha Shafi and Faris Shafi
As talented as she is herself, Saba Hameed's children are surely making her name proud through their amazing performances in this industry.
These children are depicting the work of their parents with the sheer amount of talent and hard work. If you have any more names in mind, do share with us!