Nishan-e-Haider, literally meaning "Mark of the Lion" is Pakistan's highest military gallantry award. The Nishan-e-Haider can only be awarded to members of the Pakistan Armed Forces for the highest acts of extraordinary bravery in face of the enemy in air, land or sea. Although some consider it equivalent to the British Victoria Cross and the United States Medal of Honor, it is unique in that it has so far been awarded only posthumously. Its exclusivity can be gauged by the fact that, since Pakistan's independence in 1947, there have been only ten recipients. Let's look at those 10 brave recipients who not just showed courage and bravery, but also sacrificed their lives for Pakistan.
1. Raja Muhammad Sarwar Shaheed
Unit and Service: 2/1 Punjab Regiment, Pakistan Army
Rank: Captain
Conflict: Indo-Pak War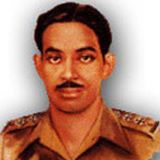 In July 1948 with war in Kashmir with India, Captain Sarwar launched an attack causing heavy casualties against a strongly fortified enemy position in the Uri Sector under heavy machine gun, grenade and mortar fire. On 27th July 1948, he volunteered to cut the enemy's barbed wire barrier to pave way for the move forward of his follow up comrades. However, while doing so he received a direct burst of enemy's heavy machine gun fire, and embraced shahadat at the spot.
2. Tufail Muhammad Shaheed
Unit and Service: Punjab Regiment, Pakistan Army
Rank: Major
Conflict: 1958 Indo-Pak Border Skirmish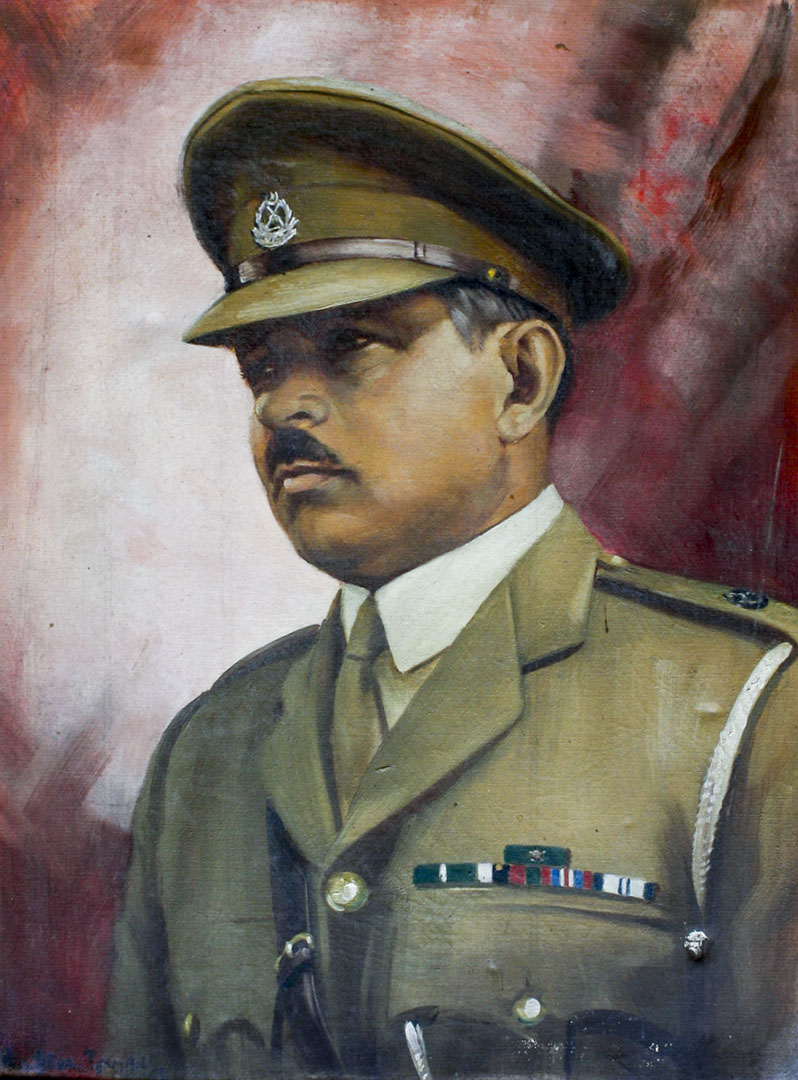 During 1958, with border skirmishes with India in the erstwhile East Pakistan, Major Tufail Muhammad was commanding a company of the East Pakistan Rifles near the town of Lakshmipur. The company encircled an illegal Indian post, which was erected by the Indians in violation of the internationally recognized boundary between the two countries. During the enemy action, Major Tufail was mortally wounded, but did not stop fighting even at close quarters. In the hand-to-hand encounter that followed, Major Tufail continued to lead his troops till the Indians were driven out, leaving four dead and three prisoners. However, Major Tufail himself succumbed to his wounds and embraced Shahadat on the 7th August 1958.
3. Raja Aziz Bhatti Shaheed
Unit and Service: 17 Punjab Regiment, Pakistan Army
Rank: Major
Conflict: 1965 Indo-Pak War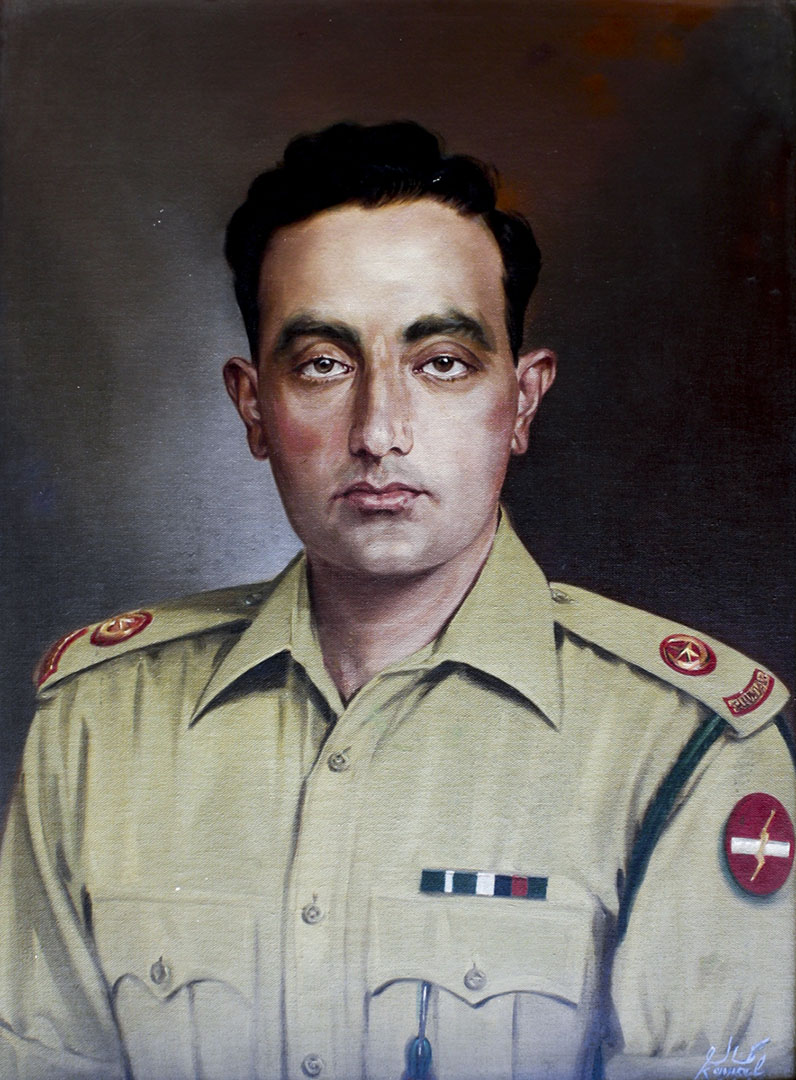 During the 1965 Indo-Pak war, he was commanding a company in general area Burki of the Lahore Sector. Major Bhatti's defences on the famous BRB (Banmban Wali Ravian Bedian) Link Canal was subjected to heavy Indian repeated attacks coupled with incessant artillery and tank fire for five days and nights. But Major Bhatti and his men stood like a rock. On 10 September 1965, while he was directing the artillery fire, he was hit by an enemy tank shell and embraced Shahadat.
4. Rashid Minhas Shaheed
Unit and Service: No. 2 Fighter Conversion Unit, Pakistan Air Force
Rank: Pilot Officer
Conflict: Bangladesh Liberation War 1971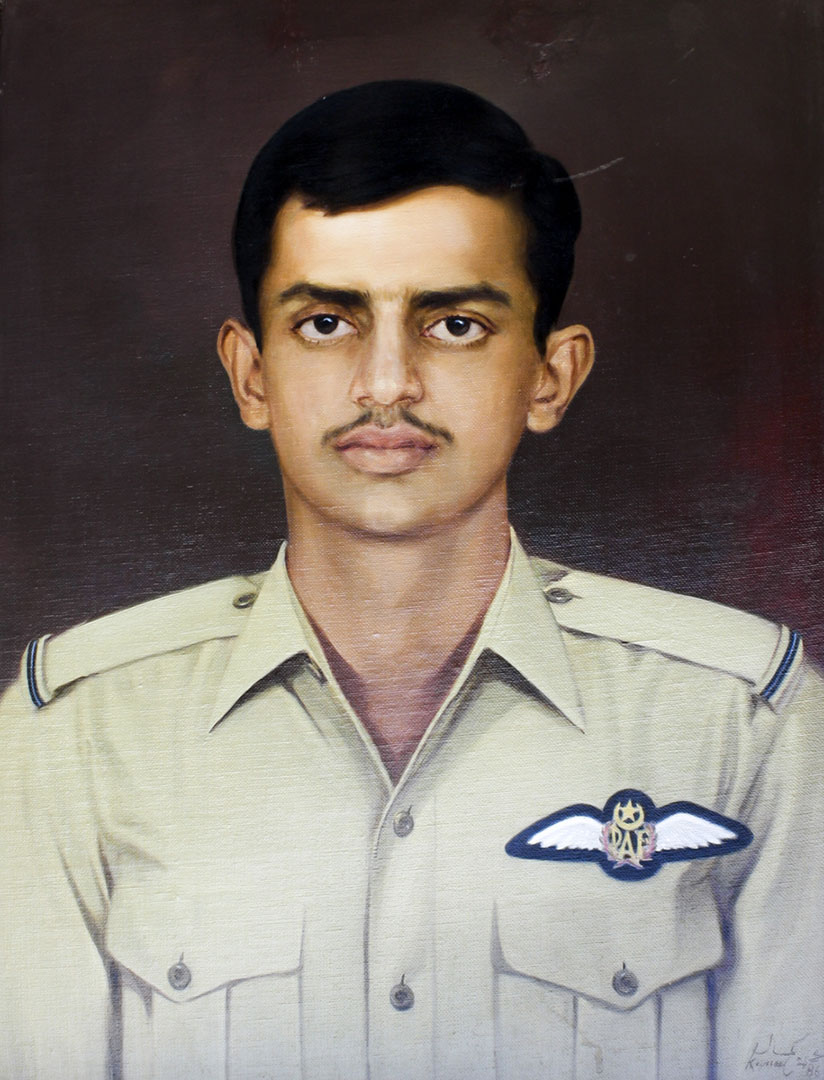 On 20 August 1971, while he was taxiing his aircraft towards to runway, a Bengali dissident Instructor Pilot (IP) forced his way into the rear cockpit of the two-seat jet trainer and in the process hurt Rashid Minhas. The IP seized control of the aircraft and headed toward India. When Minhas regained consciousness, he realized that the absconding pilot was heading towards India, so he tried to regain control of the plane. But being injured, he was not able to take power on the controls, so he forced the aircraft to crash some thirty two miles short of the border. By losaing his own life, he not only saved the aircraft from getting in to the hands of the Indians, but also jeopardized the malafide intentions of his IP. First PAF officer to recieve Nishan-e-Haider.
5. Rana Shabbir Sharif Shaheed
Unit and Service: 6 Frontier Force Regiment, Pakistan Army
Rank: Major
Conflict: Bangladesh Liberation War 1971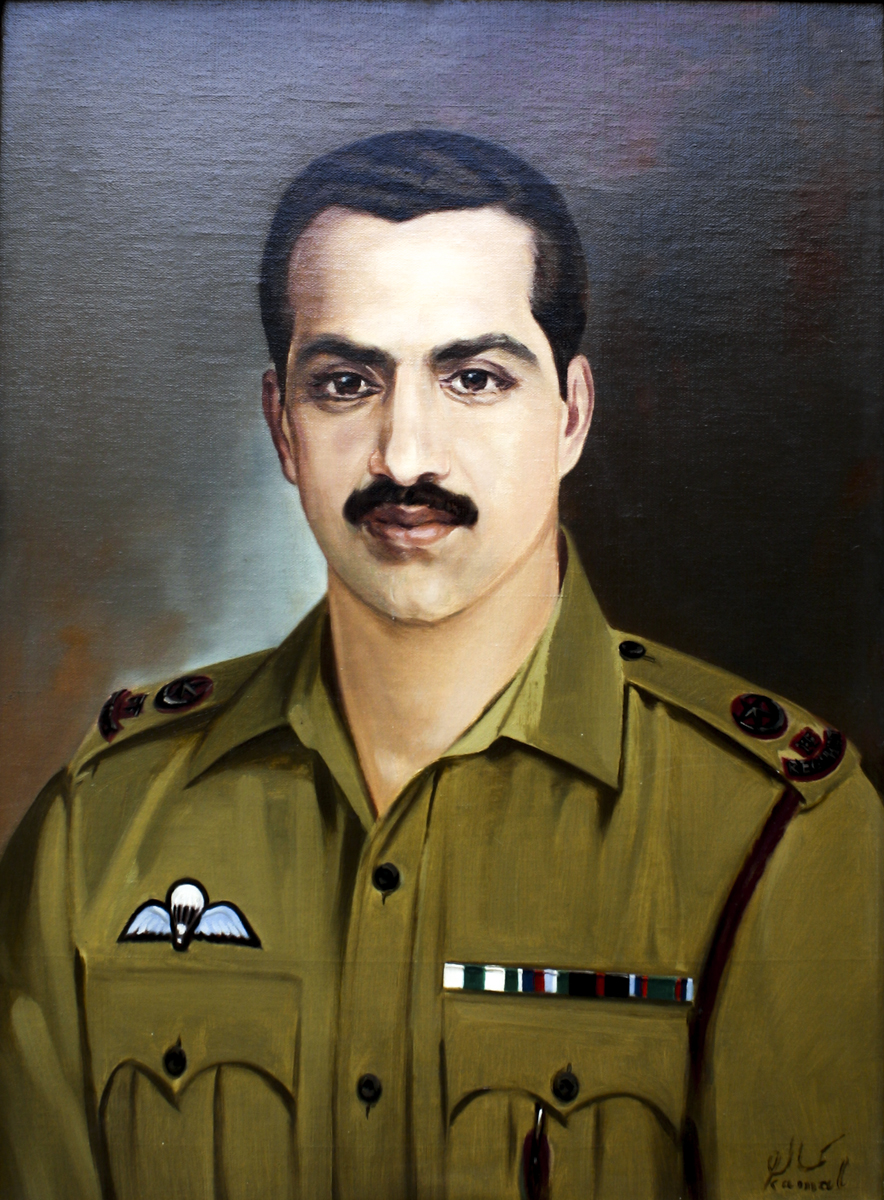 In December 1971, Major Shabir's 6 FF Regiment was ordered to capture high ground near Sulemanki Headwork defended by more than a company of the Indian Assam Regiment supported by a squadron of tanks. After crossing a minefield, massive obstacles, killing forty three soldiers and destroying four tanks, Major Sharif and his men held two enemy battalions at bay for days. However, on 6 december, the Indians mounted a fierce attack supported by tanks. Assessing the situation to be critical and not taking any chances with the enemy, Major Shabbir himself took over an anti-tank gun from his gunner and fired on the enemy tanks. While doing so, the enemy tank fired its main gun on Major Shabir's location, killing him in the afternoon of 6th December.
6. Muhammad Hussain Janjua Shaheed
Unit and Service: 20 Lancers (Armoured Corps), Pakistan Army
Rank: Sawar
Conflict: Bangladesh Liberation War 1971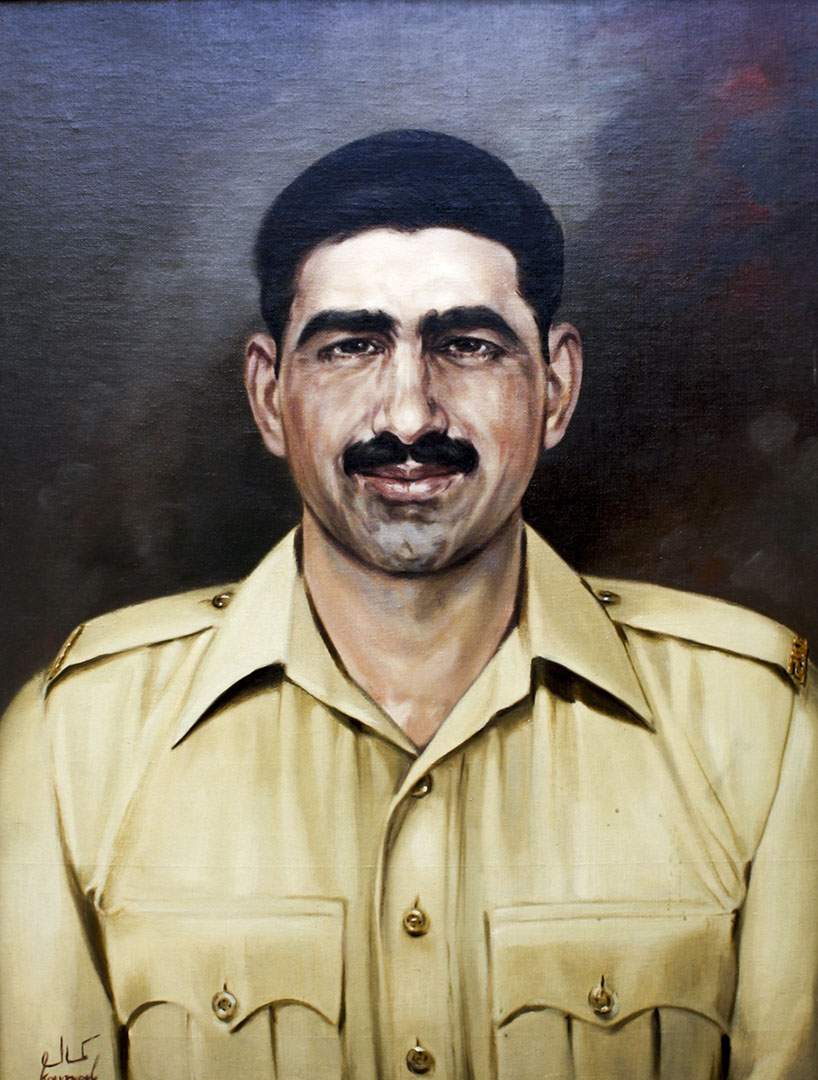 Hussain was always eager to perform jobs that were not normally meant for drivers and was always in fore fronts to help the others. During the 1971 war, he spotted the enemy digging along a minefield near the village of Harar Khurd. Daring as he was, on his own initiative he called and directed accurate fire at the enemy resulting in the destruction of sixteen of their tanks. However, while he was still directing fire from a recoil-less rifles, he was hit in the chest by a burst of machine gun fire and embraced Shahadat on 10th December 1971.
7. Muhammad Akram Shaheed
Unit and Service: 4 Frontier Force Regiment, Pakistan Army
Rank: Major
Conflict: Bangladesh Liberation War 1971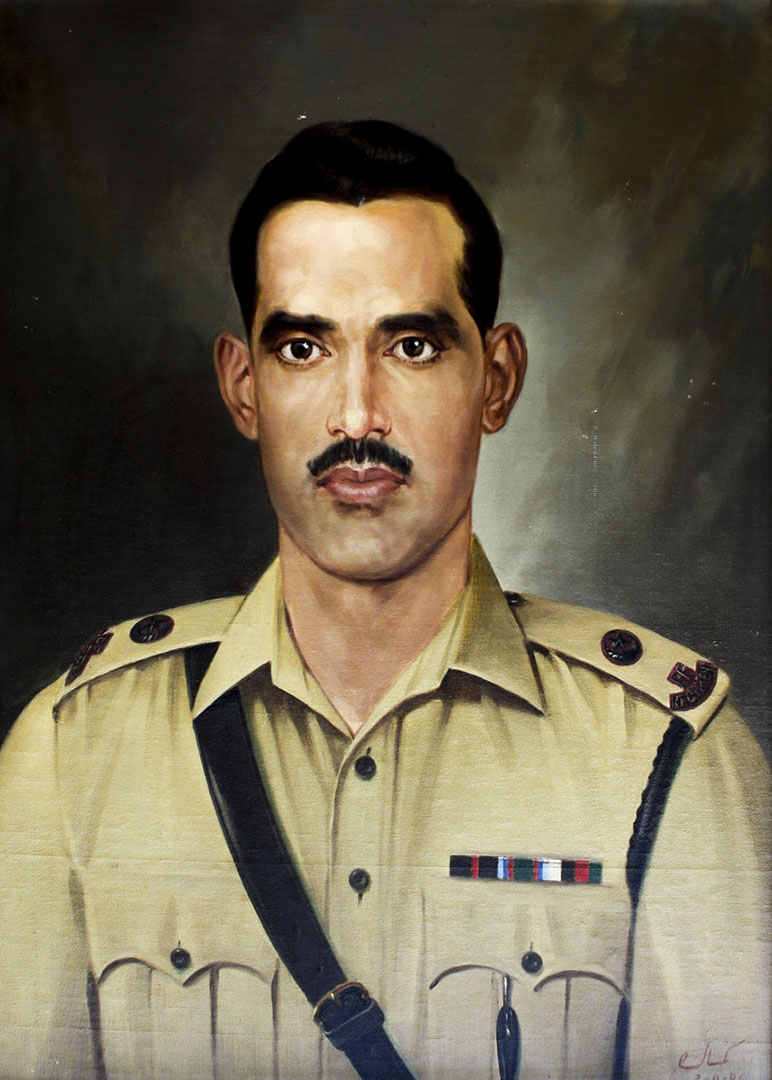 During 1971 Indo – Pak war, Major Akram was commanding a rifle company of the 4th FF Regiment in the forward localities of the Hilli district. The position held by Major Akram and his company was very vital and had blocked enemy's route of advance. Therefore it came under continuous and heavy air, artillery and tank attacks. But for almost two weeks, despite enemy superiority in both numbers and fire power, Major Akram and his men remained entrenched and repulsed every attack, inflicting heavy casualties on the enemy. The Indians many a time asked him to surrender but Major Akram refused. Finally, overpowered and fatigued, Major Akram embraced Shahadat fighting at close quarter battle in the famous "Battle of Hilli".
8. Muhammad Mahfuz Shaheed
Unit and Service: 15 Punjab Regiment, Pakistan Army
Rank: Lance Naik
Conflict: 1971 Indo-Pak War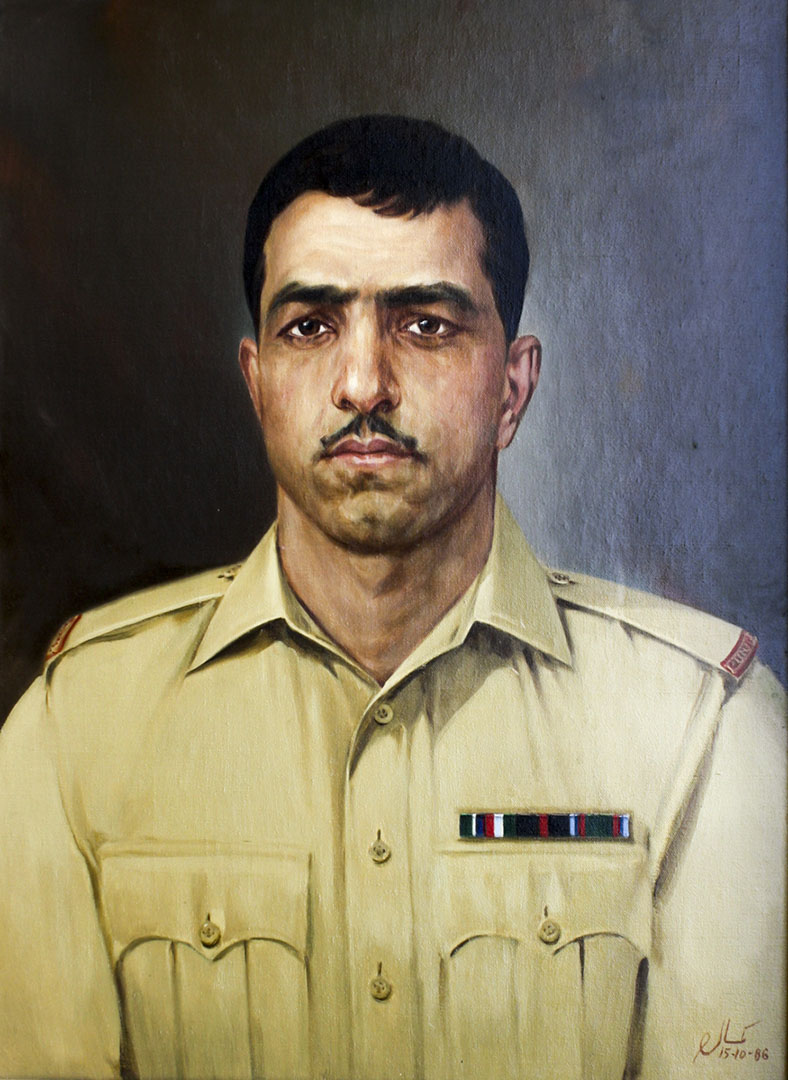 In 1971 Indo Pak war, he was serving in the 'A' Company and his unit was deployed on the Wagah-Attari Sector near Lahore. The enemy advancing elements pinned down his company positions by unceasing frontal and cross fire from automatic weapons. In the process, his machine gun was destroyed by an enemy shell, but it did not dishearten the spirited Lance Naik, who advanced bare handed towards an enemy bunker whose automatic fire had inflicted heavy casualties. Even though wounded in both legs by shell splinters, when he reached the bunker he stood up and pounced on the enemy, but was hit. Although unarmed and amidst the enemy, he got hold of one of the enemy and was strangling him when another bayoneted him to death during the night of 17th December 1971.
9. Karnal Sher Khan Shaheed
Unit and Service: Sindh Regiment/12 Northern Light Infantry, Pakistan Army
Rank: Captain
Conflict: 1999 Indo-Pak Kargil Conflict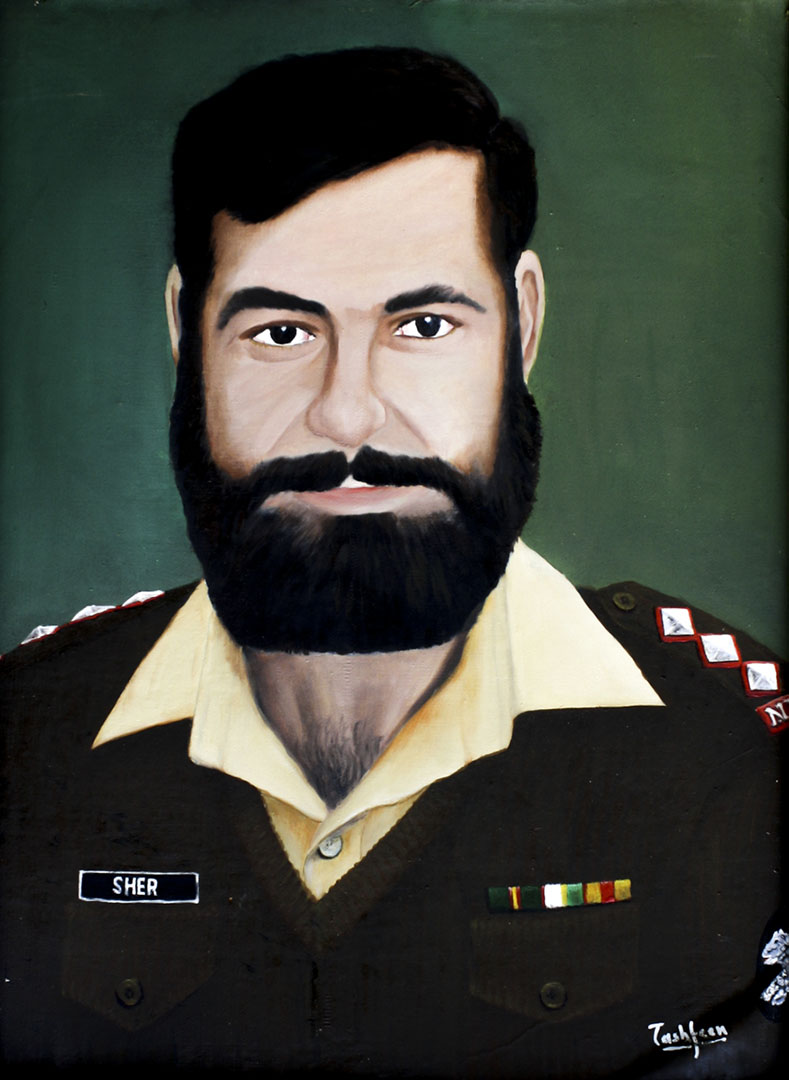 Captain Karnal Sher Khan rose to the heights of glory when he emerged as the symbol of mettle and courage during the Kargil conflict on the Line of Control. He set personal examples of bravery and inflicted heavy losses on the enemy. He defended the five strategic posts, which he established with his jawans at the height of some 17,000 feet at Gultari, and repulsed many Indian attacks. After many abortive attempts, on July 5 1998, enemy's two battalion ringed the post of Kernal Sher Khan with the help and unleashed heavy mortar firing and managed to capture some part of the post. Despite facing all odds, he lead a counter-attack and re- captured the lost parts. But during the course he was hit by the machine-gun fire and embraced Shahadat at the same post
10. Lalak Jan Shaheed
Unit and Service: 12 Northern Light Infantry, Pakistan Army
Rank: Hawaldar
Conflict: 1999 Indo-Pak Kargil Conflict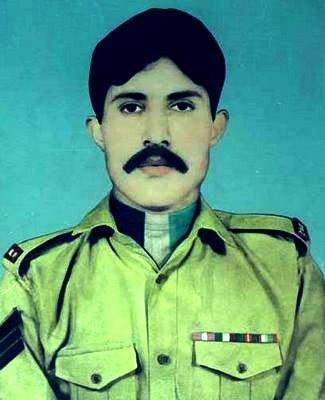 Although an appointment holder, whose task is to look after his men and provide administrative support, Havildar Lalak Jan volunteered himself to be deployed on the front positions located at the jagged peak in May 1999. Havildar Lalak Jan repulsed many aggressive ventures and imposed colossal losses on the enemy. On July 7, Havildar Lalak Jan sustained serious injuries as enemy pounded the area with heavy mortar fire. But despite being injured, he retained his position and frustrated the Indian assault. He, however, succumbed to his injuries at the same post he was defending.
11. Saif Ali Janjua Shaheed
Unit and Service: Azad Kashmir Regiment(Haider Dil) Battalion, Pakistan Army
Rank: Naik
Conflict: Indo-Pakistani War of 1947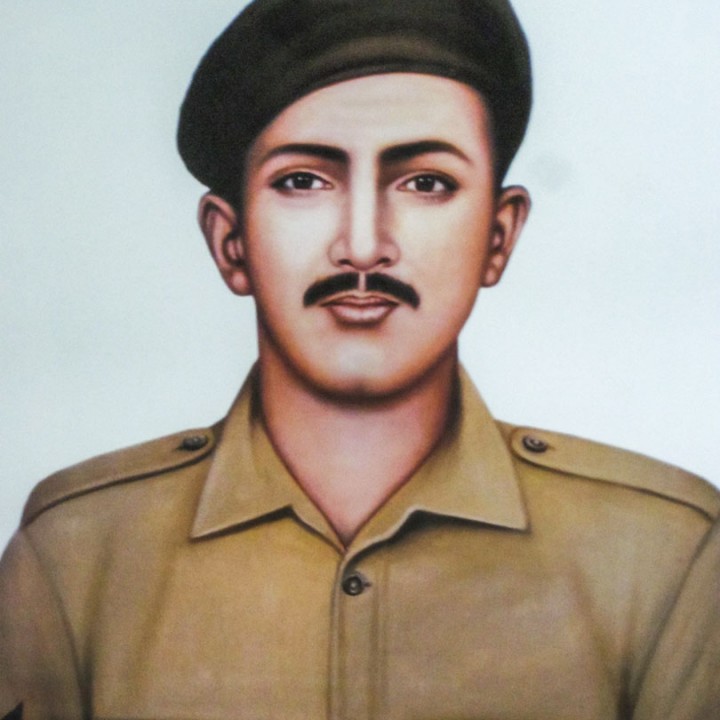 Due to his unflinching devotion and undaunted courage, on the recognition of his dedication and commitment to the cause, he was accoladed with the rank of "Naik" and was made platoon commander. His platoon was given the responsibility to defend Budha Khanna, where he faced never-ending frontal and crossfire from machine guns. He defended the post with chivalry, which he established with his few jawans and repulsed many aggressive ventures by the enemy and imposed colossal losses on them. The enemy used every mean to capture the post with two companies attack and heavy shelling but still managed to hold onto that post with just a handful of men. During the course of action, despite being hit on his chest by artillery fire, he retained his position and frustrated the Indian assault. He succumbed to his injuries on 26 October 1948. On 14 March 1949, the Defence Council of Azad Jammu & Kashmir adorned him with Hilal-e-Kashmir (posthumous) and on 30 November 1995 Government of Pakistan initiated the gazette notification to declare his Hilal-e-Kashmir equilent to Nishan-e Haider.