Since our childhood, many of us have seen those clone movies where out of nowhere comes a person who looks exactly like the hero and even has the same traits. Although in reality, it's always mindboggling to accept the theory that there are seven clones of everyone living on the planet earth. However, this phenomenon can be a blessing if you get to see the person you love. But, what if this turns true for any of the politicians? Did it make you want to question the theory and keep saying 'no' to it? If yes, then hard luck because recently, a picture of a baby has been making people go crazy as it resembles our disqualified prime minister Nawaz Sharif.
WOAH, THIS MIGHT BE NAWAZ SHARIF'S BABY PICTURE
It's for sure that if it was shown to our intelligent prime minister, then he must have replied to it with his new popular statement 'Tumhien Kya' while, on the other hand, Imran Khan must have called it a rigging. The people who were already done seeing his face couldn't hold their emotions when they saw this picture and spilled the beans in the comment section. Some made fun out of it while the others stuck to not making fun yet, added the pun element to it as they believe that it's not the mistake of a child to have been born with the face of such a person. Well, this is not the first time that someone has sheer resemblance with Nawaz Sharif as in the past also the picture of a women got many shocked as she looked exactly like him.
HE HAS GOT HUMOR

WELL..

EXACTLY

POINT TO BE NOTED

WATCH YOUR WORDS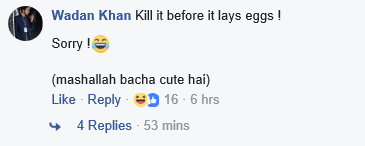 Even though, secretly, many must be praying to see the doppelgangers of their lovely politicians but this one was a bit strange for many. After experiencing it twice with our ex-prime minister you might want to keep looking as well as you may find your clone. If you liked this article then like, share and comment down below.