Dear Indians,
Remember the song Woh Lamhay in 2005 which became a huge hit (bigger than the movie itself), a song which every Indian loved from the movie, Zehar? Then in Tere Bin in 2006 from movie Bas Ek Paal? And the romantic song Tu Jaane Na from Ajab Prem ki Gazab Kahani in 2010? Do you remember how all of these songs by Pakistani singer Atif Aslam got him Filmfare nominations?
It is YOU who made him a singing sensation in India, who began covering countless songs and Indian award performances, doing much better than a number of Indian singers. Why were you enjoying his songs then when you have a problem with Pakistani imports now? Aren't you responsible for giving him the success he has today?
Before Karan Johar or any director or producer, it was Mahesh Bhatt who introduced Atif Aslam and a number of other Pakistani actors like Meera and Veena Malik who couldn't work in Bollywood. But notice how Indians loved and appreciated our locals for their movies?
We adore Fawad Khan, even before when he started his acting career. You think Pakistanis didn't give him what he deserved? We made his band EP a legendary band even when the genre was different for most of the audience. We gave Fawad Khan that status of one of the best actors in Pakistan. He gave us hits, we gave him more opportunities to perform for our screen where YOUR Indian directors approached him.
We don't put any hate on Indian actor Alyy Khan who is doing phenomenally well here in Pakistan, especially through his series, Pakeeza.
We loved Naseeruddin Shah in Khuda K Liye and for all the times he comes to Pakistan's literature events.
And didn't we all love Om Puri in recent Actor in Law? Do we see any Pakistani showing hate towards these actors?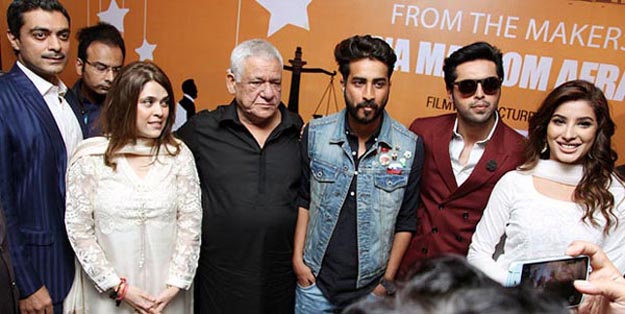 Dear Indians, please stop hating our entertainers who took the opportunity you gave them. Not every Indian actress has opportunity to work opposite one of the best actors in the world, Shahrukh Khan. But it was Indians who gave her, along with every other Pakistani celeb like Ali Zafar and Imran Abbas this opportunity.
Publicly disrespecting our actors won't do any good to your image, neither do the situation. But still, thank you for giving more opportunities to our much talented entertainers.
With love, all Pakistanis.