It's 2018 and in today's day and age, brand wars are a huge part of creative marketing. Going out of their way, thinking out of the box and creating magic through marketing, brands now focus on keeping competition in check by doing them 'one-up' through creative advertisements.
One such exceptional advertisement caught the country's attention recently. Yes, we're talking about the famous Telenor billboard that is being praised vastly on social media.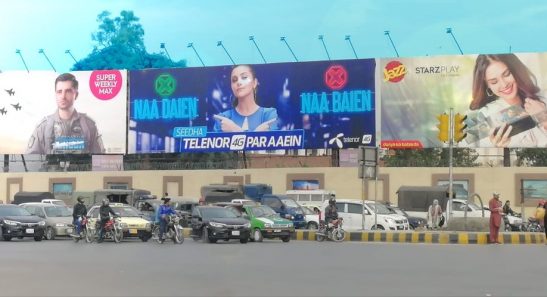 "Naa daien, na baien, seedha Telenor 4G per aaein!" –  This is the catchphrase that has people staring at the billboards present on Kutchery Chowk, Rawalpindi. People believe what Telenor has done now, cannot be undone. Neither Zong, nor Jazz, both the other mobile networks involved in the endeavor can come up with a reasonable comeback that would steal Telenor's limelight.
It's been proven in the past, of all the telecommunication companies in Pakistan, Telenor always brings the most creative advertisements through their marketing mantra! This new billboard has caught the consumer's attention and is being discussed everywhere.
The ad kicked-off due to its brilliant positioning. From the consumer's point of view to Telenor's right is a Jazz billboard and to its left is Zong. The engagement comes with the word-play present on the Telenor board, "Naa Daien, na baien, seedha Telenor 4G per aaien!" – which in English translates to, not right, not left – come straight to Telenor 4G; successfully ridding the competition's attempt to gain consumer attention.
Even though marketing in Pakistan is usually conventional and/or 'planned' with gimmicks, this creative strategy opted by Telenor showcases that for brands, there is always room to opt the 'out of the box' approach and create headlines.
Telenor, with their new billboard ad, has proved that you do not need to sling dirt at the competition to promote your brand, but given the right time and opportunity, magic can be created out of absolutely nothing!
The brand itself focuses on providing customers with high-speed 4G internet along with the regular cellular services. Hailed as the 'brand of youth', Telenor, taking their time and experience in account, is the go-to network for many in the country, and surely, this advertisement will only increase the number of consumers they cater to.
Pakistanis on the internet have been reacting to this creative billboard under #NaaDaienNaaBaien
Surely, Telenor aakhir mein toh nahi aya.. lekin dil sab ka zaroor jeet liya hai!
Haha so #Telenor became the guy jo "aakhir me aata hai sab ke dil jeet ke jaata hai!"
Gamez utha di hain with just a tag and colors. #NaaDaienNaaBaien pic.twitter.com/C6Xyy4hoAC

— سعد (@SaadIlamdin) November 24, 2018
It's not like Telenor is just click baiting with this advertisement, people say they actually offer the best internet speed!
And I can totally vouch for @telenorpakistan as it has the best 4G services. To aap bhi seedha Telenor 4G par aaein :p#telenor #NaaDaienNaaBaien pic.twitter.com/7TrqD83uCr

— Keenu (@Kinnzayyy) November 24, 2018
Call it trolling or call it creativity, is baar baazi Telenor le gaya hai!
And it's a six! That's some next level trolling by @telenorpakistan #NaaDaienNaaBaien #Telenor pic.twitter.com/kvfYNkQ0tW

— Ramsha (@ramsha_asif) November 24, 2018
This Telenor supporter thinks there's no room left for comebacks now – we actually agree too!
Any comeback to this will not have the same effect! What's done is done now.

#NaaDaienNaaBaien #telenor pic.twitter.com/rH0RntJhhV

— Sudrish Khan (@SudrishK) November 24, 2018