11/26/2017- LAHORE: After Taking Karachi by a storm; Tarzz, has currently become one of the fastest growing retailers of quality attire for women and men in Pakistan at the moment and is all set to launch their brand in Lahore this winter.
Tarzz opened its very first doors in 2016 and will very soon be operating over 19 stores nationwide by the end of the year; in carefully considered locations with a modern, welcoming space for you to shop. Tarzz stores have now begun operations in Lahore at Amanah Mall, Packages Mall, Iqbal Town and Zarina Mall and Aqsa Mall.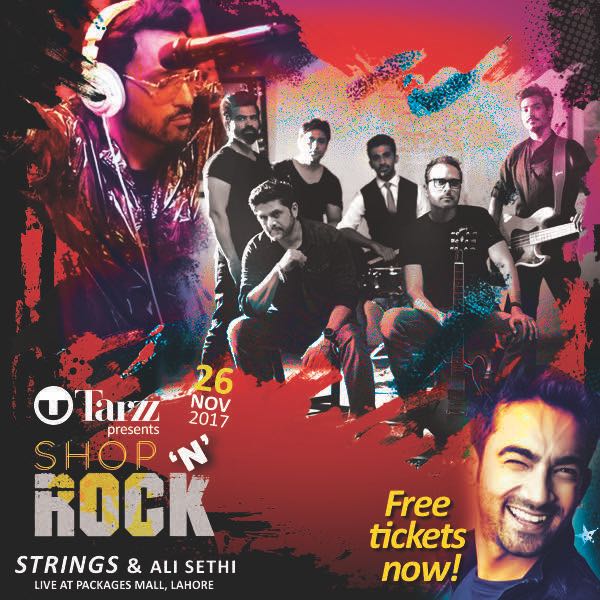 Keeping in consideration the popular demands of our customers, we at Tarzz, have put together one of this year's greatest and most thrilling event for you. Tarzz presents Shop 'N' Rock in collaboration with Packages Mall on the 26th of November, bringing you some of the most renowned names in the Pakistani music history. The brand has put forward the chance for its customers to avail absolutely FREE TICKETS to the event by simply paying a visit to our stores and purchasing any of our outfits for Rs. 2000 or more and adding a lifetime worth of memories with the Tarzz fabric you don't.
To the nation's surprise, the much awaited fantastic duo Strings are ready to make a comeback on stage once again after a hiatus of three years, bringing you a LIVE power-packed performance. Not only has the iconic band produced hundreds of hits but the music maestros have also discovered innumerable new talent in the industry recently and have now paired up with Tarzz in presenting you a performance that will showcase the journey of their music so far.
We will make sure it will be a night to remember! The uber-talented heartthrob Ali Sethi shall be accompanying them on stage to energize the whole crowd with his incredible power vocals and exceptional stage presence. Being a candidate in the contemporary classical music scene, Sethi's work seems to have a familiarity with our Tarzz ideology of being the flag bearers of the 'Good Side of Traditions'; as we believe in bridging the divide between the traditional classics and improvising it into something that makes it feel fresh but not entirely different.
The event itself will be hosted by a name well-known name among the youth; Ali Safina. The former VJ sure knows how to set up the right vibe and atmosphere to accentuate the experience not only for the audience but the artists too before the event starts. The ambience elements at the event will be kept to make the entire place look alive and buzzing with some edibles to indulge in as well.
To learn more about the brand or browse it's clothing lines visit the website at www.tarzz.com.pk or their FB page at https://www.facebook.com/tarzz.official/
Official Hashtags: #Tarzz #TarzzShopNRock #Strings #AliSethi #Ali Safina #ShopnRock #Packagesmall #KeysProductions #Lahore