Indian media has gotten too carried away by the clashes between Sindh police and Pakistan army, that they are propagating news about an imaginary 'civil war-like' situation in Karachi. More so, even Tarek Fatah now thinks casualties have taken place with Asi Siddiqui aka Dr Aamir Liaquat being the first to lose his life in Karachi civil war! Nonetheless, the Pakistani Twitter community is having a field day mocking and ridiculing Indian media.
Poor Indians are so delusional that they have created an entire civil war- complete with pitched gun battles between rival forces, bombings, and an imaginary area in Karachi called, quite ridiculously, 'Gulshan-e-Bagh'. Also to be noted that the two words literally mean the same thing. LOL!
Many Pakistanis also trolled the Indian media and Indian with their epic meme-game.
The arrest of PML-N leader Captain (Retd) Safdar on charges of political sloganeering at Quaid's Mausoleum and the leave applications by senior police officers is being exploited by the top Indian news channels. They are portraying an administrative issue as a 'civil war' and going to the extent of even reporting casualties, and armed clashes.
India seems to be under the impression that the clashes taking place between the army and provincial police are causing a civil war to erupt in the port city. Now, before we get to Pakistanis' reactions to the frankly absurd trend, lets take a brief look at how Indians were reporting.
Established Indian news channel CNN News 18 claimed that the army had taken over all police stations in Karachi
In fact, they went as far as to link the Maskan Chowrangi blast in Karachi to 'unrest' in the city
The fake news hit its climax when The International Herald claimed that 10 police officers in Karachi were killed in the imaginary civil war
Apparently, Dr. Aamir Liaquat lost his life during the 'civil war'
Initially, the Pakistanis tried to get over the surprise of apparently being in the middle of a civil war they knew nothing about. Subsequently, many lambasted Indian Twitter users and media for spreading fake news and attempting to create divisions. #CivilWarInPakistan and #KarachiCivilWar were in no time the top trends on Twitter.
Here's how one by one everybody killed Dr. Aamir Liaquat
Pakistani Twittersphere has lost it and been going crazy since yesterday!
Even Tarek Fatah retweeted it…and LOL!
We all know about the issue Tarek Fatah has with Pakistan! Is Tarek Fatah once again mistaking someone for someone else? Does he really want to get trolled by Indians again like the last time for mistaking Inzamam-Ul-Haq for a mullah? Check this out!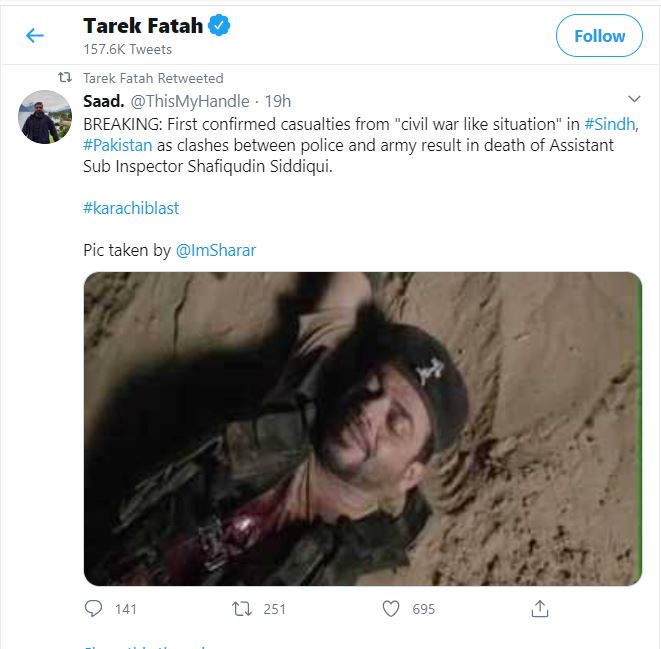 Wait… it gets better. LOL!
It could not get any funnier!
LOL! Poor Dr. Liaquat. While we are enjoying this Tarek Fatah's imaginary civil war meme game in Karachi, Aamir Liaquat being the face of it makes it even more hilarious!
Our folks across the border seem to have taken their wild fantasies a bit too far this time. And with their old habits, they obviously could not resist poking their nose and making baseless claims like they always do. We cannot wait to see Aamir Liaquat's reaction to this!
What do you think of this story? Let us know in the comments section below.