KABUL: Taliban suicide bombers struck Nato fuel trucks at a key border crossing in eastern Afghanistan on Thursday, setting off explosions that destroyed dozens of trucks and triggering a gunbattle with police guards that left all the attackers dead.
The attack in eastern Nangarhar province, on the border with Pakistan, began early in the morning, according to a spokesman for the border police in Nangarhar, Idris Momand.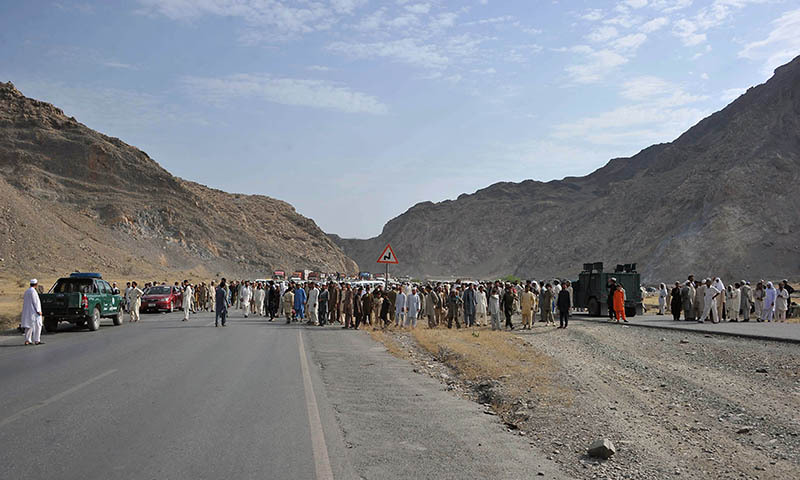 Three Taliban bombers targeted a parking lot of the Nato outpost near the Torkham border crossing, a key supply route for the alliance.
Momand said 37 Nato trucks were destroyed in explosions set off by the gunbattle with the guards.
Ahmad Zia Abdulzai, the spokesman for the provincial governor, said two of the attackers were killed by police while one blew himself up.
Taliban spokesman Zabiullah Mujahid said his group was behind the attack.
Moreover, Nato helicopters also arrived and were targeting the attackers in the surrounding hills.
Most Nato cargo shipments go through the Torkham crossing, toward Pakistan's port city of Karachi.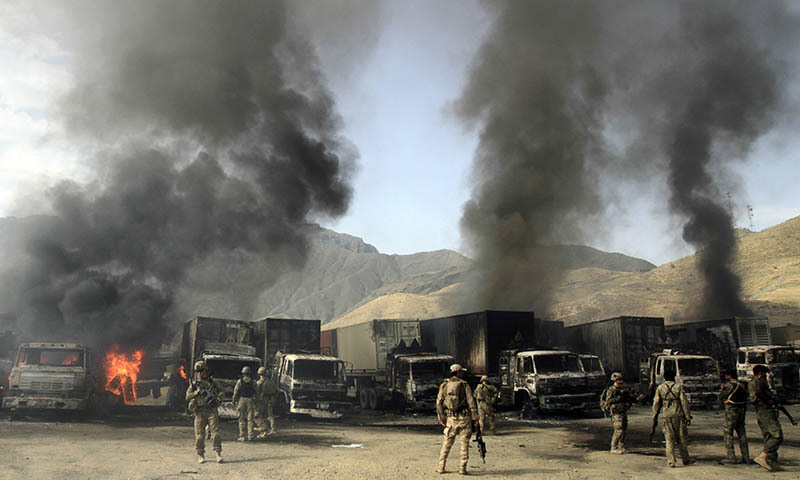 The Taliban have intensified their spring offensive in Afghanistan in a bid to undermine the Western-backed government as foreign combat troops prepare to withdraw from the country by the end of the year.
---
Pak-Afghan border closed
---
The Pak-Afghan Torkham border was closed after Afghan Taliban attacked a Nato terminal on Afghan side near Torkham.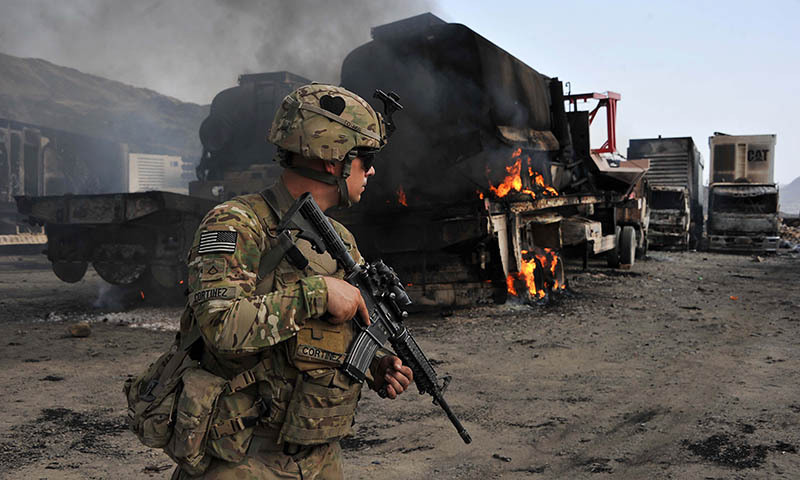 The official sources say that scores of containers and oil tankers were burning after the attack but the casualties could not be confirmed right now.
The Afghan authorities have completely sealed the border and the clash is continuing
First Published In Dawn, 19th june, 2014.