Talha Anjum responds to Saad Kaiser the YouTuber, when he tagged him in his tweet and asked him to stick to rapping.
Recently the rapper's fame lashed out at none other than the YouTuber Saad Kaiser for deliberately sharing his previous tweets to embarrass him on his political views.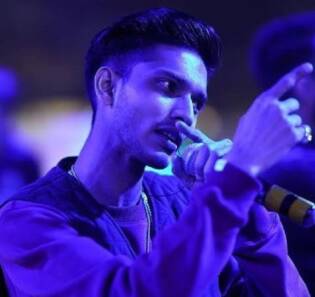 There's no doubt, people's views get change after a few years, but in this case, things stayed the same and Kaiser tried to hold back from tweeting to stick to his rapping rather than being political.
In that tweet, Talha Anjum didn't take it lightly and gave it in his style.
Talha Anjum Responds Saad Kaiser
First Kaiser tweeted, "Karachi ke is walay youthia londay ka kya bana (What happened to this youthia boy from Karachi)?" tweeted Kaiser tagging Young Stunner's Anjum.
"Rap karo na bhaie, woh na karo jiska kuch pata nahi (Stick to rapping, don't do what you don't know)," he added. Kaiser's tweet was accompanied by screenshots of Anjum's tweets from September 2018 and August 2022. The prior read, "I'm reporting you to ISPR if you talk sh** about Pakistan army, I mean it," while the latter stated, "Imran Khan is not fighting 11 but 12 parties alone. Don't forget the Pakistan army."
Young Stunners known as the founders of Urdu Hip Hop in Pakistan, their raps have captured the attention of every all across the globe.
Last year they even won the Lux Style awards as well.
Then here comes the Anjum with no holds barred attitude, Talha didn't stop there and broke the wires to respond. "First thing first, don't know who you are but you're more *expletive* than you actually look.
Secondly, don't block me like your beloved Maryam baji did," Anjum shared without providing context. Capping off with another expletive, he continued, "Lastly, I don't have the time to reply to an *expletive* like you again and again. Now go enjoy your two minutes of Twitter fame."
Kaiser's Two Cents
Without targeting the artist, Kaiser shared his two cents on Anjum's tweet in response to another comment.
"Aik bechara matarwa youthia gaali dainay ke ilawa aur kar bhi kya sakta hai? (What can a youthia do but curse at someone?)".
Young Stunners have never been silenced whenever someone tried to poke them.
They have even debuted in Coke Studio season 14 and their songs fall in the list of top 10 Pakistani songs of 2023.
What do you think of the story? Tell us in the comments section below.