The dark side of talent agencies is darker than one can imagine. The emotional and sexual abuse of newcomers is rampant in the world of show business. Just to give you a glimpse of what lies on the dark side of it, let's talk about this young girl who was recently taken advantage of under the banner of 'talent hunting'. Now, the local talent agency is being slammed for taking advantage of this young girl during audition.
A girl, who as far as one can tell is only ten years old, apparently, came to a talent agency for an audition. What went on during the audition is beyond anyone to wrap their head around. This minor girl was thrown in to the wolves and treated in such a way that no ten year old deserves.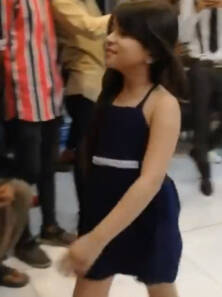 This local Pakistani talent agency that this girl went to give an audition sorely humiliated her. Modeling is not an inherently bad or dangerous job, but if you do not have basic work protections, then it is not surprising that some people are exploited or abused. In fact, there are numerous sick pedophiles posing as modeling agencies who exploit minors.
Sexualization of a minor girl is not acceptable
A shocking video surfaced on social media. A girl in an audition for a talent agency, too young to wear a seductive dress clads in a backless dress, poses for the camera, the agency was later slammed. Dressed provocatively, the 10-year-old twirls her hair with her hand on her hip as she poses.
Without a shadow of a doubt, a girl of her age cannot be policed for the way she dresses up. However, posing for a number of sick pedophiles in such a raunchy outfit can certainly be policed. If you take a close look at the video, the eyes of the men in the audience between whom the girl gives the audition of ramp walk seems full of lust.
How disturbing and downright pathetic is it to mistreat a girl of her age. In order to make it to a talent agency, a 10-year-old girl cannot be told to dress up that way. In fact, even the shoes that she is wearing are not at all age-appropriate.
Downright sick and horrible!
A child this young must not be forced or even encouraged into such settings where they have to show their walk, dress to make an impression, put on make-up, and be around grown, and clearly untrustworthy men. In times like these, you never know what a child sex predator disguises as.
How can parents even allow and encourage their children to do such a thing? Even by a glimpse at the video one can tell how wrong it is on so many levels. Why must a child rush into for fame that objectifies them? This is purely objectification of women. Period. Needless to say, the video turned out to be a tremendous shock to us and many Pakistanis.
This toxic culture of sexualizing young girls is getting out of hands not only in Pakistan but all around the world. Earlier, Netflix got slammed for sexualizing young girls in the new movie Cuties.
Note that these are just a few of the things that happen in the talent agencies that we are never told about. Predators can sniff desperation, and weakness from a mile and attack people who appear to be easy victims. So before you get excited about your child becoming famous, think through this. It is not as shiny as it looks.
Read More: This Pakistani Guy Reveals The Most Disturbing Truth About Some Of The Upcoming Models
What do you think of this story? Let us know in the comments section below.