No rain in Karachi? Blame it on anything.
"Tabhi Karachi mein baarish nahi hoti" – the ultimate reaction to everything bad happening around us. You just cannot believe how quick people are to say that statement as their reaction for everything bad happening around.
Karachi has a tropical climate and the coast of the Arabian sea that influences its average weather conditions. It is normal for Southern regions to experience less rainy days than regions elsewhere. World climate is also changing. There is replete awareness being spread about Climate Change which is continuously affecting the climate in many regions around the world.
Karachi is one of the regions to experience less rain, but rather than analyzing scientific facts and theories, we easily resort to ridiculous reasons for no rain in Karachi.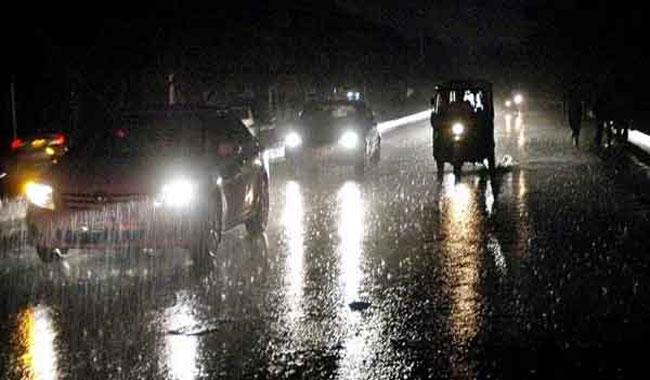 Social dilemmas, moral issues, economic problems, political instability, every problem that arises as a consequence is associated to conspire in less rain in Karachi.
We get to hear it a lot from people. We are sick and tired. We just want people to stop.
You must have heard some of the ridiculous reasons people say. Here are some of them:
Humaray aamaal esay hein na tabhi Karachi mein baarish nahi hoti
Yeah, you, you and the things you do. Just stop for once and the very next second it will start raining in Karachi.
Ghee itna mehenga hogaya, tabhi baarish nahi hoti
Because inflation, economic instability just won't let it rain in Karachi or has it got expensive along with Ghee too?
Yeh Defence/Clifton waalon ki harkatein esi hein na tabhi Karachi mein baarish nahi hoti
Oh, because f*ck logic that is why. Defence/Clifton people are some kind of aliens that are magically conspiring with their actions and intentions against rain.
Tum log raat ko jaag jaag ke jo dekhtay ho na tabhi Karachi mein baarish nahi hoti
You just want to think about your browsing history now. Seriously, people, what in the world do you do at night that makes rain shy of Karachi?
Yaar politicians are so corrupt, no wonder Karachi mein baarish nahi hoti
You know what, slay them all. We encourage you to, please. Forget rain, a lot of things will happen which will be better for us.
Petrol 5 rupay mehenga? Ab nahi honi Karachi mein baarish
Rain kia, ab tou petrol bhi nahi milay ga Karachi mein.
Did you bribe the police wala? Tabhi Karachi mein baarish nahi hoti
Well, this is morally wrong. You are not supposed to grease anyone's palms ever in life. But let not rain drought be the primary reason why you avoid bribing policemen who ticket you for breaking traffic rules or carrying no license.
Karachi walay are so intolerant in traffic, tabhi is sheher mein baarish nahi hoti
Oh please guys, please believe this one for real. At least we will no longer have traffic congestions in Karachi. Please.
And when it does rain heavily and water remains stagnant on roads for days, people say:
Humaray gunahon ki waja se Karachi doob raha hai *shame*
You don't say! Are you satisfied in any case? ever? You had to babble when it did not rain and now when it did, you still won't stop babbling. Spare the rain please, blame the local government for not taking adaptable measures for proper drainage of rain water.
So much waste and stagnant water and the local government doesn't bother much
Absolutely, correct
Allah hum se naraz hai isliye barish itni taiz horahi hai
God's wrath incurs in detrimental ways than a mere heavy rain of Karachi, so kindly be grateful.
That was some of what we keep hearing from people. How ridiculous people are to think like that!
What are some of the absurd things you have heard that people like to associate with causes for less rain in Karachi?