The World Cup season isn't complete without a proper anthem. The Pakistan cricket team is all geared up to face their opponents in Australia and claim the T20 World Cup for the second time.
This time T20 World Cup anthem for the team green, music stars Meesha Shafi, Asim Azhar, and Eva B have united to produce a bang on a song that no one could avoid it.

The anthem will make you move and grove up the beat. Along with them Abdullah Siddiqui also joined the hands and added his magic to give it a modern vibe.
T20 World Cup Anthem – Pakistan Team
The anthem is co-written by Shafi, Eva B, and Abdullah Siddiqui, Khel Dil Mein Hai is all about conquering the world with your game.
It's about cricket being more than just a sport for Pakistanis. The beat of the anthem is unconditional, the anthem also featured dramatic snippets of kids playing various sports on the streets, be it football or hockey, with cuts of the singers belting out notes and grooving to the song that gets your mind racing.
One of the interesting things about the anthem is that it also featured a powerful rap by our favorite Hijabi singer, clad in a jet-black all-leather fit for the song.
Teaser of the anthem
On Wednesday, all three of the artists shared little teasers of the song on their social media. "It's anthem time!" wrote Shafi who "had a lot of fun making the song" and hopes the audience will have fun listening to it too.
"I wrote an anthem with a big sound collaboration with Abdullah Siddiqui and his explosive production capabilities," she added while giving credits to the "talented" Azhar and "the inimitable" Eva B.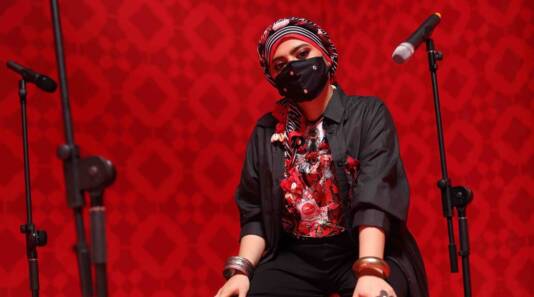 The Habibi singer, who's a huge cricket fanatic himself, shared the music video of Khel Dil Mein Hai on his Instagram to write, "I honestly love this anthem. Come on Pakistan! Let's play the world cup with all your heart." And now for the fans, he added, "Listen, dance, play and enjoy!"
Eva B became undoubtedly popular when she appeared at the Coke Studio 14 and she also shared her wholesome experience of rapping with breaking stereotype mindset.
What do you think of the story? Tell us in the comments section below.