Disclaimer*: The articles shared under 'Your Voice' section are sent to us by contributors and we neither confirm nor deny the authenticity of any facts stated below. Parhlo will not be liable for any false, inaccurate, inappropriate or incomplete information presented on the website. Read our disclaimer.
For our Business Ethics course (facilitated by our instructor Mrs. Hina Shamsi Nauman) at SZABIST, seven of us third semester BBA students (Ahmer Khan, Jaffer Ali, Jyotika Jethwani, Komal Zehra, Nema Ahmed, Ozair Qurni and Saad Zaki) collaborated with Ottica, an eyewear company in Karachi, to collect unwanted and broken pairs of glasses as part of their CSR.
Ottica has taken an initiative to provide the less fortunate with eyewear simply by collecting donations through their 'Sight for All' program. Donations are made to Nasim Iqbal Eye Clinic, located in Orangi Town, who gives patients free eye checkups and provides them with the glasses that Ottica has collected and repaired.
We started our collection by contacting institutions such as Beacon House School System and St. Michael's Convent School and placing our donation boxes there. The students actively participated and donated many pairs of glasses. The word was also spread at IBA, ICAP, IoBM and Iqra University. Donations were also given by Nain Eyewear and Care store.
On the 21st and 22nd of November 2017, we set up a donation drive (the tagline being: Frames for a Cause) at SZABIST itself in order to collect glasses from SZABIST students, faculty as well as the administration. The two-day drive was a great success and we managed to collect more than 300 frames.
"The gift of sight is most precious"– Mrs. Hina Shamsi Nauman (instructor at SZABIST)

"All of us are grateful to SZABIST, Mrs. Hina Shamsi Nauman and Ottica for giving us this opportunity to do something to help those in need.Coming from privileged families we are usually oblivious to the difficulties faced by the underprivileged. This initiative taken by Ottica has never been seen before in Pakistan. It shows their concern for the social well-being of everyone, especially the less fortunate." –Saad Zaki, a member of the group
If anyone wishes to donate they can visit Ottica and drop their unwanted pairs of glasses at the drop box there.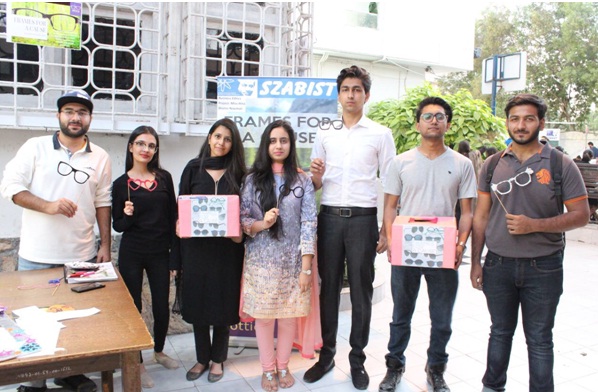 Left to Right: Jaffer Ali, Jyotika Jethwani, Nema Ahmed, Komal Zehra, Saad Zaki, Ahmer Khan, Ozair Qurni (Source: Ahmer Khan)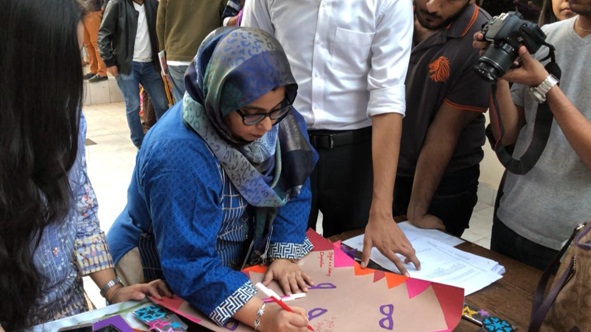 Mrs. Hina Shamsi Nauman, Business Ethics instructor, giving her comments regarding our project (Source: Jyotika Jethwani)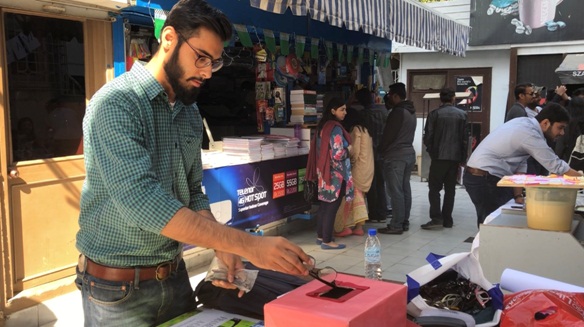 A student at SZABIST donating his unwanted pair of glasses in our handmade donation boxes (Source: Jyotika Jethwani)
Read Also: KITABIST- A Book Drive By SZABIST