Systems Limited, If you somehow affiliated with Pakistan's rising IT sector, you would know that it is one of the biggest names out there. 
A few days ago, when I was hunting for an internship opportunity and had applied everywhere. It's a golden opportunity flashed by me, which I just couldn't say no to.

I got a chance to work at Systems Limited. Yes, I couldn't believe it either. Ready to embark upon a new phase in my life.
I couldn't help but be elated that Systems Limited had a hybrid working model where teams only had to come to the office once or twice a week.
During this hard-hitting pandemic, people have wanted to work with hybrid workplace companies, and I wanted that too. Businesses all over the world forced to adopt hybrid workplace strategies ever since the emergence of Covid-19.
My experience at Systems Limited
Now let me give you a sneak peek of my experience working in a hybrid workplace company. The comfort of working from home is what everyone craves, and Systems has done a commendable job. By giving them flexibility to its teams to work either at home or office.
This hybrid workplace strategy has enabled consistent connection without any hindrance and has secured its business by supporting a modern workforce.
The ongoing uncertainty that has firmly gripped us has left us feeling anxious and powerless. I, for one, have been struggling with the current situation and wanted to find an escape.
The constant feeling of being overwhelmed by worry and uncertainty pushed me into applying to different companies when I got selected by Systems Limited to work as an intern.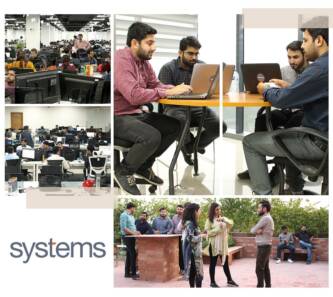 Having experienced it first-hand it seems the hybrid workplace will be our new future, and we'll have to make peace with this reality while maintaining high levels of productivity and engagement.
The employee-centric approach adopted by Systems Limited has made this transition a successful one. And it has boosted the morale of its employees. This hybrid working model has proven to be beneficial for both the company and its employees.
The growing freedom and independence put forward by hybrid workplace companies have given a ray of hope to all their employees.
Being one of those who enjoy flexibility rather than a set routine, this hybrid work model is doing wonders for me.
To get out of this global dilemma, we need to work together, join hands, and face this pandemic head-on. One thing that deserves utmost appreciation is how Systems limited has maintained equality amongst its workers.
The level of inclusion, respect, and fairness showed towards Systems' employees is praiseworthy.
Hybrid working model is the secret ingredient to the success and growth of businesses today
Even before Covid-19, it had become important for businesses to rethink their practices and transform into hybrid workplace companies to reach better levels of productivity and efficiency.
The flexibility is not only beneficial for the company but also works in favor of the betterment and wellbeing of the employees.
I think it's high time companies from all over the world adopt the hybrid working model and give the employees the chance to choose their working style.
Organizations have started to accept the evolving working trends and are implementing them for better results. Systems Limited has shown commendable foresight in times of ambiguity.
The effectiveness of recent modifications in the context of a hybrid system reflects brightly and is evident as employee satisfaction. It seems to stand at an all-time high, along with rates of productivity speaking for themselves.
In a world where change is the only constant, failure to comply with the need of the hour can prove to be detrimental. However, my experience at Systems Limited has shown me how the company upholds its vision of technological advancements and implements it for the collective good. I'm glad such companies are driving the country towards a better future.
What do you think of the story? Tell us in the comments section below.