Wednesday, July 07, 2021 – Systems Limited has embarked on a journey to further its user experience design mastery by completely reimaging its creative space – Studio 77.
Studio 77 is the epitome of creative excellence that connects the dots of creativity with unparalleled design thinking principles.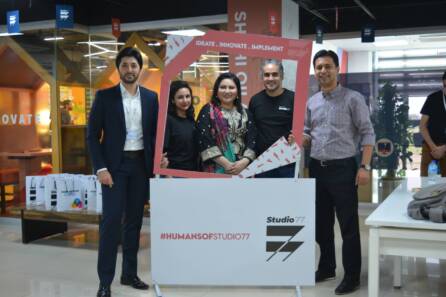 The core idea of Studio 77 is to provide an approach towards design that pushes the boundaries of technology and strives towards continuous improvement to elevate the design perspective.
Systems Limited hosted a physical event to inaugurate its reimagine creative space, Studio 77, under precautionary COVID-19 SOPs in practice. The event was attended by eminent design enthusiasts and prominent figures from the IT sector.
Asif Akram COO-Systems Limited
Asif Akram, COO at Systems Limited, welcomed the guests and while sharing his vision behind Studio 77. He commented, "We've seen a recent surge in the growth of workplaces with creative spaces.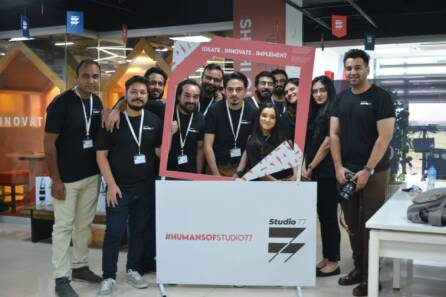 With Studio 77, we aim to introduce a creative atmosphere where our driven and motivated team has the right tools and technology at its disposal to bring its breakthrough ideas to fruition.
What you see today is the result of multiple brainstorming sessions, meticulous planning, and tireless commitment by our team.
It is to make sure that every nook and corner of Studio 77 screams innovation and creativity – something that Systems has become synonymous with."
Badar Khushnood Co-Founder- Bramerz and Fishry
Badar Khushnood, Co-founder of Bramerz and Fishry, emphasized the need for human centrism in design and cross-functional team enablement. He commented,
"The need for a user-driven perspective in Pakistan was imminent and Systems Limited capitalized on this approach. It's about leveraging this approach and using it to enable a culture that focuses on problem-solving through impactful collaboration".
Further explaining the human-centric approach of Studio 77, Khurram Safdar, Head of Customer Experience and Design, added, "The two driving forces behind Studio 77 are digitization and human-centrism. Digitization in today's world is happening at a fast pace, and we need to embrace it.
We need to work together and use all the technological innovations at our disposal to deliver human-centered experiences to our clients.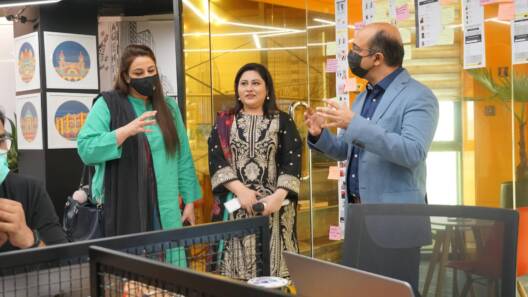 It is a space where we make impactful decisions while keeping humans at the center of everything we create. With Studio 77, we're bringing our creative ethos of collaborative ideation, constant innovation, and rapid implementation to the world."
New Approach of Studio 77
Studio 77 challenges the very fabric of how design principles garner an approach to elevate user experience. Systems Limited's vision and its commitment to creating an ecosystem for creative stimulation and innovation led towards the conception of Studio 77.
It is a place that fosters autonomy, incites extraordinary creativity, and replenishes the desire for continuous improvement to elevate customer experiences.
The honorable guests and attendees praised the conception of Studio 77. And how it revitalizes design perspectives to pave way for human-centric design ideals.
The core philosophy of Studio 77 revolves around creating an ecosystem that strives to create a conducive environment. That nourishes intuition and reimagines design philosophy for the future. The guests also enjoyed a highly productive networking session and various other activities.
Going beyond the confines of typical activities around design, user experience, and art direction, Studio 77 also caters to, marketing intelligence, copywriting, social media and content, and user research.
The inception of Studio 77 highlights the significance Systems Limited puts on creative freedom, embracing the culture of innovation, inclusivity, and facilitating employees. Which let them think beyond creativity, making Studio 77 truly limitless for generations to come.
What do you think of the story? Tell us in the comments section below.