Karachi is all set for #SweatAThon the biggest fitness festival happening tomorrow, 24th November at Moin Khan Academy.  Hosted by Gatorade, the world's number 1 sports drink, the festival focuses on fitness and features various activities including a marathon, boot camp, concert and more.
Hosted by Khalid Malik and Ayesha Omar, Gatorade's fitness festival #SweatAThon starts with a Marathon for which participants also get a chance to win exciting prizes. A cash prize of Rs. 50,000/- for first place, Rs. 30,000/- for second place and Rs. 15,000/- for third place will be awarded at the event. Nike gift vouchers worth 5000 will also be given to the first 30 winners of the Marathon.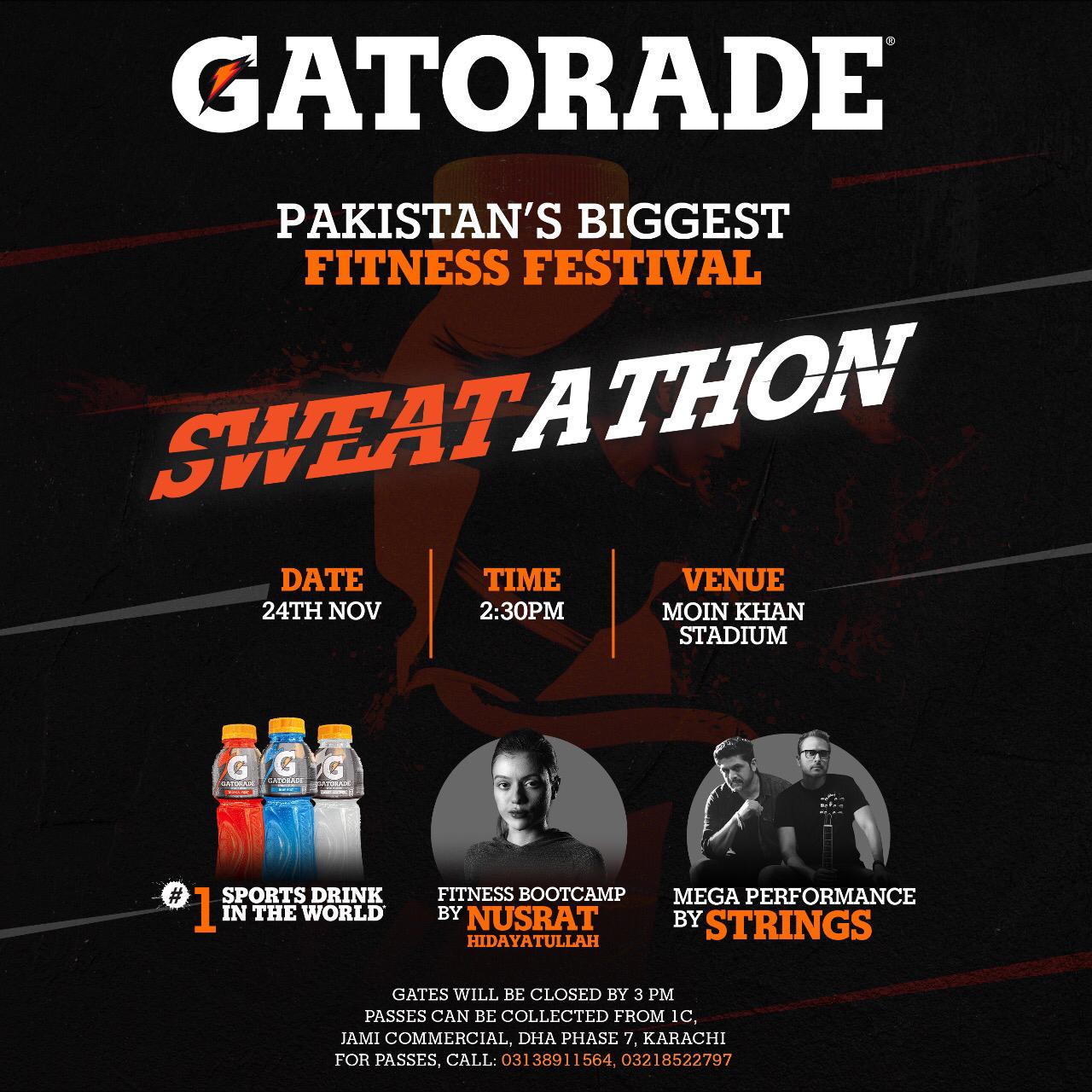 Apart from the Marathon, there will also be a boot camp led by the one and only fitness icon Nusrat Hidayatullah. Fitness geeks, you can also expect meeting sports legends like Shoaib Akhter. It's definitely also going to be a great networking opportunity for aspiring trainers.
If you're worried about Sunday being a family day, then you need not worry because this festival caters to all and even has a kid's area!
Wait there's more…Strings the band will also be performing LIVE at #SweatAThon! Fitness and music…can't get any better than that. So, get ready to rehydrate, replenish and refuel at Gatorade's #SweatAThon happening tomorrow at 3 pm. Entry is invite based and free of cost. If you haven't picked up the tickets yet, we highly recommend picking up your phone and call either of these two numbers: 0313 8911564 or 03218522797!