When it comes to the political tensions between India and Pakistan, nothing ever comes with a sign of peace. There is always a rife between the two arch-rivals, specifically on the matters of Kashmir, if not on anything else.
The Indian Minister of External Affairs Sushma Swaraj has spoken against Pakistan on various accounts. Her severe hatred for the country was shared on international platforms when she spoke bluntly against Pakistan in UN General Assembly on the matters of Kashmir.
However, the woman showed a relatively softer side to the world by making the dream of a Pakistani woman come true.
Last Year in September, Sabahat Fatima from Pakistan Pleaded to the Indian Government to Give her the Visa to India
Sabahat from Karachi wanted to tie the knot with Naqi Ali Khan from Lucknow. Because of the issues between India and Pakistan, the Visa complications rose.
@PMOIndia Sir please help me for getting Indian visa its a request for my wedding

— Sabahat Fatima (@SabahatFatima12) September 13, 2017
Sabahat Did Not Give Up and Continued Reaching Out to Sushma Swaraj
@SushmaSwaraj Respected Mam! I appeal, on this Diwali I want a gift from you by providing visa for my wedding in Lucknow, please mam…

— Sabahat Fatima (@SabahatFatima12) October 20, 2017
And Finally, the Minister Responded with Positivity!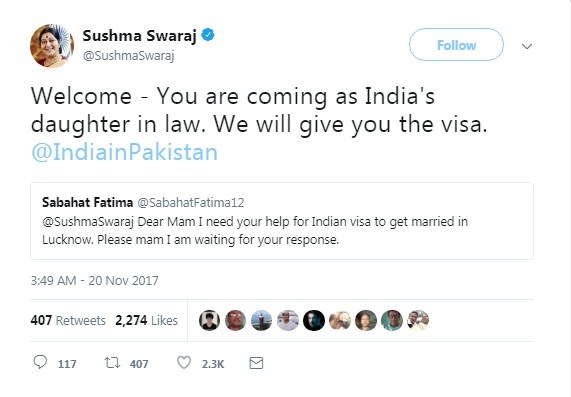 This to 24-year-old Sabahat to India and just recently, she finally married the 27-year-old love of her life in India!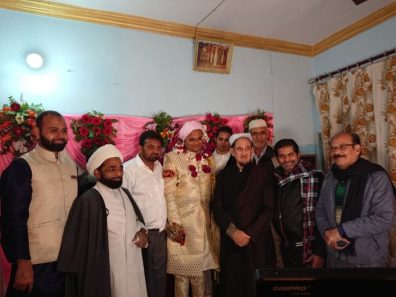 The lovebirds got married on Friday and they are extremely thrilled to start their new journey.
The Two Were in the Relationship for Two Years But Delayed their Union Because of the Tensions between the Countries
"Our families are related. But were divided when the two countries underwent partition. The groom's maternal grandmother and the bride's paternal grandmother were sisters and lived together in Lucknow before partition," said Naqi's elder brother while talking to the news in India.
They Also Thanked the Indian Politician for Making their Dream a Reality
"Both of us are extremely grateful to Sushma Swaraj for this great gift. We are hopeful that the Indian government will help us in getting Sabahat Indian nationality as well,"
Despite her hatred for India, Sushma Swaraj has helped Indians and Pakistanis before as well when it comes to traveling across the border for serious reasons.