Bollywood actor Sushant Singh Rajput was found dead at his Mumbai house on Sunday and his post-mortem report confirmed that he committed suicide. While the whole Bollywood fraternity, even his closest friends are unable to believe the actor took such a drastic step, his fans are now depicting his social media post and pictures trying to understand the reason behind Sushant's suicide.
As the actor didn't even leave behind a suicide note, theories and conjecture clouds social media trying to figure out what was going on in his mind.
Among the research, 2 things were highlighted the most. The actor's twitter cover photo and his social media bio.
The Starry Night – The painting
The starry night is a painting by Vincent Van Gogh. He painted this when he was going through an extremely difficult time in his life and was residing in a mental asylum.
Many feel that Van Gogh's will to overcome his illness is reflected in the dimness of the night sky. The village is painted with dark colors but the brightly lit windows create a sense of comfort. On the left is a curvy tree which is associated with mourning.
Furthermore, it seems that Van Gogh had essentially found his heaven. He also knew that 'in death, he would be at peace' and further portrays this by using bold colors in the Starry Night painting.
His Bio, 'Photon in a double-slit'
Sushant was a science enthusiast and had an interest in astronomy and physics. The double-slit experiment is called one of the most logic-defying and weirdest observations in modern physics.
In simple terms, when a photon passes through a double slit, it forms an interference pattern. Through this experiment, it was proven how a stream of photons can act both as a wave and particle.
This theory symbolizes two points. Was Sushant hinting at having multiple personalities? Was he acting happy when on the inside he was sad?
Secondly, "The experiment shows any physical body possessing energy can coexist multiple universes at a time, and therefore when one dies its just a form that is no more in a universe but exists in another."
Death for many is not the end but a mere step into a journey that takes us to our next destination.
No suicide note makes people suspicious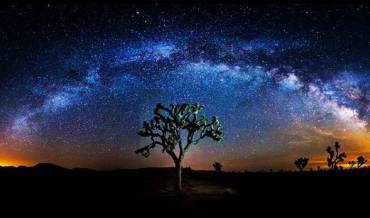 Was Sushant trying to shed away the hardships of his life on earth by passing on to the afterlife, what terror must be hiding in this mind for him to take such a drastic step?
Sushant started his Bollywood journey from film Kai Po Che (2013). Since then the actor had been seen working in different projects. In his short Fimly journey the actor had worked with Parineeti Chopra, Shraddha Kapoor, Anushka Sharma, Aamir Khan, and Sara Ali Khan.
Lastly, it is reported that the actor was losing out on a lot of projects and that made him depressed. Some even blame the Bollywood industry's thirst for star kids and brazen nepotism.
What do you think of this story? Let us know in the comments section below.