Zafar Masud, one of the only two survivors of the tragic unfortunate PIA plane crash, traveled Lahore in a PIA flight on Sunday. He showed his immense trust and confidence in the national flag carrier.
A statement from the national airline claimed that Masud, a well known and seasoned banker, currently serving as President and CEO of Bank Of Punjab preferred PIA again for his first air travel after the unfortunate incident.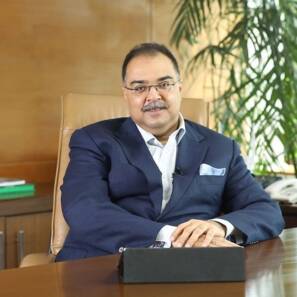 On May 22, 2020, the PIA plane crashed into a crowded residential area after both engines failed as it approached Karachi airport for a second landing attempt. Killing all but two people on board, and a child on the ground. The miraculous survivor, Masud, underwent medical treatment while staying in Karachi for the last four months.
Many passengers were traveling to spend the Muslim holiday of Eid-ul-Fitr with loved ones. Buildings were torn apart after the plane's wings sliced through rooftops, sending flames and plumes of smoke into the air.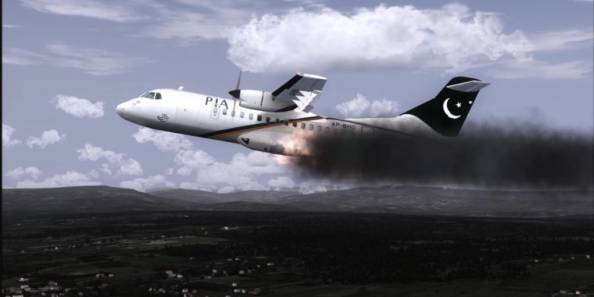 On Sunday, Masud traveled on PIA flight PK 304 from Karachi to Lahore. At Jinnah International Airport, he was welcomed by PIA Chief Financial Officer Khalilullah Sheikh and Chief Technical Officer and Head of Engineering Amir Ali.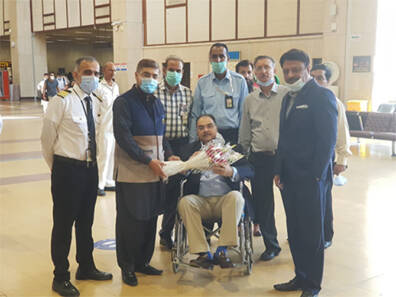 "Looking forward to flying again tomorrow for the first time post my air crash with PIA, our national asset," Masud said in a tweet on Friday. "We must support it [PIA] and work towards its revival and improvement," he added.
Masud wanted to 'overcome the fear of travel'
Masud said it was 'important for faith and confidence of people in our own asset' that he travels again on PIA. He also said that the flight was important for him as he needed to overcome the fear of travel on the same airline in which he had suffered 'the accident'.
CEO PIA Air Marshal Arshad Malik traveled specially from Islamabad to receive the distinguished guest on the flight at Lahore. Moreover, he welcomed him from the doorstep and pulled his wheelchair out.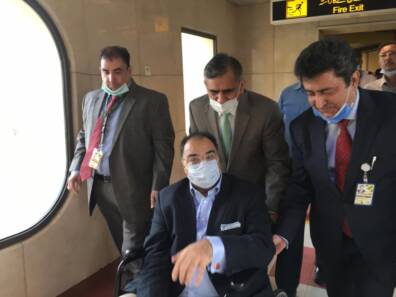 Masud said he had a pleasant feeling while traveling in PIA. Not only this but he also found it be one of the smoothest landings he has ever experienced. He commended the captain and the PIA team for extending love and hospitality.
In addition to this, the PK-8303 plane crash survivor said that he is part of PIA's reforms process and restructuring drive. Also that he would go all out to support the national airline.
The national air carrier took to twitter to share the news and thanked the survivor, President and CEO Bank of Punjab Masud, for 'trusting and supporting' PIA again despite the tragic incident.
PIA remained under fire after the air crash which killed 97 passengers. Subsequently, the image worsened after the revelation of fake licenses of nearly one-third of Pakistan's pilots.
Kudos to Masud for helping us regain trust in the national carrier. The miraculous plane crash survivor claims that PIA will strive to meet the expectations of all civilians. Also that it is working tirelessly to bring prestige back to the airline.
What do you think of this story? Let us know in the comments section below.