Whenever someone asks that question, there's no clear answer to it. I mean, Karachi is a mammoth of a city with an unparalleled nightlife; however, there isn't really much to do when it comes to amusement and entertainment.
Let's get one thing straight; hanging out in our culture means getting something to eat which isn't really saying much. Karachiites usually have a hard time scouting out the best time pass or recreational activity for themselves and even if they do they can't seem to make time out of their university, college, school or office life. There are few remarkable amusement centers and theme parks like Aladin Amusement Park, Super Space Karachi, Askari Park, Bounce and Battlestation. Plus, there's a family membership based club known as Pavilion End Club that offers recreational facilities as well; however, not everyone has the funds or time out of their busy lifestyles to make it to these recreational places routinely.
So, what's the solution to this problem?
Have No Fear Super Bus is coming to K-Town
Recently, the Pavilion End Club in Karachi has unveiled something super awesome and its called Super Bus. Super Bus is a concept that brings the theme park experience on the move no matter where you are in Karachi. According to the people at Pavilion End Club, Super Bus is for students and workaholics who want to have some fun but can't manage it out from their stringent schedules.  So, if you can't make your way to have some fun, then Super Bus brings the fun straight to you.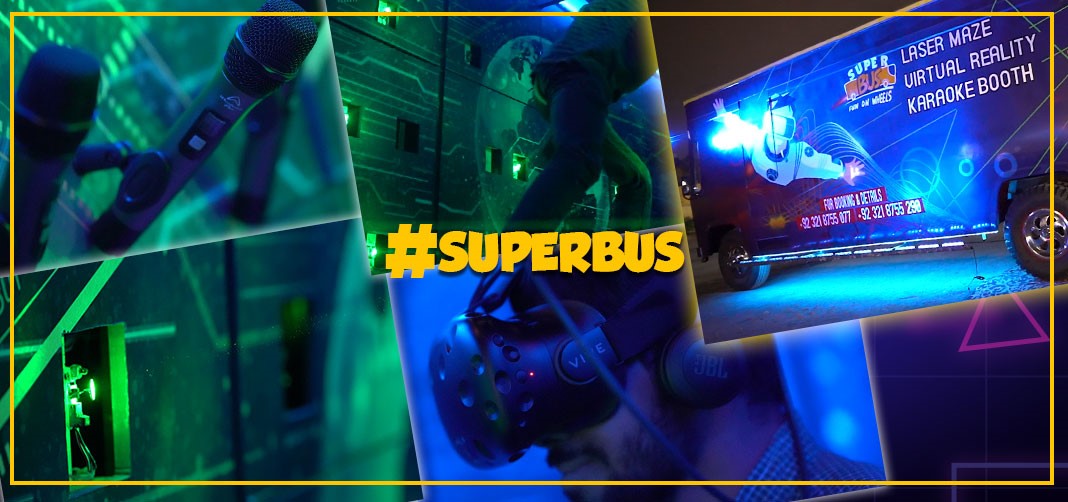 Yup, that's a really good question you just asked. Let us answer that for you real quick. Super Bus was built by Pavilion End Club to bring the theme park experience on the go hence their slogan Fun On Wheels.  Here are all the games that you can play or interact with inside of Super Bus:
Virtual Reality Gaming Arena:

Karaoke Sing Area:

Laser Maze Arena:

These are all the fun activities you can have inside of Super Bus. It's refreshing to see something new and cool for the people of Karachi. Now, all you busy people can finally have some fun regardless of your location.
Super Bus is originally intended for university, school, colleges, and corporate bookings.
Where to Catch the Bus?
Word on the street is that Super Bus is having a grand launch part on the 30th of November inside of the Pavilion End Club. In the grand launch event, the games and facilities will be available for the people to enjoy so they have an idea of what the Super Bus is actually about.
On the launch event, there will be loads of people including all your spicy and favorite celebrities, influencers and vloggers, so we're definitely going to be making an appearance on the event.
If you want to know more about this new Super Bus, you can simply lookup for more details on their official Facebook page.