B-Town stars Emraan Hashmi and Sunny Leone react to a 20-year-old college student from Bihar naming them as his parent in his admit card. The claims were made by 20-year-old Kundan Kumar, a second-year BA student of Dhanraj Mahto Degree College.
As we all know, there is literally never a dull moment in the fabulous lives of big stars. In the latest development, an engineering student from the Indian state of Bihar has claimed on his examination form that he is the son of Bollywood stars, Hashmi and Leone.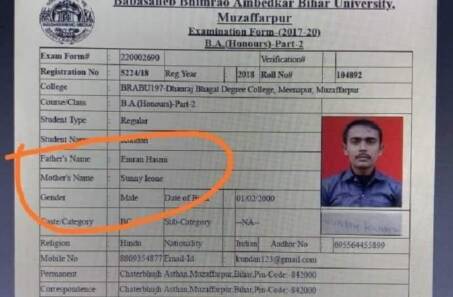 So, apparently, Hashmi and Leone are residents of this north Bihar town. And though leone and Hashmi are not married to each other, both are parents of a 20-year-old who seems to be studying in a college nearby. In addition to this, the form in question seems to be making several rounds on social media as well.
Against the column of father's name is printed Emran Hasmi. More so, the name despite its different spelling brings to mind the Bollywood actor who is known for a pervy onscreen persona.
Apart from that, the name of Leone, a model turned Bollywood actress, is the mother. Not only that but also Chaturbhuj Sthan, the town's infamous red-light area, as the address give away the mischief.
B-Town stars react to the news
While Twitter users had a field day with this, 'mom' Leone also took to Twitter. She reacted to the news of a Bihar student naming her as his mother. "This kid is awesome!!!!! Way to dream big :)))))))) XO hahaha," Leone tweeted, sharing a picture of the admit card.
Earlier, Hashmi also reacted to the claim hilariously
Authorities at the university were thrown off balance to find out about the admit card, which has now gone viral online.
In addition to this, the examinee, Kundan Kumar, is supposedly a student of Dhanraj Mahto Degree College. It is affiliated to the varsity and situated in the Meenapur block of the Bihar district.
It should be noted that both the famous actors Hashmi and Leone never appeared on the big screen together for a full-fledged project. However, they once appeared in a song together that featured in the Indian film Baadshaho.
This is not the first time a student has pulled off such mischief. You will be shocked to find out that the face of WWE, John Cena made it to the merit list of the BS Computer Science program of Islamia College Peshawar through an online application. You heard that right! Want proof? Well, don't worry you will be able to see John Cena's name on the list. Do check it out!
What do you think of this story? Let us know in the comments section below.