Disclaimer*: The articles shared under 'Your Voice' section are sent to us by contributors and we neither confirm nor deny the authenticity of any facts stated below. Parhlo will not be liable for any false, inaccurate, inappropriate or incomplete information presented on the website. Read our disclaimer.
Team Sunehri Yaadein from SZABIST organized a reenactment which will be recorded and shown to an audience to make people recall their golden memories from the dramas that were once considered to be a great source of entertainment in the '80s and '90s.
The scenes were picked out from drama 'Aangan Tehra' and 'Tanhaiyan' which was released in the late 1980s. Both the performances depicted the same humor and emotional touch as it could be felt in the past, hence it seemed like a revived form of family entertainment programs
During the recording, it was quoted by Umaima Nadeem, one of the students of SZABIST present in the studio, "it feels great to watch the dramas we once watched with the entire family, again with the same excitement and joy' , another student Faizan Amin said "This is a much-needed initiative for the revival of family entertainment".
Team Sunehri Yaadein confirmed that their reenactment and performances will be recorded and shown to a greater audience in an upcoming event so that their message can be conveyed in a relatable manner.
Sunehri Yaadein has achieved a good response so far, their concept and message have been clearly delivered to their audience through the various events they organized. Through this, they completely revived the way people reminisce the good old times. Sunehri Yaadein plans to accomplish more through such exciting events over the period of time and this reenactment of plays is one of their upcoming events.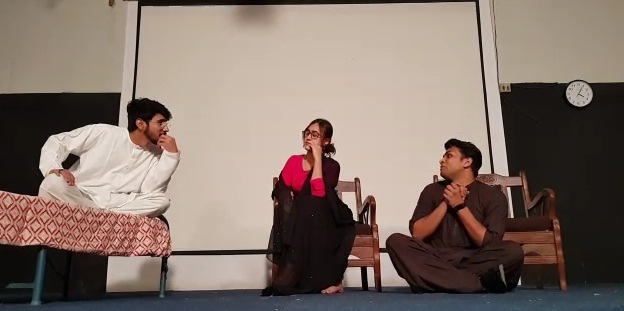 One of the Sunehri Yaadein team members while speaking to media said "Sunehri Yaadein is all about people reliving and recalling the good memories associated with their past, everyone needs to remember the good memories, after all, they make us who we are today"
An initiative like this is not usually taken by the current generation of media students, but now that team Sunehri Yaadein has achieved a positive response, one can expect such events to be held in order to balance the leisure with the stressful routine life of an average person. Team Sunehri Yaadain plans to continue the journey spreading positivity, nostalgia, and goodwill through their events.
About Sunehri Yaadein:
Sunehri Yaadein is a concept that reflects the idea that everyone has good memories and a golden era they can reminisce about or relate to. Through this concept, people get to relive the happiness and get nostalgic about anything they once used to treasure in the old times. Sunehri Yaadein further wants to make sure that people get to relive the golden time and do not completely forget about the best memories they once lived.