In an online campaign, students and social activists demand the registration of Federal Education Minister Shafqat Mehmood. The reason being his failure to get the Cambridge Assessment International Education (CAIE) examination postponed. Taking to Twitter, O and A level students began running the #ResignShafqatMahmood trend.
The Cambridge examinations started on Monday across Pakistan but the minister on Tuesday announced that no examinations will take place in the country until June 15, amid a surge in coronavirus cases and deaths.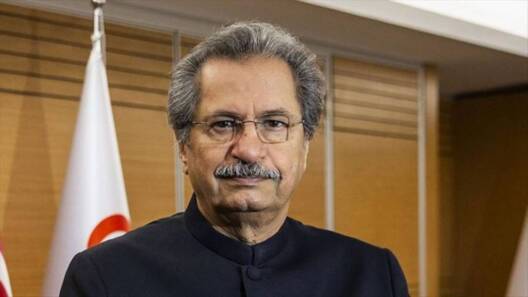 Addressing a press conference in Islamabad after a special National Command and Operation Centre (NCOC) meeting, he said O and A level exams had been canceled and would now take place in the October-November cycle. However, A2 exams will keep running for those students who want to appear for the purpose of applying to foreign universities.
He said Cambridge exams had been postponed till Oct-Nov for all grades, while the only exception was for those A2 students "who have a compulsion to take [the] exam now".
The decision came in owing to the worsening coronavirus situation in the country and the violation of standard operating procedures (SOPs) observed outside the Cambridge examination centers.
TAGs or resignation
There is still no confirmation regarding Teacher Assessed Grades (TAGs) for A2 Level students. They are still being forced to appear for exams by Cambridge during these times when COVID-19 is spreading like wildfire across the country. Students seek grades on the basis of teachers' assessments. Also, complete the cancellation of the examination.
As a result, the students took to social media, asking Mahmood to demand Cambridge to allow TAGs or else resign from his position of federal education minister for failing the students.
Rights activist Jibran Nasir also issues a statement in support of the students. He said that the students had been protesting for weeks and also filed petitions in all high courts. But no one listened to them. Moreover, he thanked Mahmood for stopping the examinations. However, he criticized the minister's failure to convince the Cambridge Assessment International Education for teacher's assessment.
#ResignShafqatMahmood trends on Twitter
Despite the mounting pressure from students who demanded the cancellation of exams, Cambridge examinations began on Monday with not coronavirus SOPs in place across Pakistan. Several students did not wear face masks — essential equipment to keep the virus at bay. The parents were also present outside the exam halls waiting for their children.
Pakistan recorded more than two hundred COVID-19 deaths in a day for the first time since the start of the pandemic on Tuesday. Nonetheless, the education ministry could not be any less considerate of students' lives.
What do you think of this story? Let us know in the comments section below.