Over the years, incidents of violence and assaults in Pakistani universities have become highly recurring. One such incident recently occurred in the University of Management and Technology (UMT) Lahore.
An assistant professor in UMT by the name of Dr. Syed Zeeshan Qader was attacked by his students. The reason for the attack is still unknown. The assistant professor then resigned from UMT in March 2020 due to being brutally beaten unconscious and nearly dying at the hands of rich and powerful students.
Dr. Qader shares the detail of the assault on social media
The Linkedin post by Dr. Qader further sheds light on the brutal incident.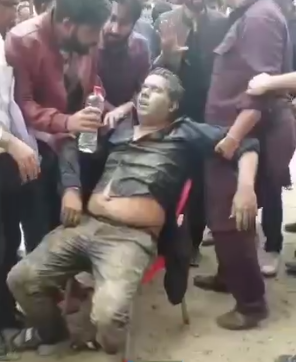 In addition, this is what Zeeshan wrote on his official Linkedin account:
"One of the clips going viral about my nightmare scenario at the University of Management and Technology-UMT. For those who don't know I was beaten unconscious and dragged half-naked on the University entrance by some students who were "wadere ke bete".  Additionally, the University beat me up after I came back from the hospital to shut me up. When I refused to go quietly I was sent a termination letter.
So, Ibrahim Hasan Murad is this how you treat your faculty? You are a disgrace to your father's legacy. Would he have left a faculty half-naked and beaten 5 feet in front of the main entrance? Can anyone connect me with other media houses to spread the word? JazakAllah UPDATE 12th March 2020, Under intense public pressure @daily times has deleted the story. Pakistan Zindabad, will I ever get justice? Also, how long will powerful Ahsan Iqbal Chaudhary get away with brutality and corruption? #pakistan #lahore #karachi #islamabad"
The assault on Dr. Syed Zeeshan Qadeer has devastated the teaching fraternity at UMT Lahore. Furthermore, academicians see it as a horrifying new chapter in a campaign against teachers by a small but influential group of students.
Many of the teachers are now wary of speaking freely to their students.
Read also: Quaid-e-Azam University Breaks Into Top 500 Universities Of The World And It Is The Only Pakistani One!
Other incidents of brutality in Pakistani educational institutes
However, this is not the first incident of a professor being assaulted in Punjab. In Fact, one professor was brutally killed by a college student in Punjab. In March 2019, Associate professor Khalid Hameed had been killed on the campus of Sadiq Egerton College in the southern city of Bahawalpur.
Consequently, Professor Hameed was stabbed by a student to death for organizing a mixed-gender reception in college. According to the report registered with the police, the student had shouted that he killed the professor because he was spreading obscenity  Moreover, the student was quoted as saying: "The gender mix reception is against the teachings of Islam and I had warned him to stop it."
What do you think of this story? Let us know in the comments section below!