If you commute in the city on a daily basis then you must know what kind of harm you are inflicting on your skin. Environmental pollution is far stretched in making your delicate skin prone to infections and dull remarks. It is harmful to your skin and as a basis of hygiene, you must take care of it.
All insecurities aside, it is good to take care of your skin. It is a vital organ of your body and basically, your presentation depends on it. You have been driving yourself mad after this and that product to find solutions for your skin problems but all to no avail. You are back to square one every time and you simply want something remarkably balanced to flourish your skin.
What to look for in a face wash?
It is a great time to be alive. And that's true not just for all the technological revolution we witness but also for the smaller everyday things. Today, we can walk into a store and walk out with products that the generations before us spent countless hours preparing at home. The stores are filled with shelf after shelf of products with the sole purpose of making our lives easier. But do they really? We find ourselves overwhelmed with choice and without the right information, quite often end up buying the wrong product. Today's lifestyles demand that we look our best. Grooming products help us in doing that. The first step towards looking our best is by caring for our skin. And that is what a Face Wash is made for, to keep our face looking bright and healthy.
It is important to use the right face wash to get the best results. Information is the best weapon to know how to choose the perfect face wash for yourself. Face washes are available in many kinds, some of which can be quite expensive. This is why it is important to know what you want.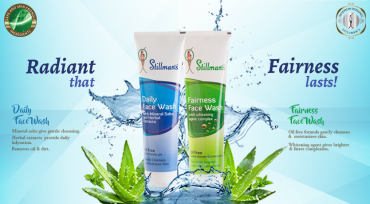 For Daily Use
Firstly, if you are using a face wash daily, it is important to use one without harsh chemicals. Chemicals are bad for the skin and strip it of natural oils. You need a face wash with natural herbal extracts that work gently to hydrate and retain the glow. The best part about daily face washes is that they are suitable for most skin types which mean they are compatible.
This is important because specialty face washes are not appropriate for most people and we end up buying the wrong product, thus giving negative results. Stillman's daily face wash gives you the daily hydration that is equipped with mineral salts and removes unwanted oil and dirt with a gentle cleanse.
Be sure to pick a face wash that clears your skin of excess oil and dirt. One that is formulated for daily use will do the job without being harsh on your skin. A face wash with natural minerals not only clears your skin of dirt and excess oil but is also especially useful for women to take off makeup. It is important to treat our skin well after a day of wearing makeup to help it regain natural balance.
For Fairer Skin
When choosing a face wash to help you with a brighter and clearer skin, be sure to choose a known household brand that has a legacy. That way you are confident of the results without having to pay over. Many brands and products claim fast results but in fact, they use harmful chemicals and a high percentage of mercury to make the skin tone thinner. However, Stillman's fairness face wash is 100% mercury free and gives you the complexion you desire in a few washes.
Make sure to choose the face wash that is gentle without any harsh chemicals. This will keep your skin glowing brighter without damage.
For Oily Skin
Oily skin is particularly troublesome because it can lead to possible breakouts. It's best to choose an oil-free formula that is usually gel-based to control the excess production of oil on your face and buildup that occurs during the day. An oil-free variant doesn't just wash away the dirt and grime – it also helps to unclog pores, thus maintaining a healthy, glowing complexion.
For Dry Skin
Dry skin can also be tricky since you have to be careful not to strip away the natural oils. It's best to look for a cleanser that helps you wash away imperfections without over-drying your skin or taking away necessary oils.