There are things that attract attention and then there are things that are so innovative, they go down in history. A unique incident occurred this week with a stain apocalypse. Nationwide, TV channels and Instagram was hijacked by dirty, stubborn old stains, which changed appearance and kept reappearing. If you didn't see it, let us recap or refresh your memory with the Daaghon ki Timeline!
1st October
12 PM
Various stains took over news and entertainment channels. Ketchup, mud, tea and paint stains were seen across TV channels interrupting live news and TV serials as well songs. These stains kept reappearing after every 15 minutes or so. Some of the channels it appeared on were Geo News, ARY Digital, Express, Aaj TV, TVOne, News One, Duniya, Apnaa, Abb Takk and Play.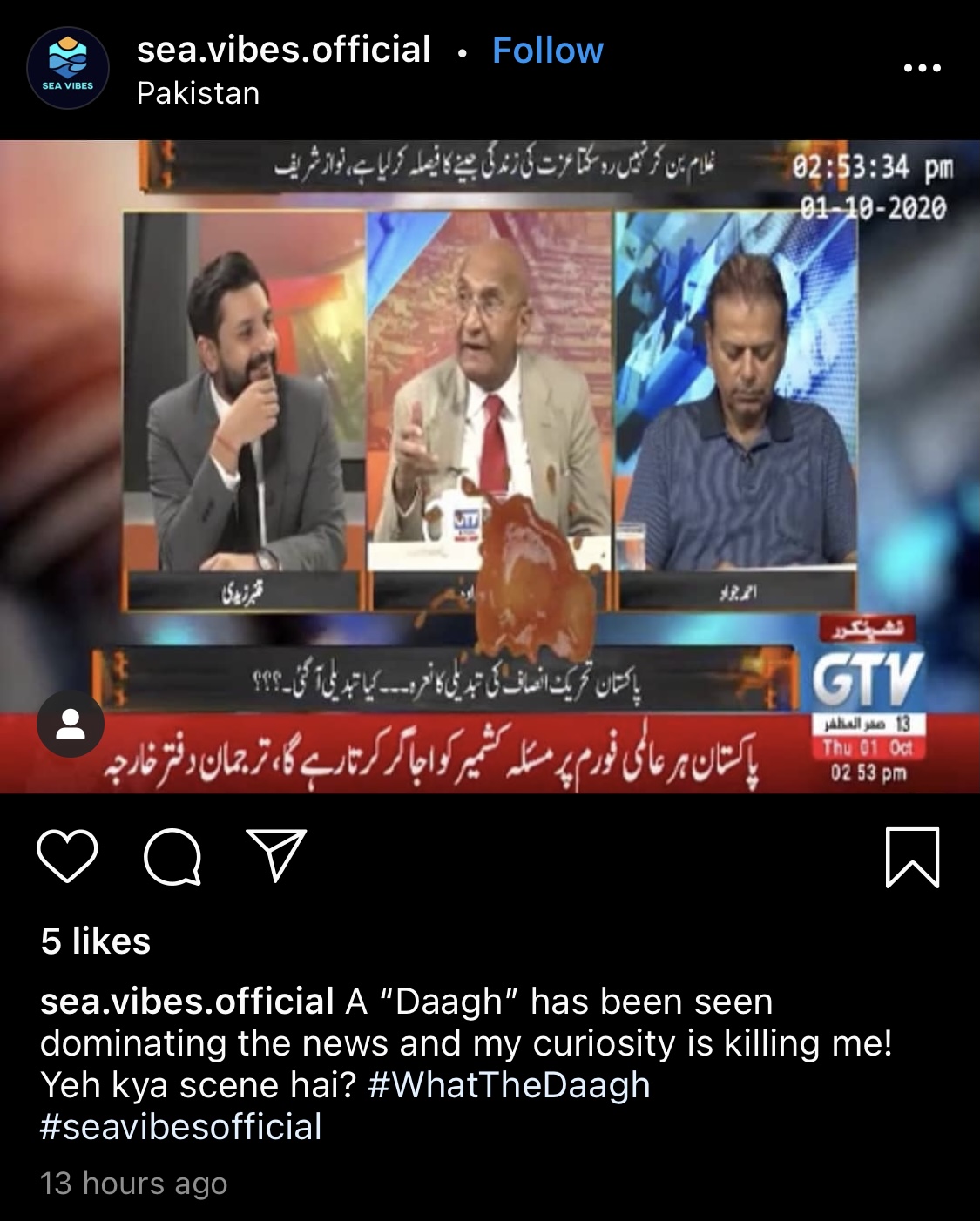 2 PM
Stains begin to get noticed. Confusion and chaos spread over social media as viewers began to notice their stained television screens. Instagrammers across the platform shared screen grabs of their television screens and started to talk about what the stain was, whether anybody else had seen it. Guessing games began with many panicking that their screen was broken, dirty or whether they were losing their mind having spotted a stain randomly.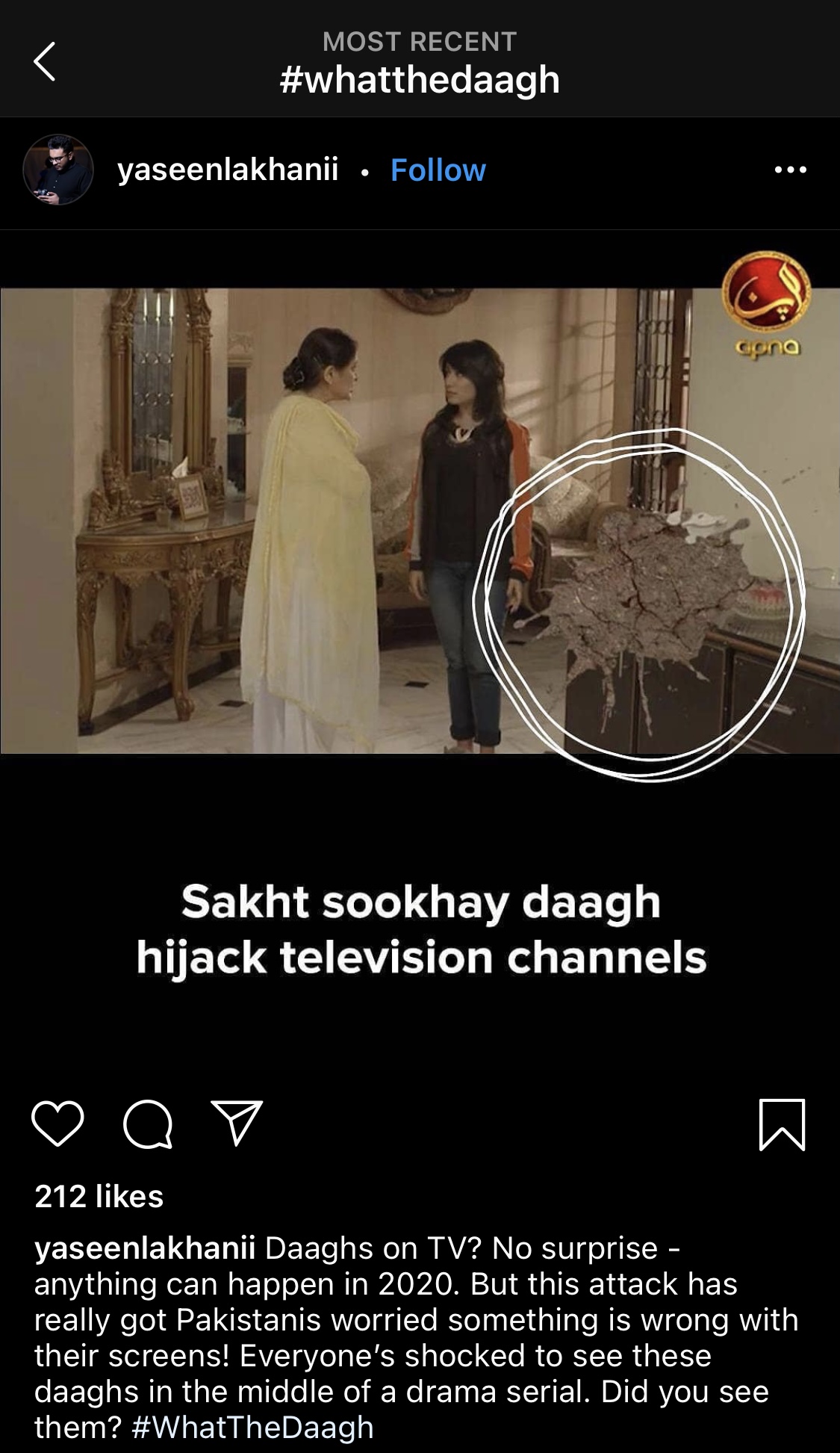 9 PM
As the day passed, a twitter hashtag #WhatTheDaagh started trending with the entire twitterati community wondering what the stain was, appearing now not only on their TV screens but also being spotted by people on Instagram and now on their phones. The stain hijack created panic as people wondered how they'd get rid of it.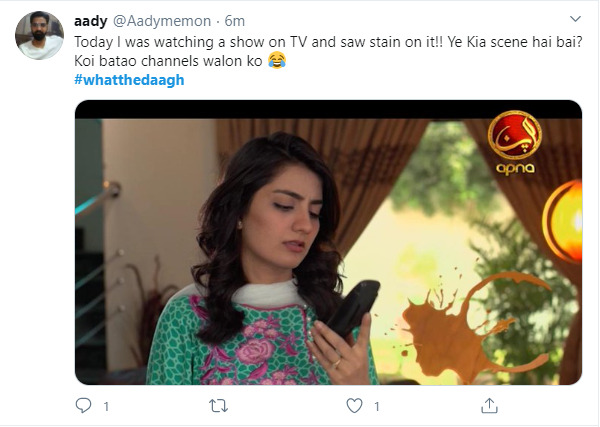 2nd October
3 PM
Another day just made things worse as the stains took over celebrities and prominent influencer's feeds. The same stain animation seen on TV now stuck itself to videos of celebrities such as Momal Sheikh, Ayeza Khan and Kinza Hashmi while they spoke about their daily routines or what they were up to. Their interaction with the audience was interrupted and their followers were left curious as to why their favourite celebrity and influencer's videos were left stained.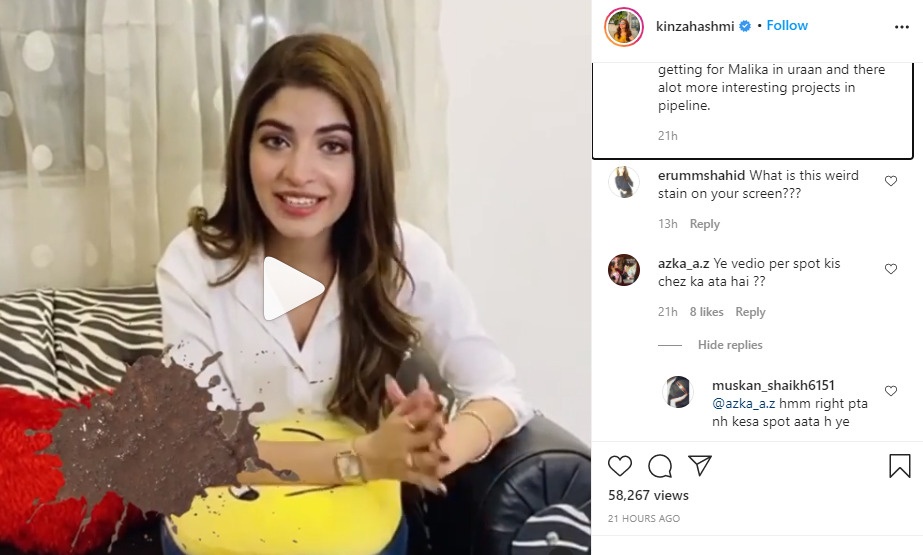 5 PM
Publications started reporting the stain takeovers as well and viewers shared what their thoughts were. After all what was this stain, when would it go away and how would it go away? Newscasters reactions to the daagh on their screens got everyone even more curious.
9 PM
Soon the mystery was resolved! At the 8 pm news bulletin, what was behind the stain was removed as newscasters got agitated with the daagh appearing on their screens continuously. They tried getting it removed and spoke about what would remove it? When one of the co-hosts responded that only a real champion could remove it and in came a whirlpool tornado that sucked away the stain with its mighty power and cleaned up the screen. Landing the message was the tagline: Aagaya Daaghon Ka Champion along with a packet of Surf Excel! The reveal was followed by Surf Excel's new TVC.
Yes, indeed, as many guessed correctly, the stain was part of a laundry detergent campaign and was executed to communicate how tough, old stains are extremely stubborn and difficult to remove. However, only a powerful laundry detergent can take those stains off. The new and improved Surf Excel is a powder that promises to do that in one wash, taking off the toughest stains as well as stains that are about 100 hours old. What nobody else can do, a champion can easily resolve!
Surf Excel's unique and interactive campaign to launch a better, improved formula for Pakistan's best loved laundry detergent, created virality and talkability amongst consumers, social media and marketing groups. The Daaghon Ka Champion had arrived.