Elon Musk's SpaceX opened up a period of commercial activity in space on Sunday. As it became the first company to send astronauts to the International Space Station.
A capsule carrying two Nasa astronauts Bob Behnken and Doug Hurley landed at the ISS on Sunday morning. A day after the first manned launch from U.S. soil in almost a decade. After launching from Florida just under 19 hours. NASA astronauts Bob Behnken and Doug Hurley arrived at the International Space Station aboard SpaceX's Crew Dragon capsule on Sunday, signing the first United State space capsule to do so with a crew since 2011
They made it. After launching from @NASAKennedy on the @SpaceX Dragon Endeavour spacecraft yesterday, @AstroBehnken and @Astro_Doug have officially joined the @Space_Station crew today at 1:02pm ET — making history in the process. pic.twitter.com/A7oExw0SlD

— NASA (@NASA) May 31, 2020
U.S. President Donald Trump traveled to Florida's Kennedy Space Center to see the SpaceX launch on Saturday. The California company's Crew Dragon capsule, carrying the two NASA crewmen, was sent on its first test trip to space from the same launch pad as the first manned moonshot in 1969.
American President Donald Trump's statement
"The same spirit of American confidence that sends our people into space will overcome this disease on earth," Mr. Trump said at a launch event, leading to the Covid-19 crisis. "It should have never happened. Nothing, not even gravity itself, can hold Americans down or keep America back."
The SpaceX mission is considered a first privately held and operated rocket, carrying humans into orbit.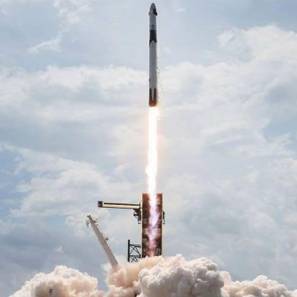 However, the success also highlighted a new gulf in American plans for space. So, As years of indecision about a follower to the ISS has left it unclear how the U.S. will hold its astronauts in orbit as commercial flight makes access to space cheaper and easier.
The change has also added to the geopolitical competition in space with China offering to give other countries access to a planned space station of its own.
In an attempt to stamp his own name on the history of the space program. Mr. Trump has also launched NASA to bring forward its next Moon landing to 2024. However, that would probably fall within a second Trump term in the White House, though few space experts believe the timetable is realistic.