We all know about this nation's immense love for food. The land of spices as it is known, our food is based on the lines of traditional recipes and cultural flavors. As we know that our country has 4 provinces.
Living amongst those are communities with different cultures, histories, and traditions. Which means that we as a nation get to enjoy these different type of cuisines and experience a plethora of different flavors. Soya Supreme with its new TVC has literally highlighted this nation's intricate connection with food. With Soya Supreme's light and healthy oil, it gives us the perfect reason to eat "Thora Aur".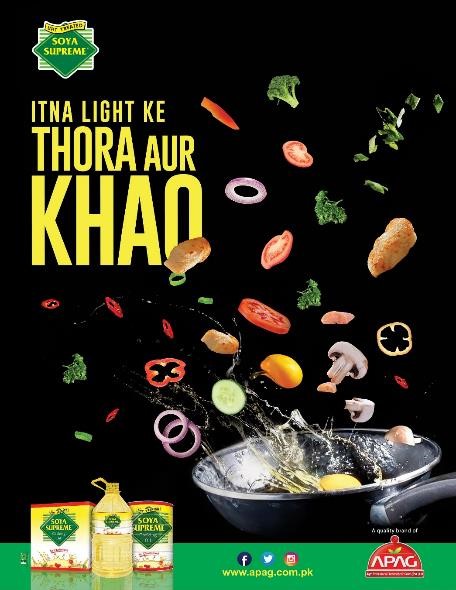 Everything goes with food, "Thoda Aur Khao":
Having discussed our love for food, let's delve into it a bit deeper. Pakistani's are known to be very selective about their food. Especially the kind of flavors it carries. Anything remotely "pheeki' will be rejected right away. Another thing that screams our loyalty towards eating is that no matter what the occasion is, the first thing that comes to our mind is that "key yaar Aaj MENU mein kya hai?". The TVC depicts exactly that, in Pakistan, there is food for every occasion. Soya Supreme's superior quality which is visible in the light color of the oil and refined texture is the perfect gateway for eating healthy.
Let's have a look at the TVC first:
So, the interesting TVC really matched the strings of this nation's love and craving for food. Didn't it?. The TVC focuses on our culture and our way of life as well. It is kind of a commentary on how food can literally make any moment better, just by being there. Added by the supreme quality of Soya Supreme of course. The TVC in just one minute gave us plenty of examples.
In the ad, Soya Supreme takes us through the magical moments that we spend with our loved ones. These moments such as having "Maa key haath ka bana hua khana" are simply the highlights of our lives. Then there are the fun times we spend with our closed ones like all those birthday treats and whatnot. Or the midnight munchies that were made special with Soya Supreme's light and healthy cooking oil. The ad literally took us through a trip of nostalgia and also gave us a realization. These moments are truly irreplaceable. So, the next time when someone offers you more food and says.. ' Thora Aur Khao'!. Nod your head and say YES, because Soya Supreme is so light that you can be sure that you are eating healthy.
Soya Supreme always contributes to the deliciousness:
Soya Supreme has been one of the top edible oil brands operating in Pakistan. Launched in the 1990s, Soya Supreme was the only cooking oil in Pakistan that treated the oil at Ultra High Temperature. Soya Supreme had already taken over our dining tables, and with their new ad, they have also taken over our hearts and also our attention. So make your moments memorable with food and make your food light and healthy with Soya Supreme.