Social media can be used to achieve many things. People share their experiences for the sake of the enlightenment of others. People also use this medium to stay connected with their friends and family. The growth in the influence of social media can be observed through its users as we receive most of our information from it. In today's modern world, we have seen many celebrities joining the social media brigade as an attempt to connect with their fans and followers.
These celebrities have a huge number of followings and people actually look up to these celebrities and follow their each and every step. Recently, a fun conversation between two celebrities caught the attention of the public as they were interrupted by a rude fan who jumped in the conversation with a lude comment.
The two celebrities in question are Sonya Hussyn and Yasir Hussain. Sonya Hussyn is a very famous actress/model in the Pakistani film industry and has a huge number of following. While Yasir Hussain who is a "self-proclaimed comedian" is a Pakistani TV personality. You may remember Yasir Hussain for his infamous proposal on national television, for which he was trolled very badly, and rightly so.
Here Is How It All Went Down!
So, recently, Sonya Hussyn has posted a picture of herself on Instagram while having a meal to which she had captioned
"AHH.. OFF COURSE YOU CAN'T LIVE A FULL LIFE ON AN EMPTY STOMACH. SO…
ENJOY……" 
We can surely see her enjoying herself and having the time of her life. However, things got a sour turn when a comment from another celebrity got some unnecessary attention. Of course, the other celebrity in question was Yasir Hussain who tried to be funny by posting a comment which said   "KHA TU AKELY AKELY".
The comment, however, can be seen as a fun conversation between the two good friends and the conversation went exactly like how two friends from the same industry should talk. But things got an ugly turn when an outsider tried to take a dig at Yasir Hussain.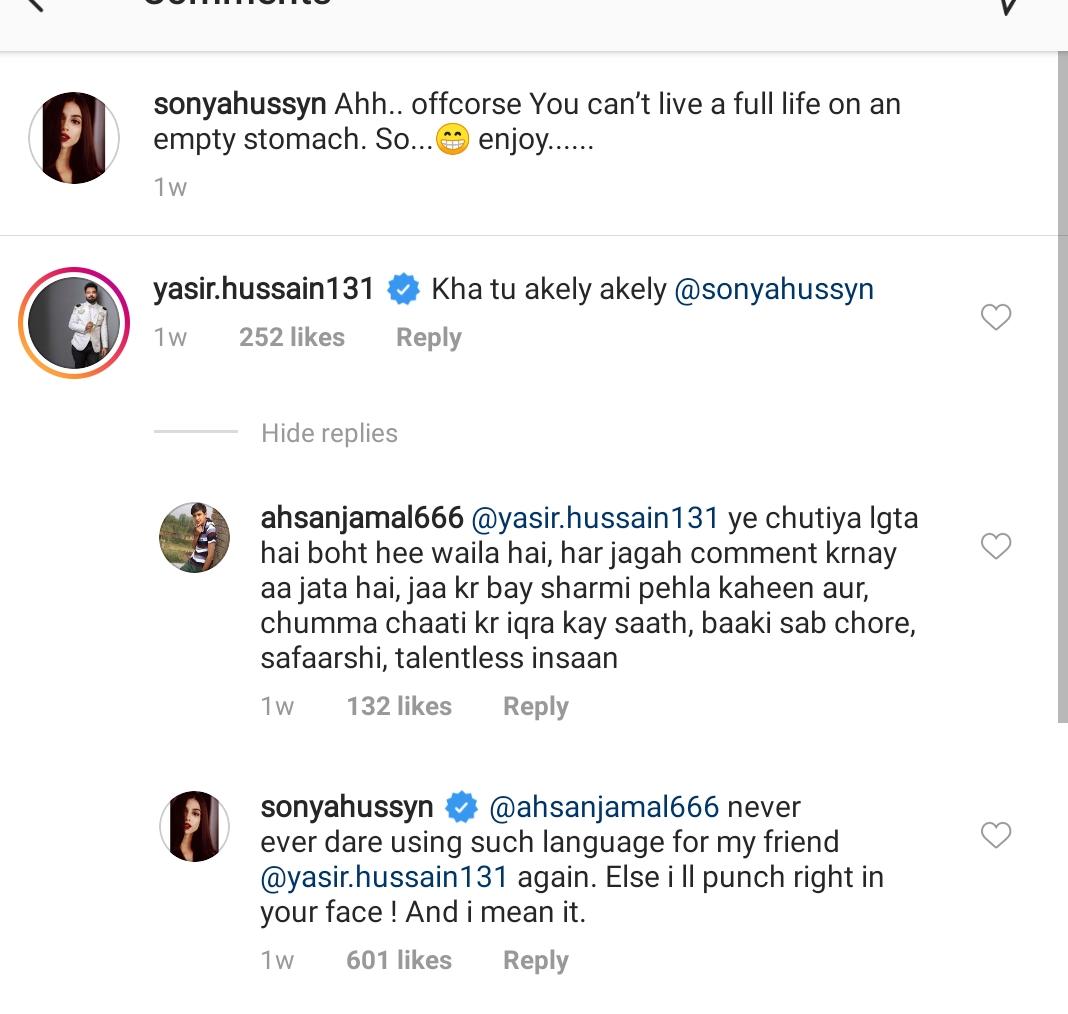 A random guy tried to take a dig at Yasir Hussain and the comment which was uncalled for used some abusive language as well. As you can see in the above picture Sonya Hussyn took no time to respond to the comment.
Sonya's response was to the point and basically a shut-up call for the haters as it received 600+ likes. We now know that there's no messing with Sonya Hussyn especially on the social media as she holds no breaks when it comes to shutting off the haters.
What do ya'll think about her reply? Let us know in the comments below!