It is no secret. Pakistani celebrities have been the target of vicious online trolls. Social media accounts, who troll, make deliberately abusive and sexist comments in order to get a response from the public figure. However, these people in the entertainment industry are opting for silence no more. This time, the renowned model turned actor Sonya Hussyn just gave a befitting reply to a troll and we are loving it!
Don't these hater and keyboard warriors ever get tired of trolling the poor celebs? Give them a break. They have feelings too. Without any doubt, many celebs have now accepted that they kind of signed up for this. However, let's not forget that they too get hurt at the harsh backlash.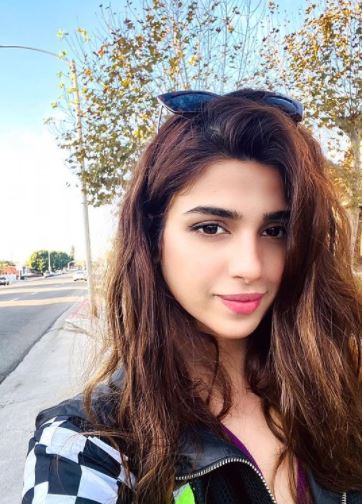 Hats off to the ones who have simply shut off their comments to not let anyone dumb down their spirits. Many envy the celebs for the glamorous lifestyle they live, and all the attention they get. But if only they knew that with fame and success also comes the merciless trolls.
The well-acclaimed actress of our industry, Hussyn really knows how to shut down the trolls. An Instagram user commented under her picture on Instagram saying, "Control your bra straps in the drama. From time to time we see either one side of it or the other."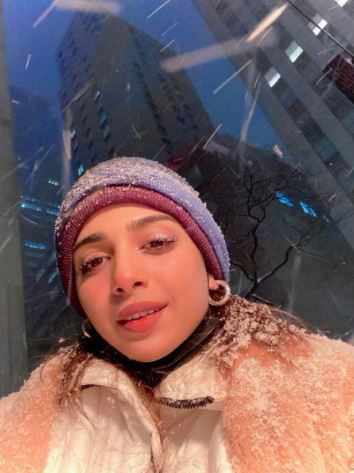 Having none of it, the Mujhay Sandal Kar Do actress replied, "So what if it is visible? Why is that a problem for you? 'Bra' is basically for body scanners like you to hide our breasts from you!"
"But if you are still getting distracted or aroused by a piece of cloth then it is your problem buddy. Stop making women uncomfortable all the time," Hussyn added.
Take a look at it here!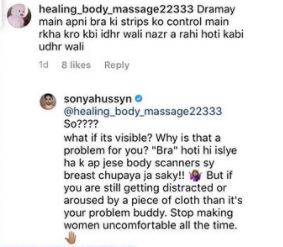 You go, girl! Intolerance persists in Pakistanis, and it is pretty obvious whenever you come across the comment section of celebrities or any individual. But isn't it an absolute delight to see people take trolls in stride and show them their rightful place? Why do these men only look at a woman as a sexual object?
There are many, many examples and different manifestations of the way in which dress is used in a filthy context against women. Not so long ago, a Pakistani news anchor was called out for wearing 'revealing' clothes on air. Mind you, there was nothing wrong with her dressing.
Yet, somehow, it gave a rise to a debate to such an extent that men went on to claim that our TV channels promote provocative dressing. Not only that but also, as a result, promote sexual violence in our country. Sadly, the way women dress is routinely cited as an incitement to rape.
We certainly do not lack misogynists in our society. Female Pakistani celebs often get bashed for their choice of lifestyle, but mostly for wearing a revealing outfit. Just recently, another renowned actress Hajra Yamin came under fire for wearing a thigh-length dress.
What do you think of this story? Let us know in the comments section below.